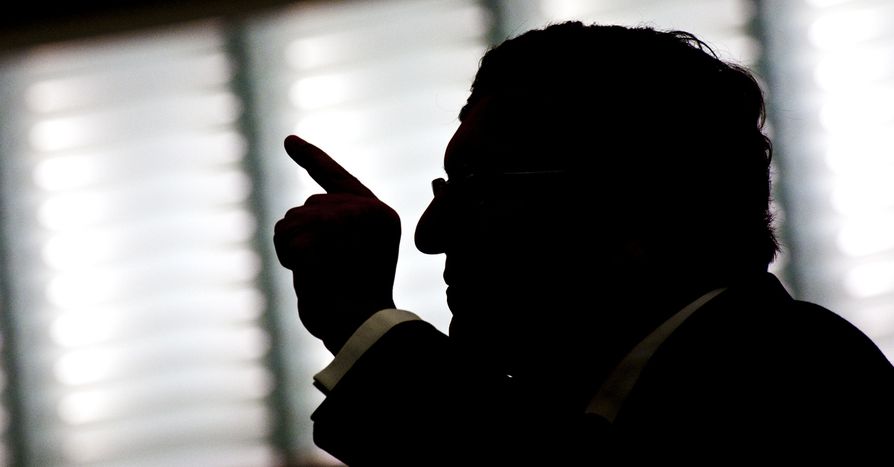 Barroso and the European Commission's "revolving doors"
Published on
The announcement that former European Commission president José Manuel Barroso would be joining American banking firm Goldman Sachs International resounded like a thunderclap across the EU - to the point where members of the European Parliament are demanding sanctions against him. Could it happen?
On 8 July 2016, the world learned that José Manuel Barroso, former president of the European Commission, had accepted Goldman Sachs' offer to become non-executive chairman of the banking firm's international subsidiary. The news provoked waves of protest from the company, and embarrassed silence from Brussels. Sven Giegold, an MEP for Germany's Green Party, spoke of "damage to the EU's reputation." Other observers, like journalist Jean Quatremer, would go so far as to say that Barroso is "sticking two fingers up at Europe."
Uber's revolving door
However, Barroso's case is far from the first of its kind. Every year, a steady flow of former European commissioners leaves to take up prime positions in large industrial groups. A study from 20 January 2016 by NGO Corporate Europe Observatory (CEO) found that a third of commissioners who had left office in October 2014 (members of the second Barroso Commission) had "gone through a 'revolving door' into roles in corporations or other organisations with links to big business, causing concern among researchers over the 'unhealthily close relationship between the EU's executive body and private interests.'"
Earlier still in 2011, a year after the first Barroso Commission's term had ended, 6 commissioners out of 13 left their roles to then be immediately offered top roles in large industrial groups and lobby groups. What can be deduced from these figures? At the very least, the evidence shows a great deal of overlap between big industrial groups and the European executive body.
So, who's going where? According to a CEO study, the list is exhaustive and has gone unchallenged. Let's take a few examples from the second Barroso Commission (February 2010—October 2014, Ed.). Viviane Reding is a politician from Luxembourg and former Vice-President responsible for Justice, Fundamental Rights and Citizenship in Barroso II. Today she is an MEP (elected in 2014) and was reported to be headed for the mining company Nystar (though she has never worked there). Neelie Kroes is a Dutch politican, former European Commissioner for Competition in Barroso I and former European Commissioner for Digital Agenda in Barroso II. She first joined Merrill Lynch, then moved to Uber's public policy advisory board. Finally, we have former European Commissioner for Trade, Karel de Gucht. The Belgian politician obtained permission from the current Commission to join the management committee for telecommunications business Proximus. 
Goldman Sachs and the EU: a long history
Big names from European government can be found on the list of former employees at Goldman Sachs: Mario Draghi, President of the European Central Bank; Carlos Moedas, new Portuguese Commissioner for Research, Innovation and Science; and Mario Monti, former Commissioner for Competition, have all worked for the American firm. Barroso's case is nothing special; it merely substantiates the strong links between the American bank and the European executive body. 
This relationship is all the more problematic given that Goldman Sachs helped Greece to cook its books and hide debts in 2001-02 in order to keep the euro. It was only in 2009, when then Prime Minister George Papandreou received the statement of accounts, that Greece entered into the great recession that persists today. 
On Monday 11 July, the European Parliament's French socialist delegation called for sanctions against Barroso. Article 245 of the Treaty on the Functioning of the European Union outlines the possibility to sanction former commissioners:
'The Members of the Commission shall refrain from any action incompatible with their duties. [...] 'When entering upon their duties they shall give a solemn undertaking that, both during and after their term of office, they will respect the obligations arising therefrom and in particular their duty to behave with integrity and discretion as regards the acceptance, after they have ceased to hold office, of certain appointments or benefits. [...] In the event of any breach of these obligations, the Court of Justice may, on application by the Council acting by a simple majority or the Commission, rule that the Member concerned be, according to the circumstances, either compulsorily… or deprived of his right to a pension or other benefits.'
It is still too early to know how the Council will respond. The current Commission, meanwhile, has not commented on the issue. But on Thursday 14 July, employees of European institutions launched a petition for strong exemplary measures to be taken against Barroso, "whose behaviour dishonours the European civil service and the European Union as a whole."
At the time of writing, the petition has gathered over 2,500 signatures.
Translated from Barroso et les « portes tournantes » de la Commission