Barroso also candidate for European Green Party?
Published on
Green Party Congress de facto supports Christian Democrat Barroso for President of European Commission '' Andrew Duff MEP, President of UEF said: "After last week's nomination of Mr Barroso as candidate for President of the European Commission from the EPP it is revealing to see that the European Green Party didn't come up with a candidate to contest the Christian Democrats.
"''
"The Manifesto approved by the European Green Party has valid federalist points like EU regulation of financial markets or the need for Europe-wide transnational lists, but it is regrettable that there is no mention of the Lisbon Treaty. In view of the current world crisis, where institutional functionality and joint action is more urgent than ever, I hope that the Greens across the Union will campaign for the entry into force of the Lisbon treaty" said Andrew Duff, MEP.
Federalist action in Brussels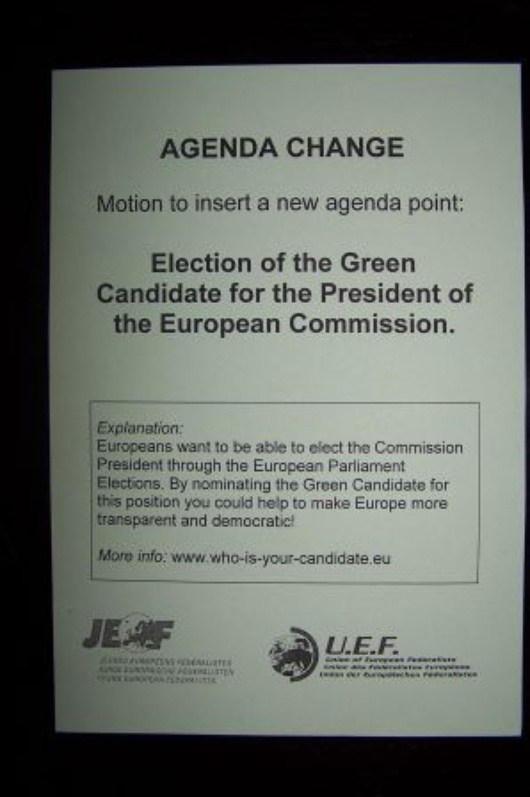 Today federalist activists have called for linking the result of the forthcoming European Parliament elections to the election of the President of the European Commission in an action in the European Green Party Congress.
"European voters want to see real results of their votes. If the European parties nominated their candidates for Commission President, the citizens could finally have a say on who is governing Europe. The Greens missed an important chance to make Europe more democratic" said Samuele Pii, President of the Young European Federalists.
"The European Political Parties should be major players in European Parliament elections and listen to the demand of the main youth political organisations. Putting a face to their programs is important to motivate electors to vote" concluded Pii.