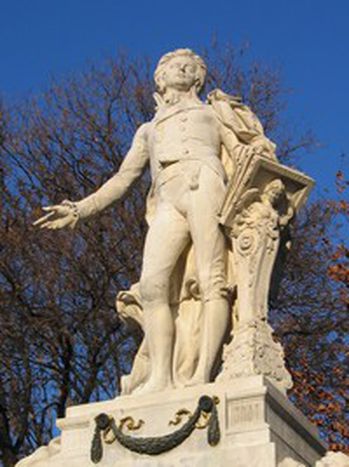 Austria - after the Mozart marathon
Published on
Translation by:
zoë brogden
Last year, on January 27, Mozart Year opened with much celebration. Have we learned anything about the musical genius?
'Austria celebrates the Genius'. This was the slogan to which the advertising drum was firmly beaten in Vienna and Salzburg this past year. With a budget totalling 30 million Euros, the marketing experts had ample means to delight the public at large. Audio guides through mobile phones were available for those wanting to wander in the footsteps of the composer in the Viennese town centre. Red information posts were erected at 50 landmarks of Mozart's life, which formed the Viennese landscape up to the date of his death - December 5, 1971.
Peter Marboe, artistic director of the Year of Mozart, seemed to have avoided Mozart overkill. In everyday life, kitsch souveneirs were no more prominent than usual, to the point where events had to be actively sought out on the anniversary of his death.
24 hours of Mozart
The highpoint of the celebrations was experienced on January 27, 2006, on the 250th anniversary of the composer's birthday. Salzburg offered a parade of stars, a street party and films on the great composer. In Vienna, simultaneous events were staged in a whole host of mediums: readings, concerts and exhibitions. As a result, hardcore Mozart fans had the veritable luxury of cherry-picking their favoured event.
Despite its length, the mammoth worldwide gala program '24 Hours of Mozart', produced by EuroArts Music International, won't have much longevity: no snippets of the concert could be downloaded without prior registration, whilst no recordings were made available on CD or DVD.
Viennese waltz
One event was particularly prominent: a double marathon on May 7, 2006, in Vienna. In the main concert hall, Rudolf Buchbinder and the Viennese Philharmonic Orchestra played six of Mozart's piano concertos. Outside, participants in the Viennese Marathon battled it out to reach the finish line, whilst excerpts from the concerts could be heard. The combination of mental and physical energy could not have been more beautifully indicated, and the music appeared to enable both sportsmen and artists to achieve their full potential.
Memories against the grain
However, not all exhibitions set out to praise Mozart's genius.
The autumn festival program 'Modern Vienna' included an opera by Bernhard Lang entitled 'I Hate Mozart'. On the literary front, author Kurt Palm contributed to the anniversary year his own way by alleging Mozart would be a 'Communist voter' were he alive today. His book, 'Mozart Is Fat And In Good Health', reveals some of the composer's favourite culinary preferences. Manfred Wagner, in his new Mozart monograph, chose to set some of the stereotypes commonly held about the composer straight. In particular, he clarified that Mozart's early work was by no means 'light music'. He went on to challenge the myths that Mozart was the victim of poisoning by a jealous rival, and was later forgotten by his peers after his death.
Old themes, new revelations
Following on from a lecture at the Museum for Society and Economy, Dr Peter Dusek held a question and answer forum in front of interested members of the public. The director of Austrian Television's Archives took stock of the past year with a comfortable circle of guests, aptly surrounded by Mozart pralines.
Even as a man knowledgeable on the life of Mozart, Dusek expressed his astonishment as to how much new information had been brought to light. In particular, Dr. Dusek highlighted the large exhibition 'Mozart: Experiment Enlightenment', which detailed the influence the Free Labourer's Movement had had on Mozart's work. Mozart was no mad genius, but repositioned as an intellectual who composed, made music, read books and socialized with equal intensity.
Dr Dusek predicts that the celebrations for Mozart's 300th birthday, due in 2056, will supersede anything witnessed this year. By that time, he believes it may even be possible to hold all of Mozart's 22 dramatic works on one stage; this year saw partial stagings and concert depictions only. At present he has no worries about the new generation of vocalists, at least those in the top ranks with the likes of Russian-Austrian soprano Anna Netrebko, Mexican tenor Rolando Villazón and Italian baritone Ildebrando d'Arcangelo. However, his main concerns focus on the deterioration of what he terms the musical 'centre', resulting in an ever-expanding concentration on hype and stars.
Translated from Österreich: Nach dem Mozart-Marathon