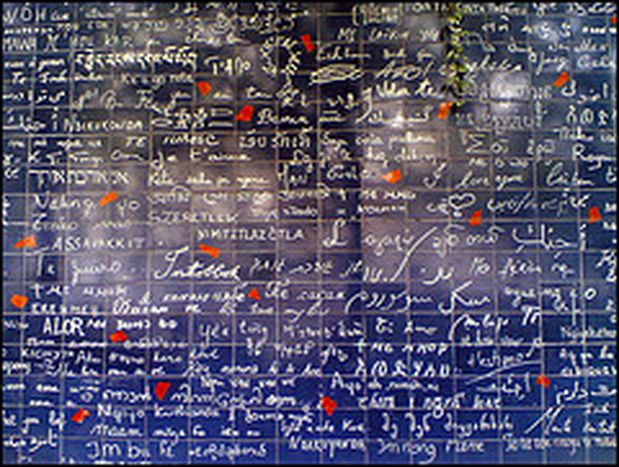 "Aucune excuse" - Language Learning in Brussels
Published on
On Saturday, September the 27th cafebabel.com Brussels participated to an event organized by Tightrope, in the framework of their initiative B-interactiv.be, funded by the Brexpat project of the Roi Baudoin Foundation. Cafebabel.com provided a moment of debate inviting language experts and practitioners, to stimulate a reflection on identities, cultures and language use.
Italian conference interpreter Antonella Basili, Brussels-based journalist, lecturer and conference interpreter Marie-Anne Lutchmaya and Dutch Neuro-Linguistics Professor Henny Bijleveld shared with us their ideas and comment during a very pleasant sunny afternoon.
Identities on the move
The Strange(r)Exchange event held on the beautiful Biouel ferry along the canal (yes – there is some water in Brussels, if one really looks for it) was meant to be the last reunion of a tripartite round to try to get people from all walks of life, backgrounds and national origins to get their hands dirty with language learning.
After two get-togethers in June organized by Tightrope, this in September was to be a pause of reflection to think about what went well and lessons learnt, with the aim to explore whether this kind of initiative might be repeated in the future.
Thanks to the insights gained from their daily activities and their studies, or matured through a life of wanderings and personal commitment, our guests sketched -in English, French and Dutch- the complexity and the fascination that working with languages entail.
From ways not forget one's own mother tongue to a personal fairytale-like adventure, culminating with a peculiar affection for our grey Brussels, from Japanese mysterious and very discreet ways to say "no", to troubles in intercultural communication that can arise even… between Flemish and Dutch people.
We also learnt of many tips to bolster our motivation, if fluttering or found wanting, laden with the insatiable burden of creepy laziness (beware: autumn and Brussels' high-value brouillard do not help in raising from the couch). And we all tried to climb on the perilous teacher's seat.
Learning how to learn
Sometimes it's the context that makes it all. I had been told this already over a coffee a few years ago in Japan, by a friend who at the time was working for one of the world's leading language schools. The only problem she had was having to sit all day in front of a pc in downtown Osaka, sulking away long hours of pre-planned classes, with her students connected from all over Japan, anxious to attend the classes of their itariajin sensei. Linked to the same on-line study platform.
In e-learning like in real-life interaction, conditions do change the approach we have in learning languages. It's up to us -learners, language practitioners and teachers- to find what suits us best, making use of the incredible resources we are offered with, whether in a city like Brussels or on the net.
Make out the most of Brussels!
So a little tip: if your heart throbs for Latinoamérica, and you have the chance to be in Europeanish blinking Brussels, do not despair! Squeeze yourself and find the time to attend to the initiatives of the TONS of cultural associations revelling in the magic culture of this parallel fierce continent, and come back to us with a big "que onda, guey!?". Or then again, if it's Russian, Italian, Finnish, Hungarian or Japanese culture that speak to you, check out the libraries, cinema clubs and events organized by the respective cultural centres. Brussels is a world capital, after all!
This is to say that, with a little bit of boldness and southern European flair, it's easy to get enmeshed into the sometime very closed communities that do prosper in Brussels. And with a motivation to move mountains, no-one would stop you!
Links:
The European Multilingualism Challenge http://bruxelles.cafebabel.com/en/post/2008/04/25/The-European-Multilingualism-Challenge
E-learning: a new way to learn languages online http://www.cafebabel.com/eng/article/26322/xxxxxxxxxxxxxxxxxxxxxx.html
Inter-comprehension: http://www.eu-intercomprehension.eu/activities.html A website developing the idea of discursive competence and intercomprehension as a "general interpretative process which underlies all communicative activity"
B-interACTiv - Join us for an out-of-the-ordinary adventure in a playful, multilingual Brussels…http://bruxelles.cafebabel.com/en/post/2008/06/19/B-interACTiv-Join-us-for-an-out-of-the-ordinary-adventure-in-a-playful-multilingual-Brussels
The Ferry Biouel: http://www.biouel.be/
Italian Cultural Institute: http://www.iicbruxelles.esteri.it/
Russian Cultural Centre: http://www.centreculturelrusse.be/ru
Finland Embassy in Brussels, with Cultural Calendar: http://www.finlande.be/public/default.aspx?contentid=92137&culture=en-US&contentlan=2
Hungarian Culture Brussels (HCB), the Cultural Section of the Hungarian Embassy in Belgium http://www.hungarianculture.be/
Japanese Culture Centre: check out exhibitions, films and concerts! http://www.be.emb-japan.go.jp/english/culture/index.html