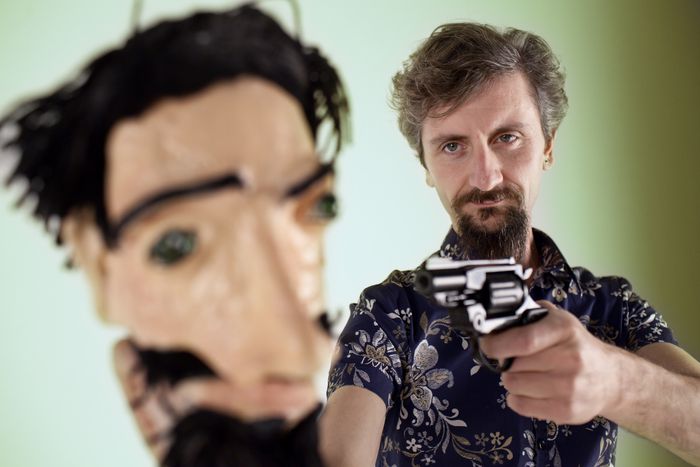 Ascanio Celestini: 'I denounce verbal violence of our time'
Published on
He is the mouthpiece of contemporary Italian theatre, a critic of power, an anthropologist who depicts the evils of our time better than anyone else. The 39-year-old actor, director and author talks about coming from outside Rome and where his one-man-show gets its inspirations from
Ascanio Celestini looks and talks to you as if he were your older cousin. One of those older cousins who was born in the seventies, mind, who has gone through the same stressful changes as your (twentysomething) generation, albeit less suddenly than we did. He is one of those older cousins who has succeeded in conserving the wisdom necessary to understand people. He is an open book, as fascinating talking to me from his hotel chair in Montmartre, northern Paris, as he is onstage. 
Linguistic revolution
Celestini always dresses in black. His goatee measures twenty centimetre long, further darkening his appearance. In his onstage monologues he talks cynically onstage about people who don't manage to communicate, people who march in single file, discrimination, corrupt and intrepid politicians and happy madmen who lose all hope when they realise that they live in a psychiatric hospital. At the theatre des Abbesses in Paris in June, Celestini's show was sold out two nights in a row. In Single File ('In Fila Indiana') is perhaps the most violent of his performances, with the storyteller himself using the verbal violence which characterises our time, be it in politics, at work, at school or on the street. 'The unwritten rules of what cannot be said are disappearing,' he explains. 'This linguistic revolution is of interest to theatre but should not touch politics.'
On top of the absurdities of the Italian prime minister Silvio Berlusconi, which are too well-known to cite, comes the 'verbal violence' used by the media. 'One example was when newspapers ran a headline claiming that the Italian archbishop had said that homosexuals were paedophiles. Instead, he had related the two in a dangerous manner, by claiming that if we simply accept homosexuality, we will finish by accepting paedophilia. I denounce verbal violence because historically it always precedes physical violence – like in Rwanda, when the hutus called the tutsis cockroaches and finished by exterminating them.'
Theatre is maths
Celestini prefers to describe himself as a 'collector of stories' rather than a 'storyteller'. He goes into prisons, schools, hospitals and psychiatric hospitals to do anthropological research. His film The Black Sheep ('La Pecora Nera'), which was selected for the 67th Venice international film festival, sees him playing the role of Nicola. The line between normality and madness is practically inexistent in the film which condemns our 'supermarket society'. In the final scene, wandering between the shelves of a supermarket, Nicola swallows and then vomits up everything he finds.
Celestini's 'storyteller' style is rich in the use of repetition and concentric poetics, where one story always fits inside another. His performances are always accompanied by an electric guitar, as he narrates the stories of schoolchildren who are hated at school and further ostracised by the headteacher, of a lonely and empty man who sees a ghost of himself but cannot form a single person of it, of a corrupt president who overtly makes fun of his people. During his tours in French-speaking countries, he is accompanied by Patrick Bebi, a chubby blonde actor who simultaneously translates his works and who also sports a long goatee.  'Ascanio gives a lot when we are onstage,' Bebi explains. 'He transmits a very strong energy to me when I am standing beside him. I try to pass that on to the public.' So why do the French adore Celestini, in Bebi's eyes? 'Simply because they find a precise and limpid political speech in his works which doesn't exist in the theatres of northern Europe.'
Something about Morena
Celestini lives in Morena, a village outside of Rome, in a house opposite the one he was born in almost four decades ago. He married the niece of his grandfather's friend in a theatre in the northern Italian region of Emilia-Romagna, though the event took place during a workshop with elderly people. 'We had to rehearse a scene in which two people get married and so I decided to do it for real,' he laughs. 'Morena used to be considered to be a suburb of Rome; now it's a 'periphery'. Once these places were like towns in their own right. There was no need to go into the capital to work. Now the peripheries have become the seats of shopping centres. The anthropological mutation has transformed them into dormitory suburbs. Similarly the proletariat has been absorbed by the bourgeois and the city has also 'gentrified' in its own way. We have ended up behaving like consumers in the city. We don't go there to meet people but to buy things. We don't go to the bar to chat to the barman anymore. There aren't any places where we can tell stories. We don't need human relationships anymore.'
Celestini does not try to separate his work from his private life, perhaps out of fear of losing more solid and rare relationships. This is the most important lesson which he manages to pass on. For that reason, you should look him up in the theatre; he is currently performing in For One's Country ('Pro Patria') in Italy, a show dedicated to 2011 marking 150 years of Italian unity.
All images © courtesy of Ascanio Celestini
Translated from Ascanio Celestini, l'ultimo dei cantastorie: «Denuncio la violenza verbale dei nostri tempi»