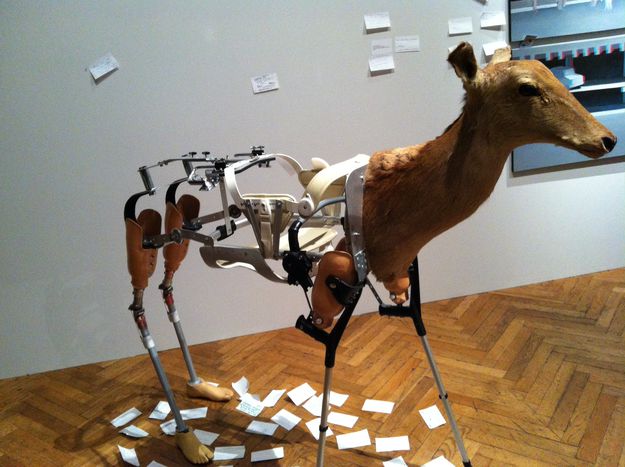 ART TRUC TROC : Art for Everyone!
Published on
Art for everyone: this is a good way of describing the latest edition of "Art Truc Troc" expo in Bozar on January 16-18, 2015. A tribute to innovative ideas far from the usual artistic norms. Artists present their work and visitors interact with them directly through small messages written on post-its.
Art as a playground
This exhibition of only 3 days was on its 11th edition and has been an enormous success! Proving art can be anything: transforming IKEA tables or paying a tribute to disabled people. Pictures, drawings and colourful creations, made with simple daily life objects, such as post-it.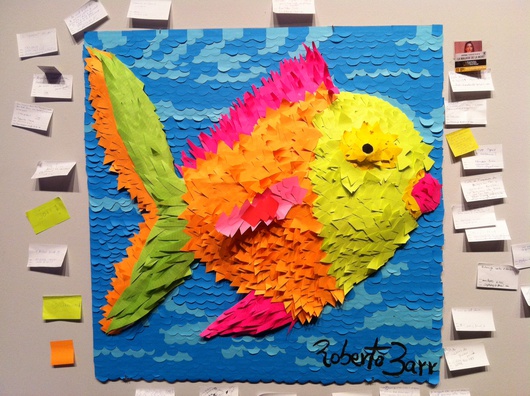 The visitors enjoyed discovering "new talents" through very different art pieces. The young ones were particularly delighted to use their imagination to decorate glasses on site. While some others enjoyed watching young artists performing live. This kind of exhibition is certainly a rewarding experience for anyone wanting to explore new ways of expression.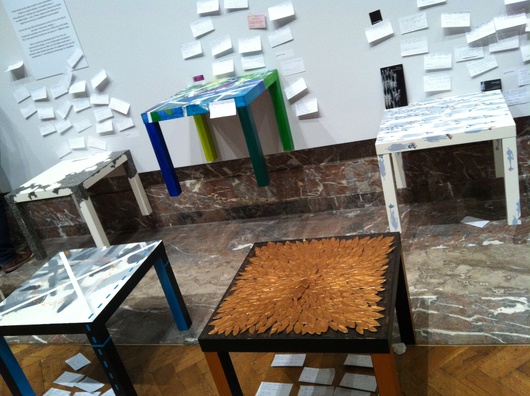 Also of note: the concept of "barter trade." Visitors could read what others visitors were offering for the art pieces: everything was up for auction; visitors were invited to write down what they were ready to offer in exchange for the art piece, and it was up to the artist to choose which of the proposals he/she would favour. These offers would range from drawings or chocolate cakes from young ones to more astonishing proposals likely to hit the more conservative minds. As the old saying says: "All is fair in love and war,"and may the best offer win !  
Interview with Paul Adikt
Cafébabel has the opportunity to meet one of the artists who took part in the exhibition: Paul Adikt is a french artist, who has been living in Brussels since 2009.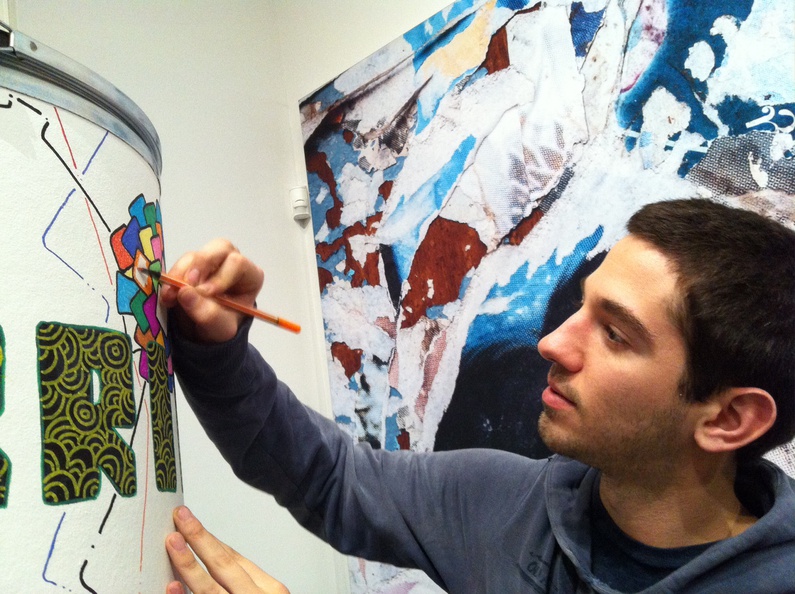 CaféBabel: Hello Paul, could you tell us a bit about you, using your own words?
Paul Adikt: Hi, I'm Paul GrandJean, but my pseudonym is Paul Adikt, meaning my artist's name. I'm a graphic designer and a musician. I was invited to work on ART TRUC TROC which is, as its name suggests, about art and barter and also about "trucs," which means things like installations, scenographies and this "modern" kind of art. 
CaféBabel: Why did you attend this exhibition?
Paul Adikt: I was invited by the event organisers to take part in a promotional campaign for the Perrier brand (one of the sponsors, ed). It was about creating some big kegs, just like enormous cans around 1.20m height and 50cm diameter.
CaféBabel: Talking about the post-it, which proposal was the most incredible for you?
Paul Adikt: Some were really funny! For instance someone was offering a one night stand and signed with lots of small hearts, I found it quite likeable. But there were all kinds of proposals, as the visitors were from all ages. For me, there was a 12 year old girl who watched me while I was working and she left me a note: "I will invite you to my dance performance and you will be able to have your artwork in my bedroom for my whole life".  That was cute !
CaféBabel: Did you enjoy attending the event?
Paul Adikt: It was the first time I was performing live painting. In addition to that, the exhibition was huge. It is estimated that there were around 10,000 visitors over the three days. So,  at first, I was a bit intimidated by all the people staring at me while I was designing and I was trying to hide my work... But as the day went on, I felt more and more comfortable: the people were showing interest in the concept of live painting, and many of them came to ask me questions about what I was doing and how I was inspired.
CaféBabel: Where does your inspiration come from?
Paul Adikt: I'm very mental. My inspiration comes from shapes. I start drawing geometrical shapes, like squares, circles or eyes. Then, I multiply the shapes until something emerges from them: it can be a man, a shoulder or a hand. For me, these shapes represent all the nervous connections in our heads. I don't have any final vision of my work when I start drawing. I work little by little, following the images that the shapes are bringing to my mind. So it's very psychedelic at the very end!
CaféBabel: What is the link between your designs and your music?
Paul Adikt: My music is very linked to my designs, it also represents the nervous connections in our heads. But my music is very joyful, though it's electronic and psychedelic music. By contrast, there is a lot of sadness in my designs. So I think the connection point between both my music and my designs lies in kind of a melancholic feeling.
CaféBabel: When did you first start playing music?
Paul Adikt: I started playing music when I was 4 years old. First I played the piano for many years, then I played the guitar before turning to electronic music. I performed as a DJ when I was between 15 and 20, then from the age of 21 I started to produce my own music.
CaféBabel: Do you like Brussels?
Paul Adikt: I love Brussels! Brussels is a very young, cultural and dynamic city in terms of art. I haven't had the chance to know Brussels the way I know Paris yet. But I've come to know quite well its cultural and artistic side thanks to my school, my friends and the relations I've built through it. I advise every artist to come to Brussels, because it is a great city for art.
CaféBabel: What are your plans for the future, any coming challenge?
Paul Adikt: I will present an exhibition of my work on March, here in Belgium in a Golf Club. All the details will be available on my website: www.paul-adikt.com
Get to know Paul Adikt through his 5 senses: 
Get to know Paul Adikt through his 5 senses:
Favourite sound: The sound of trees
Favourite flavour: My dad's pasta
Favourite material: Clay
Favourite view: Nature or Humancraft
Favourite scent: My girlfriend