Arianna Huffington: blogger role model for Greek girls
Published on
With quotes like 'Darlings, make blogs, not war', the Athenian, 60, has become a big name stateside. However, the woman once known as Arianna Stassinopoulos has never seen the same notoriety in Greek circles. Too bad
My typical ephemeral answers to 'what do you want to be when you grow up?' went from being a teacher, movie actress and pop singer, but it never crossed my mind to become a blogger - did the 'profession' exist when I was a child? Today, in my late twenties, I'm proud to present myself as a blogger, even participating in forums with that identity. Today, I also admire a 60-year-old Greek woman living in LA called Arianna Huffington. After stints at Cambridge and in London, the Athenian moved to the US where she eventually co-founded the successful American blog the Huffington Post ('HuffPo') in May 2005. By March 2010, it had 13 million unique visitors and went on to win a webby award as the people's voice winner for best political blog.
Icarus vs Arianna Stassinopoulos-Huffington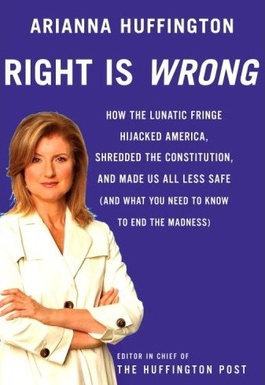 A lot is said stateside about Arianna Huffington. She had an unsuccessful political career (she lost the 2003 governorship of California to Arnold Schwarzenegger), an unsuccessful marriage (US republican politician Michael Huffington, father of her two teenage daughters, came out as bisexual after their 11-year marriage ended), an unsuccessful television persona...In the end it was shunning institutions and creating a blog which helped Arianna Huffington establish her life and political views. As a democrat 'convert', Huffington covered the 2008 elections, congress and strongly opposed US interventions to the Yugoslav wars as well as the war in Afghanistan, attacking politicians and their show circuses. One quote in her liberal blog, in which she invites celebrity bloggers to write, attacks current secretary of state Hillary Clinton: 'In hell, there's a special place reserved for those who could do something to stop the war and they didn't do anything. Hillary is one of them.'
However, 'the most upwardly mobile Greek since Icarus' is not talked about in Greece. Web searches bring up the same things over and over again for Arianna Stassinopoulos-Huffington:  'queen of the blogosphere' with controversial political ambitions, a failed 'marriage of interests' and about her overall lifestyle. There are also some attacks over the books and biographies she has written (around twelve in total), which most recently includes a guide to blogging. Before becoming a blogger, Arianna authored a feminism 'answer' to Germaine Greer's work, and biographies of Maria Callas and Picasso, which Greek searches accuse of being gossipy. I even discover that Arianna at one point was charged for copyright issues and plagiarism, though these cases were settled.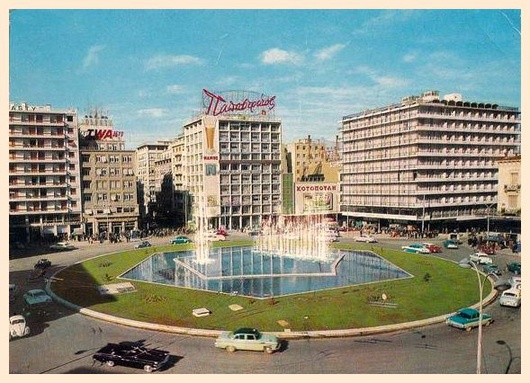 Her father Konstantinos was a 'workaholic' journalist, who participated in the Greek 'national resistance' against the Germans and was a prisoner at a German concentration camp. Arianna was raised in sixties-era Athens, where she first read about Cambridge university in a magazine before  flying over to the UK with her mother to investigate. This was not common for young Greeks at the time, unless they had a lot of money or they were coming from rich families. The fact that her mother helped Arianna is revealing; it was an uncommon attitude at the time. Most families were conservative. Athens was considered one of the most beautiful capitals of Europe, a city by the sea with nothing of its anarchic and chaotic architecture of today; people really were 'in their own cosmos.'
Greek or not Greek?
Whilst in one report Arianna says she quit using her Greek name after her divorce because because she was tired of spelling it, I'd say the oil-industry connected name of Huffington 'works' better for a US audience. Arianna walks the walk and not just talk the talk. She is an activist who is not comfortably adopting children from third world countries or waxing poetic about social problems and politics. I cannot find enough dynamic women to admire in Greece never mind elsewhere in the civilised west, in business, arts or politics - they're more 'pseudo-masculine'.
Arianna's absence from national television means she remains largely unknown from the public. This doesn't mean she feels the same about Greece. Interviews show that she is very proud to be Greek, quoting famous authors and in fact, her exuberant attitude is quite a Greek characteristic - tchahpina (τσαχπίνα, which translates to 'dapper'), as we say in Greek. Although she admits trying to hide her Greek accent, she has effectively championed it. Her twitter account reveals she was in Greece for vacations this summer, and in Crete last year where she celebrated the anniversary of her divorce from her ex-husband, with him and their kids. And of course, we know this, because she blogged about it.
Read the official cafebabel.com Athens blog
Images: Arianna Huffington of the Huffington Post (CC) JD Lasica, socialmedia.biz; cover from Huffington book (CC) amazon; postcard view of Omonia square in Athens (CC) gichristof/ Flickr; video: CourageCampaign/ Youtube