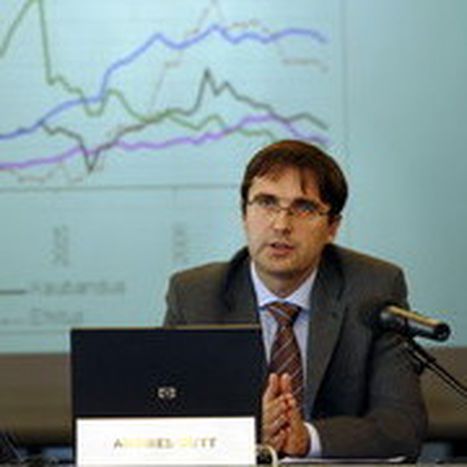 Andres Sutt: Earlier Measures Help Estonia Manage with the Financial Crisis
Published on
Deputy Governor of Eesti Pank ANDRES SUTT spoke at the conference The Impact of Financial Crisis on Central and Eastern Europe held in Frankfurt about the situation of the Estonian economy and the impact of the financial crisis.
When commenting on Estonia's recent economic developments, Deputy Governor of Eesti Pank Andres Sutt said that the dynamic economic expansion of the past decade was primarily supported by EU membership and the favourable global economic environment. "In the last couple of years of the economic cycle the contribution of credit-based consumption and investment to growth was especially large. When households' borrowing ability ran low and investors' risk assessments changed, economic growth started to subdue in the spring of 2007," said Sutt.
According to the central bank's Deputy Governor, economic downtrend in Estonia took off much earlier than the global financial crisis culminated. Therefore, it is easier for us to cope with the current crisis. "With economic growth slowing, the classical sources of concern, such as current account deficit, credit growth and thus also the dependence on external financing, have rapidly decreased. The more than 95% market share of Nordic banking groups along with high liquidity and capital requirements and the continually high profitability of banks help balance the Estonian economy."
According to Andres Sutt, the fiscal surpluses accumulated in more favourable times and the establishment of requirements to banks above the international minimum standard have helped Estonia better cope with the impact of the global financial crisis.
The Deputy Governor also said that looking ahead, Estonia's most important short-term economic policy objective is the adoption of the euro. "The economic downturn in Estonia and the weak global economic position will cause inflation to drop quickly in 2009 and 2010. Thus, if we continue to pursue prudent fiscal policy, our prospects of meeting all the Maastricht criteria in the second half of 2010 will increase considerably," said Sutt.