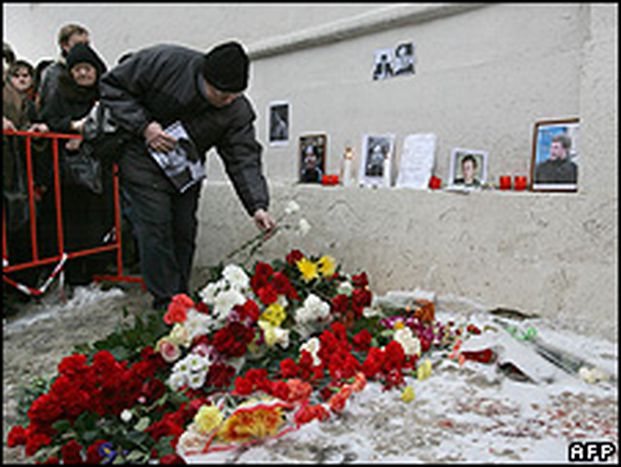 Anastasia Baburova Killed in Russia
Published on
Russia gets back to a bloody past with another journalist paying for her work with her life. Will anyone finally stand up against it?  - I do not even feel commenting it.- From BBC The double murder of a top human rights lawyer and a journalist in Moscow has reinforced the fears of those who say that in Russia words alone can put you in mortal danger.
"His murder shows that those who speak out against abuses and work to hold abusers to account risk their lives," Rachel Denber of Human Rights Watch says of the death of the lawyer, Stanislav Markelov.
A journalist who was wounded in the attack which killed Mr Markelov later died of her injuries. The dead reporter, Anastasia Baburova, was with Mr Markelov when - investigators say - a masked gunman shot him in the head. After shooting Mr Markelov, the gunman shot her.
Anastasia Baburova was a trainee with the newspaper Novaya Gazeta.
The paper specialises in human rights stories, and used to employ Anna Politkovskaya, the investigative reporter who was herself murdered in 2006.
Chechnya files
If this killing has shocked Moscow, it is mainly because it is not the first. The newspaper Izvestiya lists other victims - including Ms Politkovskaya - and asks "who's next?"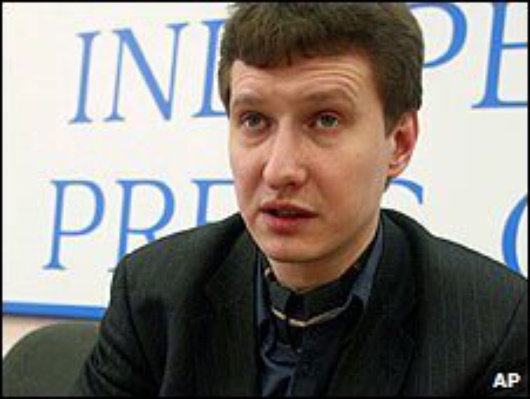 Mr Markelov had said that Russia's legal system was deeply flawed
The newspaper front pages with the body lying in the street, or in a bullet-riddled car, are not as common as they were at the height of Moscow's "wild east" era in the 1990s.
Nevertheless, a relatively new presidential administration dedicated to strengthening the rule of law has been unable to stop them.
In September last year, Ruslan Yamadayev, a member of a prominent Chechen family, was shot dead as his car stood at traffic lights in central Moscow. That attack took place at rush hour - almost in the shadow of the main offices of the Russian government, and the British embassy.
Mr Markelov had worked on numerous high-profile human rights cases. Most famously, he represented the family of Elza Kungayeva, a Chechen woman killed by a Russian army officer in 2000. Elza Kungayeva - who was known as Kheda to her family - was murdered by Colonel Yuri Budanov.
Mr Markelov had campaigned against Yuri Budanov's early release. But last week, a court ruled that he could go free.
The court decision led to protests in Chechnya, a volatile North Caucasus republic deeply scarred by heavy fighting between Russian forces and separatist rebels since 1994.
Critics silenced
At the time of his death, Mr Markelov was also involved in the case of a newspaper editor from Khimki near Moscow. The editor, Mikhail Beketov, was severely beaten by unknown assailants.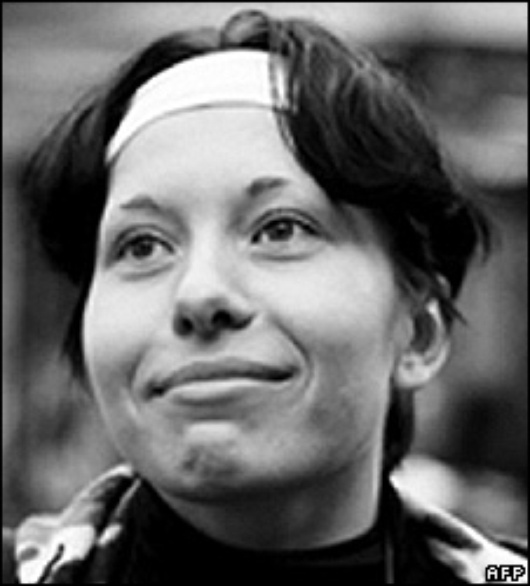 Journalist Anastasia Baburova, 26, died of a gunshot wound to the head
Investigators conducting the murder inquiry are working on the assumption that the killing was linked to Mr Markelov's work.
"We are looking into every possible theory, but the main one is linked to the job of the victim," Anatoly Bagmet, head of the Moscow department of the Russian Investigative Committee, told the Interfax news agency.
Russia's liberal Yabloko Party had a bleak assessment of the significance of the killing. "This murder shows that political murder becomes the decisive factor in Russia's social life, and the use of force - the main argument against a personality," the party said in a statement.
Nicola Duckworth, a Europe and Central Asia specialist at Amnesty International, called Stanislav Markelov's murder "a despicable crime".
"The Russian authorities must take decisive steps to show that such crimes will not be tolerated. Silencing those who defend human rights and work to uphold the rule of law is absolutely unacceptable," she said.
Mr Markelov's supporters will be watching the investigation closely. Its progress will inevitably be seen as a sign of how serious the authorities here really are about making those graphic, grim front pages a thing of the past.