An Italian in New York during COVID-19
Published on
What's it like to be madly in love with New York City, and just when you arrive to fulfill your dreams - corona happens? As an Italian locked up in her home during the pandemic, there is plenty of time and many things to reflect on.
Who knows if Carrie Bradshaw would be satisfied with online shopping only? She would probably run the risk of ordering a pair of Louboutin of a size too small, choosing a Prada skirt that doesn't suit her or, even worse, waiting for the new Louis Vuitton bag which was accidentally delivered next door. In any case, in times like these, she would have to adapt too. The only ones that are lucky to set foot on Fifth Avenue are mannequins at the windows, after all. Not that they should be envied, since they're frozen as Paleolithics. Because, in breaking news, between "Sex" and "the City" the only choice that Carrie could make today would be the first one.
The city is literally off-limits. I have a vivid imagination, but the more I try the less I can imagine an empty New York City, while I am now draped in a coat that Carrie doesn't want to order and that nobody would like to have in their closet. The tag says "COVID-19" and its price is staggering. It doesn't match with anything, yet it adapts to every body and sticks to every skin. The winter fashion weeks didn't wear it on the runways, but, unknowingly, they made everyone wear it all over the world. Today, in the middle of April, during the long-awaited time of floral blouses and tanned arms, the USA boasts the highest number of sales and New York is the capital of this bad fashion taste. Leaving metaphors aside, the United States of America has the highest number of COVID-19 deaths and the city that never sleeps is the new global hotbed. You know, the worst trends are always the most popular ones.
Rewind
It all started for me on July 29th 2019 when, looking through the airplane window, I said goodbye to the Italian province of Veneto and nine hours later, hello to the Statue of Liberty. All I have with me is two suitcases for four seasons, with no mask and gloves inside. You know what they say, trends are unpredictable.
For months I've been pretending to be an explorer, an unscrupulous tourist, an unprepared world traveler. And so the "made in the USA" days soon became normal life. Lots of first-time faces became familiar after a while. But the more I read and reread my bucket list, the more I saw the words "world pandemic" creeping in, and today the check is there marked red and bold.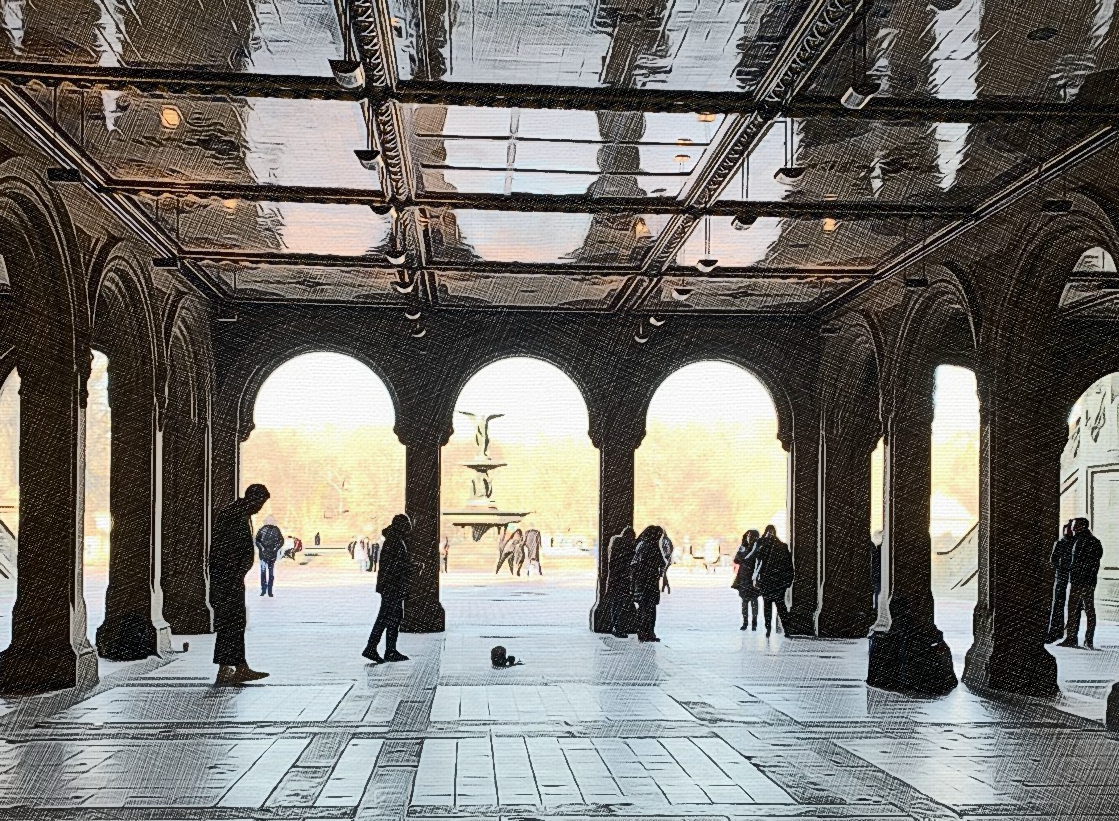 I first met the virus on February 14th, it is like a blind date for Valentine's Day. By coincidence, I'm in one of the most romantic spot in New York: Bethesda Terrace in Central Park. I'm alone and happy. Out of the corner of my eye I notice that a boy with a camera is approaching me. He asks me to send a message of encouragement to all the victims of the Coronavirus pandemic, that flu I've heard of that is bringing China to its knees. "Everything's gonna be fine," I say in one breath. And I'm on cloud nine for being able to pronounce that sentence that has been for months like a tongue-twister to me. The boy thanks me, leaves me with my daydreams.
Out of the blue
A week later I return from a trip to California with a red face and my phone's storage fill, and I find out, out of the blue, that China is no longer the only one brought to its knees. Back in my hometown, my brother has to cancel his 11th birthday party, my grandmother has to give up on her daily bike ride and cappuccino, and my friend Fla can't leave to start her new life in Bologna as she planned. Everyone has to remain at home. On March 6th, Lombardy and other areas of Veneto become quarantined zones, so called "red-zones".
But Dad, what happened to your "it's just a normal flu, don't worry"?
A bitter smile appears on my face when watching videos of Italians dancing on their balconies, of banners with rainbows, and empty shelves with no flour.
For the first time I'm astounded. The shock came out of the blue like a punch in the face. Within a few hours, the whole of Italy is declared a "red-zone", without even having the time to be an "orange-zone". It is official: my country is under attack and I, like many others, didn't even notice that it was going to war. My national identity becomes stronger than the one you develop when someone, on this side of the Atlantic, tries to sell you "Bronte Pistachio nuts" spelling the name wrongly. My fear grows stronger every morning when reading headlines about the lockdown, self-declaration forms, closed down schools, supermarket rushes, homemade masks, geese crossing the deserted streets, emergency, good citizenship, the football Serie A season forced to a halt and empty empty cafes, pubs and restaurants.
Why us? Why "only" us?
My national pride, on the other hand, becomes stronger, triggered by every "I'm sorry for Italy", a stinging sentence full of pity; by every question about the health of my family and friends; by every dismayed face they made when I answer that I don't know anyone who's positive. They even ask me if I'm sure about it because, according to them, lots of people are probably lying. A bitter smile appears on my face when watching videos of Italians dancing on their balconies, of banners with rainbows, and shelves with no flour. I see Anna Wintour deciding to self-isolate after the Milano Fashion Week, and I watch the name of my country being mistreated, wrecked, and splashed across the front pages. I realize that a new word was added to the description of the average Italian: besides spaghetti-muncher, pizza-maker and great-gesticulator screaming "ciao bella", now there's also the term "untore" (which could roughly be translated as "infector"). Why us? Why only us?
Vasco Rossi, LeBron James and Luciana Littizzetto
On March 11th, overseas, the word "prevention" is being used as a synonym for "fear". The president speaks to the nation sitting at that well-know desk that we all have seen so many times in movies. Donald Trump announces that on Friday the on March 13th, the USA will ban every travel from and to Europe. By doing so he forces the singer Vasco Rossi to run away from Los Angeles back to Italy. You see fewer planes in the sky but, apart from that, life is quite normal for now. Just more water is used to wash hands, and hoarded produce gathering dust in garages. And then, here it is, the cursed statement, the Sword of Damocles hanging over our heads: avoid New York, at least for a while, at least for this weekend.
Shutting down schools means millions of children without their only guaranteed meal of the day, no tourists means street artists left empty-handed, closed businesses means billions of workers out of the streets with no permit and no documents.
I nod, even though I know in my hearth I can't give up on New York, just like LeBron James knows I can't give up on his fans. He says "I play for my fans" when asked about the possibility to play at empty arenas as they're doing in Europe. But, not long before, we both have no choice. The funny jokes, the elbow bump instead of the handshake, and the general sense of omnipotence and superiority will eventually get you nowhere.
But the situation gets serious, really serious, when even the Ellen DeGeneres Show decides to suspend the production. Ellen, idolized as a deity and even more, leaves the audience at home: social distancing has officially started. All famous American talk shows close down, first filming without live audience, with canned laughter that, it must be said, makes you regret the"applause sign", and then taping remotely from home. So the daughters of Jimmy Fallon, adorable professional disturbers, become the little princesses of America, the dark garage from which James Corden films his show becomes the dream of every fledgling boy band, and the garden where Ellen gets bored becomes the opulence rubbed in everyone's face. With all due respect to the good will of Fabio Fazio and Luciana Litizzetto, Americans get an A+ on the subject of communications and entertainment.
Another New York
March 16th is the first day in which no school in New York State rings the bell. In my heart, I still hope that the announced two weeks won't multiply like loaves and fish. Knowing that it would have been the last one, I spent the previous week as if it really was the last one: I stocked up on books from the library, on shampoos and conditioners from the supermarket, on walks in the sunlight and, above all, on the beauty of the Manhattan view from my favorite park with a lump in my throat.
I stop feeling guilty for my freedom, that very one that Italy hasn't seen for quite a while, when the quarantine knocks on our door. Everything changes, in the blink of an eye. The situation goes from "under control" to "out of control". How? When? Why? I don't know, but everyone is going crazy. Instead of a massive rush to buy yeast, here there is a massive rush to buy weapons. It seems that Americans take the motto "the best defense is a great offense" literally. The idea of being deprived of the freedom of movement, action and initiative doesn't attract them and therefore they take measures immediately, trying to feel safe and protected. But here is the question: Who likes to feel helpless and trapped?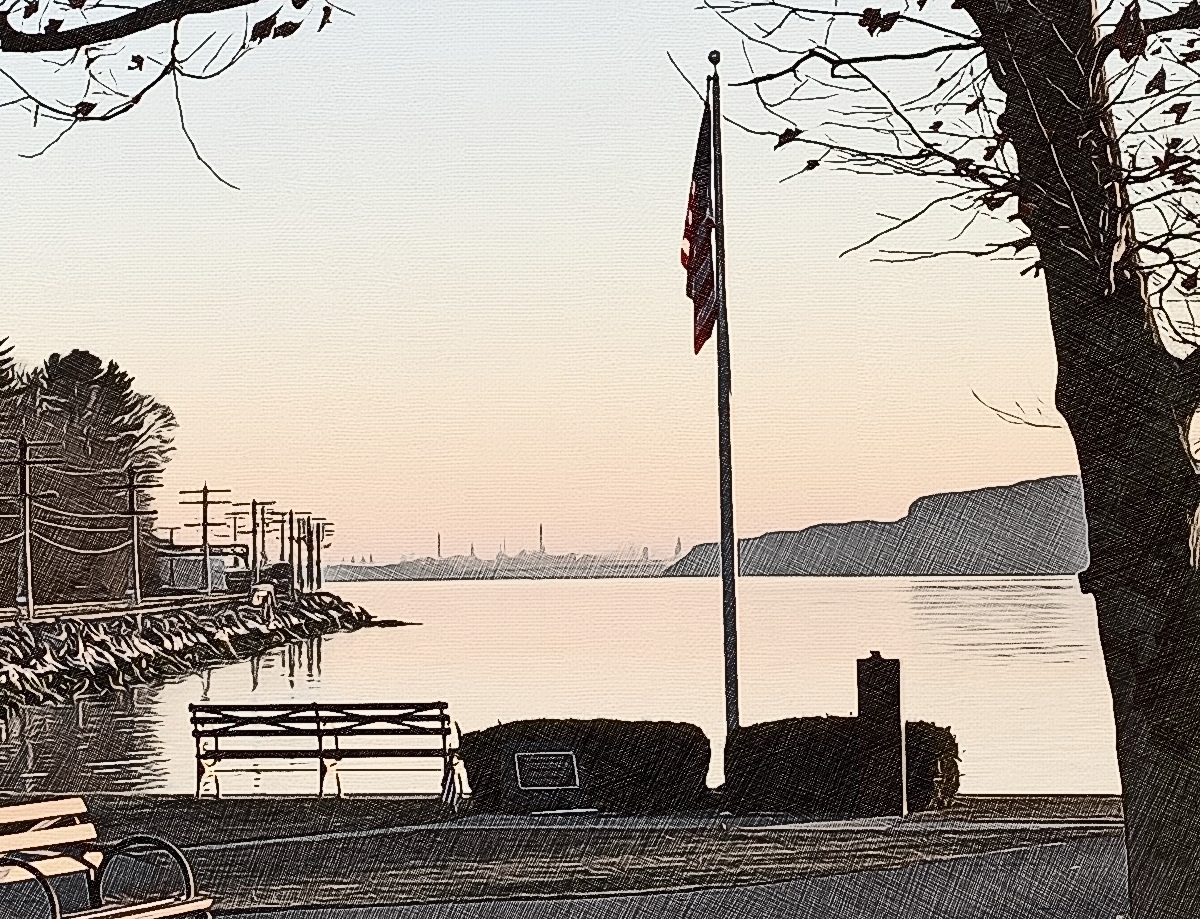 In the meantime, I discover another side of New York. Shutting down schools means millions of children without their only guaranteed meal of the day, no tourists means street artists left empty-handed, closed businesses means billions of workers out of the streets with no permit and no documents, a ban of leaving homes means overcrowding and condemned apartments with miserable hygienic conditions.
Betrayed by its own pace, by its own efficiency, by its own mobility and its own openness to multiculturalism, the city of blinding lights and promises of dreams fulfilled turns into goosebumps and shivers. I'm like those children who, on Christmas Eve, go downstairs and think they have run into Santa Claus, magic and legendary, and then rub their eyes and find out that it is just their grandpa coughing with a full stomach after Christmas dinner.
Everything will be alright
It's been two months since that "everything's gonna be fine" said at Central Park. Everything seems real and more official since Tom Hanks tested positive, that #Istayathome turned into #stayhome and that I learned how to pronounce "coronavirus" correctly.
Whether they like it or not, Americans always end up standing on the top step of the podium, stars and stripes in the backdrop. But I'm not sitting on my sofa licking my wounds because of Italian top swimmer Pellegrini's silver medal, after all I'm here in New York, that wonderful city I fell in love with. Meanwhile, mass graves have been dug in the Bronx area, where in August I visited the zoo and took pictures of monkeys. There is a temporary hospital on the water called "Comfort" alongside the State of Liberty, which I visited not so long ago. St. John's Cathedral will be used as a field hospital. And who knows if the same will be done with St. Patrick, the one where I attended mass in December. Hospital tents are all over Central Park, right where I sang "We Will Rock You", with my hands in the air, desperately in love with Brian May's curls.
Andrew Cuomo, governor of New York City, announced another month of lockdown, at least. The big apple is now chewed up and browning. It is unrecognizable and undersold, it has fallen from the tree and no one picks it up from the ground. But despite the grayness and sadness used to describe it everyday, it hasn't changed a bit and it is always the same in my imagination: red and juicy; the best one (and I don't even like apples). I'm waiting for someone to take care of this city and in the meanwhile, with glassy eyes and trembling legs, I have many questions swirling around my head, one of those is: in quarantine, do we honor Carrie Bradshaw by wearing heels or not?
Translated from Io, italiana a New York ai tempi del Coronavirus