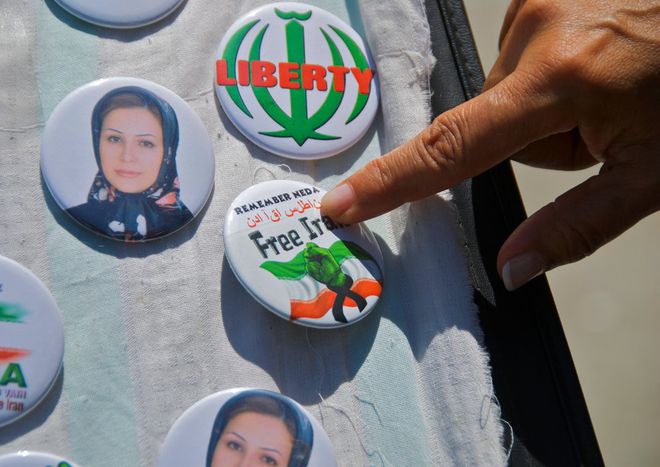 Almost 50 journalists behind bars: 'all young Iranians are potential journalists'
Published on
On 11 February 2010, both opponents and supporters of Ahmadinejad were in the streets to celebrate the 31st anniversary of the Islamic revolution. We speak to the Iranian lawyer and 2003 nobel peace prize laureate Shirin Ebadi
In June 2009, the Iranian elections saw Mahmoud Ahmadinejad's presidential mandate renewed with 66.6% of the vote. An election? What a joke, it's almost funny… Since the results were announced, an ever increasing number of voices have been raised to denounce the masquerade which was engineered in place of the electoral process. International observers prevented from attending, some urns crammed full and others stolen, participation levels of over 100% in certain villages… the numerous witness accounts leave little doubt as to whether fraud was committed. According to leaked ministerial statements, the reformist candidate Mir Hussein Moussavi actually came first with 45.2% of the votes, followed by Mehdi Karoubi, also a reformist. The lucky president on the other hand should have arrived in only third place with 13.6% at the polls. As soon as the results were announced, millions of Iranians descended onto the streets to show their dissent. 'Where is my vote?' was the slogan written on placards, as often in English as in Farsi. The Iranian people were rapidly joined by Iranian expatriates the world over, also demanding to know what happened to their vote.
'What we expect from the west is solidarity'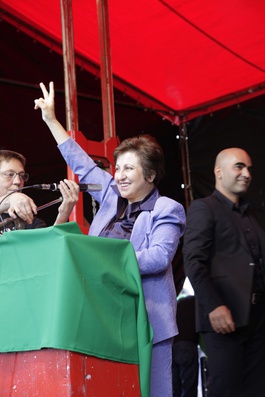 In Europe, we've said and heard a lot of things about this election. According to Iranian lawyer Shirin Ebadi, two foreign medias - Voice of America and the BBC - were interfered with from the very beginning of the protests. 'Foreign journalists have been sent home and those still in the country don't have the right to transmit information. In Iran, censorship is extremely strong. According to Reporters Without Borders we have more imprisoned journalists than any other country in the world,' she adds. At least 47 journalists are currently imprisoned, more than any other country since 1996, according to an American NGO, the committee to protect journalists (CPJ). Protesters judged by the government to represent 'a threat to the security of the state' are also in prison. In this climate, Shirin Ebadi concludes that 'new technologies have allowed all young Iranians to transform themselves into potential journalists. It's because of them that the information continues to reach abroad.' She herself is head of the circle for the defenders of human rights in Iran, an NGO which defends political prisoners free of charge. The organisation has banned in her home country since December 2008. 
A green wave has hit Iran and continues to leave its indelible traces. Green is the colour of Moussavi, the unfortunate candidate. It's also the colour of islam and a symbol of freedom. Iranians are showing great intelligence in this combat: they are not crying out for democracy or challenging the regime. They are simply demanding that their voices be listened to and that the freedom to choose their leader is not taken away from them. The only thing that Iranians are calling for today is the annulment of the elections. Criticism has even come from within the politico-religious apparatus, denouncing both the electoral fraud and the violence used against protesters. The late Grand Ayatollah Montazeri, a key reformist cleric, notably declared that the electoral results 'cannot be accepted by anyone of sound mind'. However, Shirin Ebadi rejects the idea of external intervention. 'What we expect from the west is solidarity. Pressure your governments so that they deal not only with the nuclear issue in their relations with Iran, but also the question of human rights violations.'
Looking to the future
During the last eight months, neither the mobilisation of the people nor the violence and repression have been weakened. As anti-government protests are banned, the opposition movement is using its imagination, taking advantage of official religious events in order to invade the streets. Nobody knows what the future of this post-electoral uprising will be, but it's certain that if the protests continue, 'this movement won't come to an end any time soon,' says researcher Azadeh Kian-Thiébaut. 'The Iranian revolution in 1979 started three years earlier.' In refusing to listen to the people, the government could be digging its own grave. 'The population is tired and has nothing to lose,' concludes Ebadi. 'The government has taken everything: its pride, its history and its rights.' This electoral fraud and the violence of the state's response when faced with legitimate and peaceful protests complete the mutation of the Islamic republic into a dictatorship. As the Iranian exiles in Paris say, 'nothing will ever be the same.'
Images: ©Steve Rhodes; ©Amnesty International; courtesy of Flickr
Translated from « Tous les jeunes Iraniens sont de potentiels journalistes »