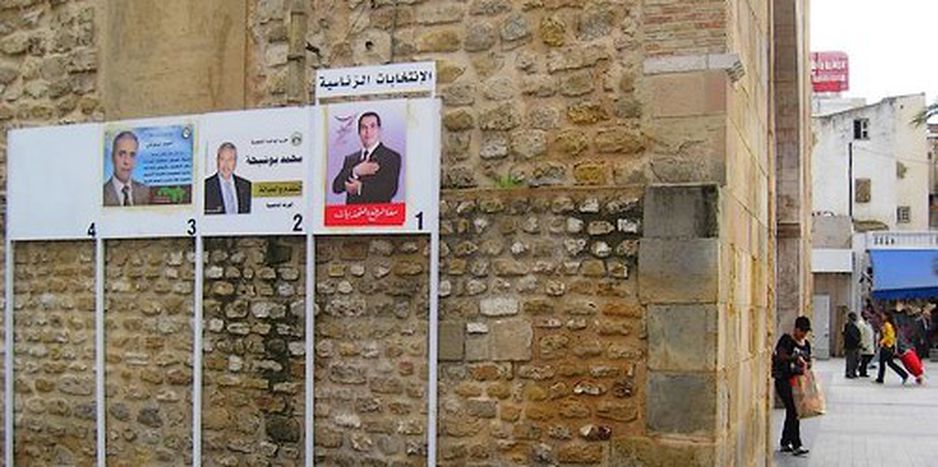 Ahmed Ibrahim: 'Being a Tunisian presidential candidate is not really a joy for anyone'
Published on
He's unauthorised to put posters up. He hasn't been able to hold any kind of meeting. The Ettajdid Movement runner, 63, goes head-to-head with outgoing president Ben Ali on 25 October, and describes his frustrations in an exclusive interview
He is everywhere. The Tunisian president Zine El-Abidine Ben Ali, 73, went all out for his fifth and probably his final election campaign, what with North Korean-esque meetings, giant portraits in which he poses hand on heart and with welcoming eyes, not to forget the purple red banners, which dot the 20 kilometre route from the town of Sidi Bou Said in northern Tunisia, to the capital of Tunis.
The issue at hand in Tunisia seems to be a foregone conclusion. Zine's main opponent is Ahmed Ibrahim of the Ettajdid Movement. He is resisting the broadly expected re-election of the so-called 'artisan of change' or 'Zine-Zine', especially after his 22 years of rule. Interview
What role do you play in this presidential election?
I don't have a choice: I can either be a bit-player here or leave. Being a presidential candidate in Tunisia is not really a joy for anyone but it's my right. Tunisians have the right to listen to another voice and to choose. There's no question that I abandon the ground to one single voice! I want to fight to be an equal competitor. In every election there is usually a minimum of equality between the candidates. But today, the level of inquality is frightening.
Which obstacles have you encountered?
Everything has been happening as if I were banned from campaigning. On the fifth day of campaigning I was restricted from the rudimentary means of even starting my campaign. My posters weren't allowed to be put up; they were called 'illegal'. But it was a purely political decision. In some areas our lists were deleted. Our electoral manifesto, in which I detail our programme, was also restricted at the printers, completely arbitrarily. And I haven't yet managed to have a single political meeting in the capital: everytime, I am told that the venue is taken. I don't have an interlocutor in terms of the authorities in place, whether it be the interior minister or communications. People refuse to speak to me.
You say that the current situation is 'worse' than the previous presidential in 2004?
There's not even 0.01% of visibility given to the other three candidates. All of the country's mediatic spaces are consecrated to the propaganda of the candidate in power. For two years now, I have been unable to count the unlimited number of hours that have been consecrated to the outgoing president. For this campaign, I had the right to one hour of television time, and that wasn't even live. The press is biased, it only reflects the position of the party in power. Every opposition candidate is 'censored' in their television appearances. The faintest hint of criticism of the regime is systematically deleted. I knew that the situation was bad, but I didn't know it would take these proportions.
Translated from Ahmed Brahim : « Etre candidat aux élections en Tunisie, ce n'est un cadeau pour personne »