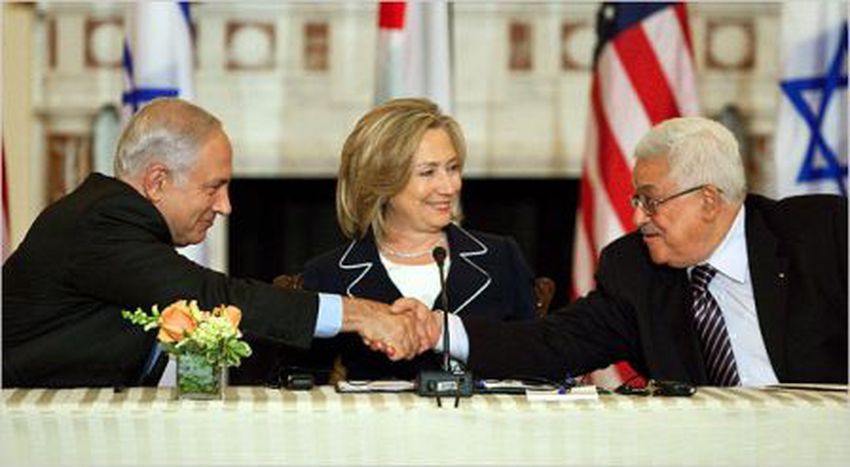 Agreement between Israel and Palestine for a road-map to peace in 12 months
Published on
A good sign, which however needs from Israel to stop the new constructions in West Bank, and the Palestinians to recognize the sovereignty of Israel and stop the attacks. Drew Angerer/ The New York Times In one small but hopeful early sign, Prime Minister Benjamin Netanyahu of Israel and President Mahmoud Abbas of the Palestinian Authorityagreed to meet in the Middle East on Sept.
14-15, and then to hold talks every two weeks thereafter, according to George Mitchell, the Obama administration envoy for Middle East peace, wire services reported.
Mr. Netanyahu and Mr. Abbas both pledged themselves to be peacemakers, though each cited the issues that could keep them apart: security concerns on the part of the Israelis, particularly after the killing of four Israeli settlers, and Israel's continued settlement construction, which the Palestinians insist must be halted in order for the talks to go anywhere.
Noting that they disagree on other core issues — which, in addition to security and settlements, include borders, the status of Jerusalem, and the rights of Palestinian refugees — Mr. Netanyahu said, "True peace, lasting peace, will be achieved only with mutual and painful concessions from both sides."
Mr. Abbas called on Israel to stop building settlements and to lift its embargo on Gaza. He noted that "we're not starting from scratch, because we had many rounds of negotiation between the P.L.O. and the Israeli government," referring to the Palestinian Liberation Organization.
The Palestinians want the negotiations to start off from where they left off at the end of 2008, when Mr. Abbas was negotiating with the former Israeli prime minister, Ehud Olmert. Mr. Netanyahu, who leads a right-leaning coalition government, has rejected any preconditions for the talks.
The Arab League also has put its stamp of approval on the negotiations.
Source : The New York Times