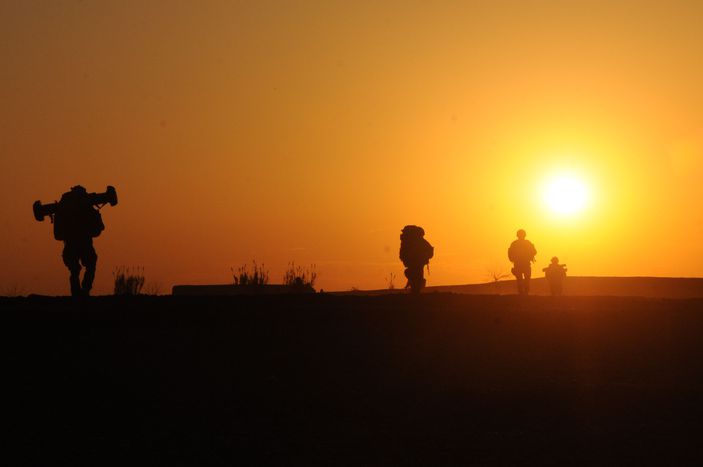 Against the war: A letter to François Hollande
Published on
Translation by:
cbinns
Back in 2012, I was one of the many who helped elect François Hollande as president of France. Aged 22, it was my first time voting in a general election. Three years and two terrorist attacks later, I begin to wonder when exactly I voted for France to go to war? How can it open the way to sustainable progress? That's why I wrote this letter. A word to the wise...
Dear Mr President,
I wish I were writing to you in different circumstances. My name is Katerina. I am 25 years old. I wouldn't class myself as either "nasty" or "nice". I am neither Islamic nor truly French. I am clearly European—my passport says I'm French—although I'm Spanish through my mother and Greek thanks to my Father.
Born in Paris's 10th arrondissement, and having lived there my entire life, I guess I'd class myself as Parisian. I am without a doubt part of "Generation Bataclan"—which found itself on the front page of French newspaper Libération the day after the attacks—although I have only been to the venue once, and distrust slogans even more than I do headlines. What else am I? If I had to choose between Libération and Le Figaro, it would be the former—for I voted for you in 2012.
Voting is believing
It was a huge moment for me—my first vote in a general election. The hope, the joy, the fear, and the ability to shape the future of the country... these were all far greater feelings than any illusions of power I might have. The subsequent fervour and victory when the left defeated the right, the jubilation in Paris' Place de la Bastille... in short, it was all about the youth and their hopes and idealism.
So I voted for you. I had been warned not to be so trusting; that the 'system' was bigger and stronger than Sarkozy, Hollande, Merkel, Schäuble, Papandreou, Tsipras, DSK or Lagarde, that it ultimately didn't matter because "they're all the same" and money spoke louder than people. They told me that old democracies were weak, voting was pointless and we might as well not give a damn since no politician has ever kept their promises. Long live abstention, and art for art's sake! Long live cynicism and aperitifs!
I was warned of it all, but in spite of this I still believed. My illusions believed in your promise to make "youth" your priority. My youthful progressiveness believed in the politics of the left: culture, social issues, education, health and the welfare state. My clear conscience believed that, by voting left, we would do more good than bad, and that change would take place, perhaps not now but in the near future, Insha'Allah—I'm not a Muslim, honest! My misguided open mind believed that the left stood for different values, for humanism and tolerance. My foolish ways and I, we were powerless.
So I voted for you. However, all this time later, I start to wonder when exactly I voted for France to go to war. How would the war effort possibly help the youth of the country? How can war open the way to sustainable progress? My mother was a teacher for 20 years in a 'Priority Education Zone' primary school in the 10th arrondissement. Like her, I question why the military budget has gone through the roof, whilst education is being severely cut.
Like all good politicians, the next elections are already weighing on my mind. What's the point of the left? What would the right achieve? Is the extreme right just another illusion? What about smaller parties? No chance. Abstention? Irresponsible. Spoiling my ballot? Then it won't count...
"There is nothing worse than war..."
I'll finish by telling you a story from when I was at my grandma's house. She crossed the Pyrenees to come to France, and at the age of 89 still lives at home with a dog and a television as her main sources of company.
That evening, the TV was on, and I could see my grandma watching the news. I'm not sure how much she understood about the references that all seem to merge into one endless stream - jihad, Twitter, COP21, Salafists, adverts, a meeting between Hollande and Obama, Putin, adverts, terrorism, hashtag, attacks, COP21, more adverts, Twitter, and so on. I saw her nod and shake her head from time to time; in between pouring her heart out to me over her inability to understand the way things are in the world nowadays.
"There's nothing worse than war," she tells me frequently. As a child, she had to flee the Spanish civil war and take refuge in France. She often tells me the story of her escape, the noise of the bombs, the horrific sights, the 3 days spent in the hold of a ship without food or water, in order to escape the bombings. A journalist touches on France's pledge to intensify air strikes in Syria and I watch my grandma shake her head. She then nods in approval at Angela Merkel's scepticism of going to war.
I have more doubts and questions than I do answers. I am however certain—thanks to an old woman who knows what she is talking about—that there is nothing worse than war. I would like to think, Mr President, that the future is a blank page, and that your power is more than just an illusion. So why chose the worst scenario?
Translated from Contre la guerre : lettre au Président