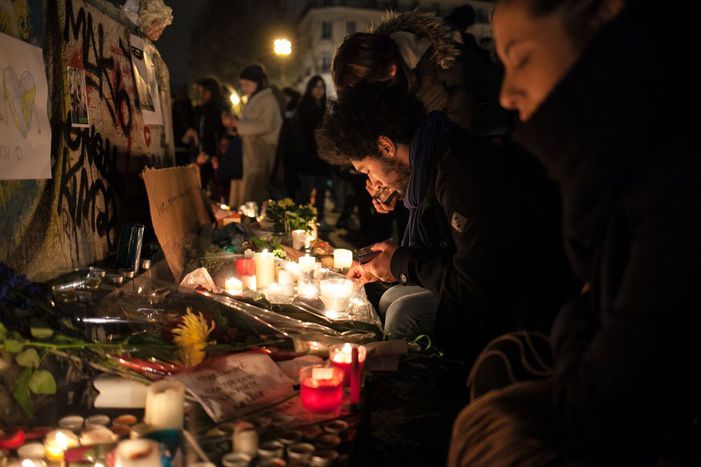 After the Paris attacks: "Love is stronger than hate"
Published on
Why, in the aftermath of the Paris attacks, we need to defend the humanist values of France more than ever.
France is currently experiencing the aftermath of its second massacre this year, only 10 months after the tragic killings at Charlie Hebdo. These new attacks have triggered an unprecedented worldwide mobilisation of solidarity. There has been a lot of support - Obama, Cameron, Merkel and other world leaders expressed their sadness, their incomprehension and their resolution to stand strong and united against terrorism. Iconic buildings around the world lit up in the colours of the tricolore as a sign of support.
Three days after the bloody attacks, Paris is mourning. The whole nation is under shock. The slogan of the city — "Fluctuat nec mergitur" — echoes the current state of mind of the entire country. Paris is tossed but not sunk.
People gathered together to remember those civilians killed in Friday's attacks last Sunday. This collective trauma sits deep — a panicked movement caused the square to empty during a gathering at Place de la République, after the sound of firecrackers was mistaken for gunfire.
But now is the time for all of us to unite together in the fight against terrorism and barbarism. To stand strong together. To show those who perpetrated this bloodbath that France will not be afraid, because they can't divide people who love life more than death.
Our response: Love, humanity and democracy
It is hard to make sense of religious fanaticism and nihilism, to try to respond to something which doesn't make sense, which is impossible to grasp for anyone who is not already brainwashed. Our response should be one of love, humanity and democracy. It is far from a naive response. It is contrary to all that the terrorists stand for: Hate, terror, and theocracy.
According to President François Hollande, France is now officially in a state of war. Borders are closed. A state of emergency has been declared, and it will remain this way for the next three months. These are exceptional measures. Whether this reaction is helpful remains in question. A narrative of war has, in my opinion, never been particularly successful in solving problems.
The consequences of this attack have given birth to feelings of vengeance and retaliation. "We will strike this enemy" said Prime Minister Manuel Valls; and two days after the attacks, France did launch heavy air strikes against IS strongholds.
It is war, but this war is also directed towards France's own citizens. This "war" is against an "enemy" which is not a traditional "other" but takes the form of, amongst others nationalities, French citizens. It reflects the slow but sure crumbling of the nation state in a globalised world, where holding a passport does not necessarily mean abiding by the cultural values of the country. These are complex issues each country has to face in 2015, and which cannot be solved with airstrikes.
Dehumanising terrorists is not helpful
It is easy to see terrorists as monsters — because their acts are so brutal and inhuman. However they are not aliens, rather brainwashed human beings. Dehumanising them is an easy thing to do, but also a dangerous path to take. We know what happens when you dehumanise people; it can very easily end up in massacre and genocide. It fosters more violence.
After all the anger and sadness, we need to try and understand how this could happen; how Islamic State manages to attract so many Europeans. How quickly radicalisation and brainwashing can lead to tragedy and carnage. What we can do to stop it, without killing more people. The escalation of violence has never led to peace. France, and the rest of Europe, have choices to make about the path they will take in the years to come. I firmly believe, if we are already sending bombs to Syria, that this cannot be the only response. The root causes of terrorism will also have to be fought.
Liberté, Egalité, Fraternité
Instead of declaring war, we need to try to make sense of these attacks, because what differentiates us from religious fanatics and terrorists is the belief in our democratic values: In the slogan of this beautiful invention we call the "République" — Liberté, Égalité, Fraternité. In a judicial system which treats human beings equally. In the belief that universal human rights are indeed universal, and not prone to moral relativism. We need to defend those values more than ever. Above all, we need to remember Charlie Hebdo's slogan: "Love is stronger than hate"
---
This article was published by our local team at cafébabel Berlin.
Translated from Paris schwankt, aber geht nicht unter