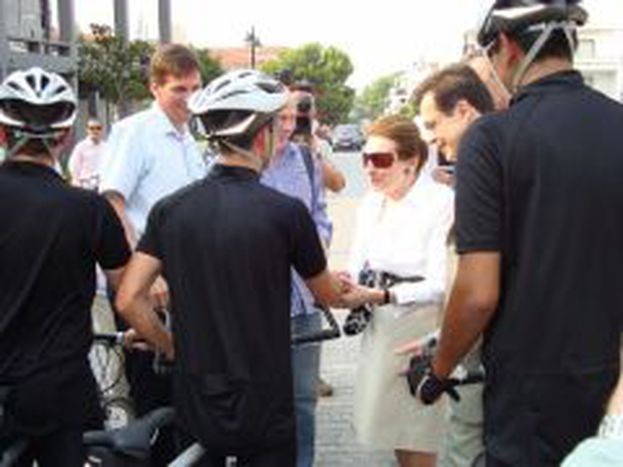 Achieving the European ideal through the actions of its citizens
Published on
By Géraldine Canet Translation by Rob Compton
What would it be like if our value system were reclaimed from the European space by the citizens of Europe? Five students have recently set an example by signing up to a campaign to ride their push-bikes from the north-eastern French city of Lille to Olympia in Greece.
They are trying to raise European awareness about the 'Tree for Greece' campaign, which aims to reforest areas devastated by the fires in summer 2007. Upon their arrival on 30 June 2008 an appeal was made to the 'European brotherhood'.
A few days after the start of the French presidency of the European Union, after the Irish 'no' vote and various protests against social regression in Europe, we should try to gain perspective on the situation, to look around us and take a bit of time for ourselves. Imagine that we, as European citizens, took control of our future and decided to base our daily lives on the values of brotherhood, solidarity, equality among peoples, ethical economics and respect for the environment. These are all values advocated by the European Union, but which it sometimes struggles to implement from above. This new civil movement could be so strong! What a positive idea and what a good example for future generations!
"Integrating core values such as solidarity, courage and enthusiasm is a matter of conscience"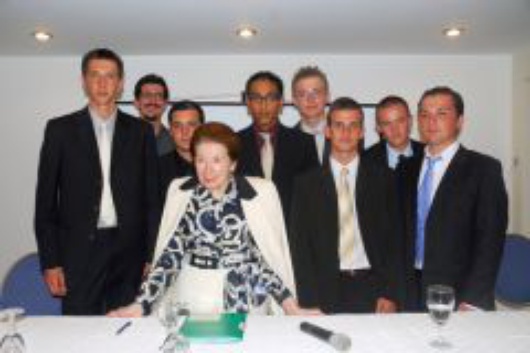 Moved by the catastrophic fires that ravaged Greece in the summer of 2007, William Bouton, Harsh Doshi, Julien Druelle, Chrisophe Goncalves and Roman Renuy, students at the Ecole Superieure des Affaires, a business management school in Lille, created a group called 'Les Citoyens de l'Europe' (Citizens of Europe) to educate and mobilise Europeans in the "A tree for Greece" campaign. The action is supported by civil engagement group 'L'élan Nouveau des Citoyens' (Citizens' New Enthusiasm), UNESCO, and many dignitaries including former Tour de France director Jean-Marie Leblanc, facilitators Nikos Aliagas and Stephane Bern, the president of the Museum of Natural History in Athens Niki Goulandris, Deputy Greek Foreign Minister Theodoros Kassimis - the list goes on. For the five young cyclists preparing to cross Belgium, Luxembourg, Germany, Austria and Italy - a total journey of 1100 miles - this commitment is a way of showing, by way of a small gesture, that a European fraternity among its citizens can be realised. "We will strive for a citizens' Europe united around the ideas of a readiness to help and solidarity", they write.
"Supporting the ideal of European brotherhood through the concrete and the symbolic"
After a journey lasting several weeks and the enthusiasm of the people they encountered along the route, 'Les Citoyens de l'Europe' in conjunction with 'L'élan nouveau des citoyens' launched 'an appeal to the European fraternity' on June 30th. Just a few hours before the start of the French presidency of the European Union, they announced their willingness "to do everything necessary to ensure the first congress of the European brotherhood takes place in Athens next year". Upon their successful arrival they were greeted by the Mayor of Olympia and Niki Goulandris, with messages of support also sent from the president of the Hellenic Republic Karolos Papoulias, the European Commissioner for the Environment Stavros Dimas, and the Director General of UNESCO Koichiro Matsuura. They were also met with broad media coverage.
The citizens' initiative has gained widespread recognition and respect, even getting attention beyond Greek borders. I close with the words of Stavros Dimas: "I welcome and support your initiative (...) By acting together in a movement of solidarity, we can better assist and protect our citizens and our environment. Europe will be stronger by combining our approaches and our capabilities".