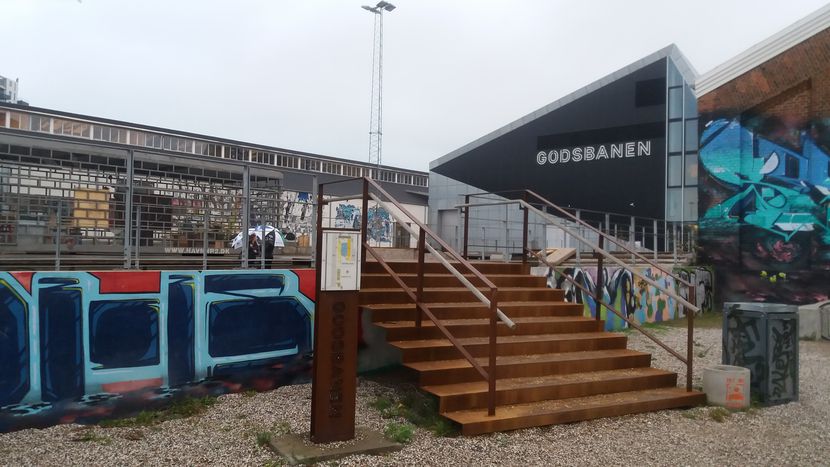 Aarhus' Art Hub under Construction
Published on
It is the same story as that of many vibrant art places around Europe. House squatters move into abandoned, often industrial places. Artists move in. The place becomes cool, houses are being renovated and prices in the neighborhood gradually rise. This typical circle of gentrification is nothing alien in Aarhus, Denmark, either.
In the 60s it was the Latin Quarter. Today it's the turn of the area around Godsbanen – a cultural hub opened in 2012 that today hosts a wide variety of art production facilities, working spaces and cultural centers, such as literature, visual arts, and performing arts. "A place where people can work, be inspired, create networks, share practices and generally develop their cultural competences," says Ole G., manager of Den Selvejende Institution Godsbanen (DSIG). In doing so, Godsbanen wants to appeal to a large diversity of people of all ages, grassroots, startups, whether professionals or amateurs. Old buildings in the railway traffic area offered the perfect space for such a community.
Before Godsbanen was born, parts of these buildings had been squatted by the Institute for X, a cultural and business platform for young designers, musicians, artists, entrepreneurs and craftsmen. An open space for cultural and social exchange, often compared to a small version of Christiania.
This happened with the consent of the municipality, as it wanted to make sure that the old buildings were taken care of and that some of the earlier squatters would not damage them further.
To turn the old facilities into the cultural center Godsbanen is today, the Realdania Foundation invested heavily into its development. This was a win-win situation for both Godsbanen and Realdania, who started to build apartments around the area. With investing into big cultural projects, the Foundation makes sure that the areas it is investing in are becoming more and more popular and that their value rises. A prototype of gentrification.
Yet for the Institute for X this process is likely to lead to its closure in 2017, as new buildings will eat up the area. A young dancer, sitting together with friends in the urban gardens of the Institute for X says: "Then we won't have any place left to go. And probably only because this will become a big parking area." Within Godsbanen a discussion started about how parts of the Institute for X could be preserved, as many value it highly.
"They used this industrial area that no one else could use and turned it into a vibrant place. I think this space is very important for our city, where every square meter is just concrete, steal and glass. We need these little places that are different," says Trine Rytter Anderson, project manager of project Art Writing.
The preparations for becoming the Cultural Capital in 2017 are already visible all over the city. This also means big changes for Godsbanen, where the organization 2017 Culture Capital is strongly engaged in funding and guiding projects. One of them is the Center for Literature, whose main current project is a master class school with experienced writers from all over the world – doing seminars, workshops, exhibitions and festivals. Others are the Center for Visual Art and the Performing Arts Center. In the two coming years, Godsbanen will be filled with 2017 related activities. This will hopefully help spread the word about Godsbanen and the potential the place still has.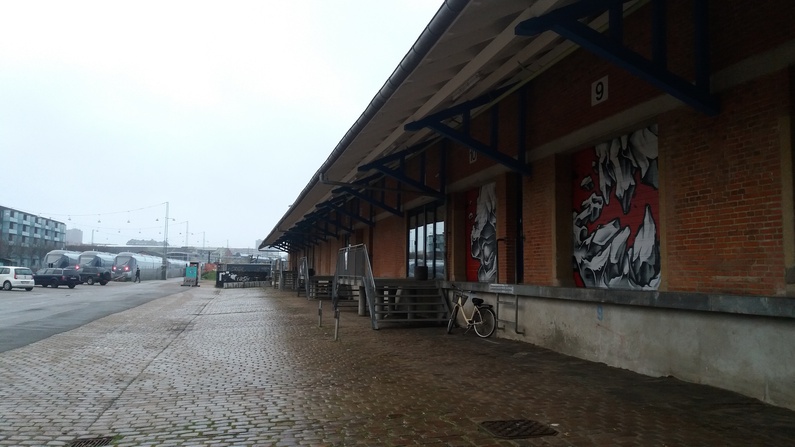 The changes that 2017 will bring for Godsbanen do not just have a bright side, as Anderson says. She sees the 2017 Cultural Capital organization as functioning top down. This stands in contrast to Godsbanen's concept of flat hierarchies, which is typical of cultural organizations in Scandinavia, as Anderson points out. Led by international profiles in the management positions, 2017 Cultural Capital would apply management standards that are more typical for Central Europe: "I think that is very unhealthy. Raising your critique is very important for a good working environment. It something that characterized Godsbanen's way."
Fighting to keep the environment alive is another big goal for Godsbanen. One of the future challenges, Anderson says, will be adjusting to the politicians' belief that art needs to be economically sustainable. This changes the focus from free art to assigned art. At the moment architecture and event organizations are winning the race, she adds. "This might mean that the Center for Visual Arts will be closed down, because they could have people here creating businesses, instead of people like us, who sit here and spend a lot of money on all these artists doing obscure things," she says laughing. Economically speaking, it does not look good for many people working at Godsbanen.
"After some years, every place like this needs to reinvent itself and find out whether the set-up is right and the people there are right for the set-up. But at the moment we have a very good dynamic between the different agents coming here," says Anderson.
Walking through Godsbanen, you get the same answer from everyone: That it is an amazing place to work at. Professionals and amateurs working side by side with all different kinds of materials and techniques make up a very colourful community. The houses aim to embrace diversity seems to work very well.
"The atmosphere is fantastic and unique. Artists, start-ups… You get inspiration from everyone and you see how else it could have been done", says Jens Jensen, who is working with the laser cutter.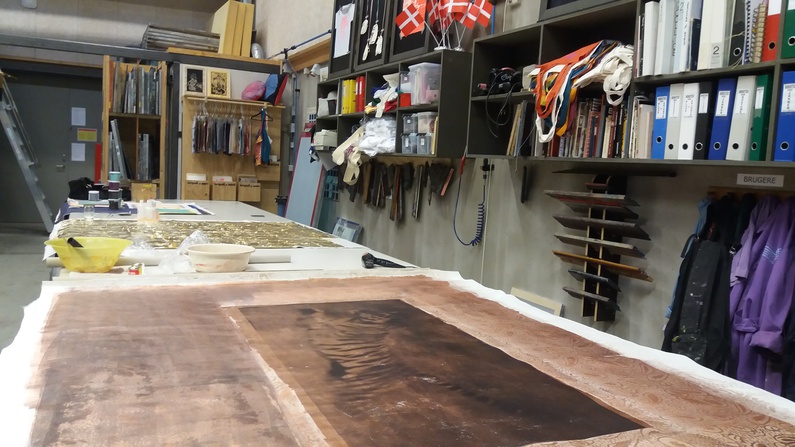 The area around Godsbanen today is a vibrant part of Aarhus. The industrial place has turned from an abandoned zone into a hotspot for art. The city values it highly and has named it Aarhus K - K for Kultur. To maintain its current character will be a challenge.
This article has first been published on jutlandstation.dk