A warm goodbye from cafebabel.com's Polish editor Agata Jaskot
Published on
It was high time that I finally send you, dear 'babelians', my goodbye letter. As you probably are well aware by now, cafebabel.com is not just any online magazine, but a world of its own, characterised by extreme dynamism and close relationships linking the editors from the Paris office with all of the contributors spread all around Europe (and beyond).
Therefore, it is you, dear translators, authors, bloggers, photographers, video-makers as well as local team members and fixers (who have helped me get through two 'on-the-ground' mission projects (Multikulti Seville and Orient Express Reporter II in Zagreb), and enthusiasts of our community, that I would like to thank for the unforgettable 11 months that I have spent at cafebabel.com as editor-in-chief of the Polish linguistic version.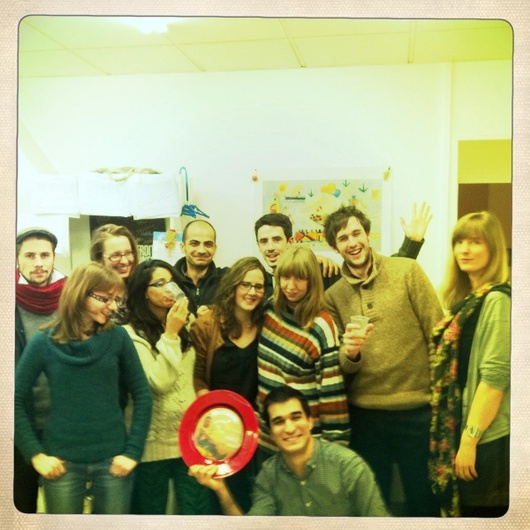 I will not name those, whom I owe most, since there are simply too many of you who have rendered my work enriching. I have had the pleasure of meeting some of you during events organised by cafebabel.com in Strasbourg ('Shake Up Europe') and Brussels ('Babel Ackademy'). Your ideas, energy and most of all, positive attitude towards our common project, made me realise that I have spent almost a year of my life working for a wonderful, and most importantly – necessary cause.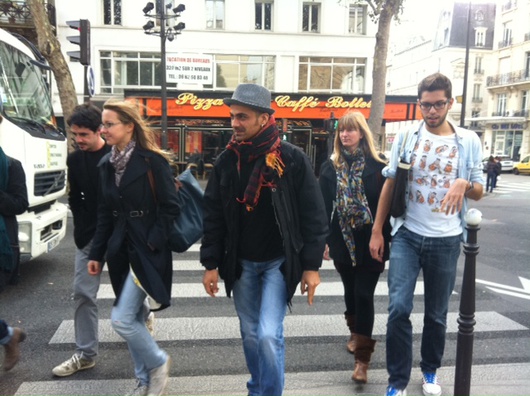 Let's get things straight. Besides the hard work, working for cafebabel.com was also fun. I would not remember it as such, if it was not for the special 'atmosphere' in the office at Paris HQ, created by my colleagues. Many thanks to Katharina for being an editorial coordinator many of you would certainly like to have (and for challenging all of the stereotypes about Germans you could possibly imagine), Nabeelah (the embodiment of 'funky') – for not growing weary of my pseudo-American accent (and constantly replacing 'fall' with 'autumn') among others, Matthieu – for not losing hope that one day we will all have perfect French pronunciation, Jacopo – for cheering me up on grey autumn days with Italian jokes, and Jorge – for introducing loads of 'fun, fun, fun!' in the office and understanding my admiration for the 'Spanish Boy George' – 'Alaska'.
I shall not forget Cristina (former Spanish editor) – highly appreciated for her scanty criticism, Nicola (former Italian editor) – the stereotypically 'Mediterranean' chap (hope he won't mind). Thanks to our former interns – especially Annie and Falk. You're great people, and you certainly made my days at cafebabel brighter. I would also not have enjoyed my daily work as much, if it were not for our very peculiar (and oh boy… how 'bold') project manager, the Romanian gonzo journalist Ovidiu, Adrien (although I believe that I made the life of our previous webmaster – Cedric - much more difficult), and the never-to-be-underestimated Juliette, for making sure that our office really functions like a 'proper' office. Thanks to Alexandre for giving me the chance to join the cafebabel community.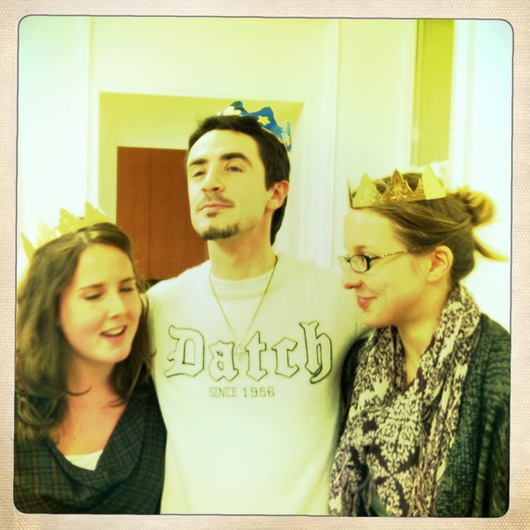 I wish cafebabel all of the best – especially to the new Polish editor, my namesake and successor, Agata Grzaba. May the community keep growing, and never lose its critical approach to the European reality.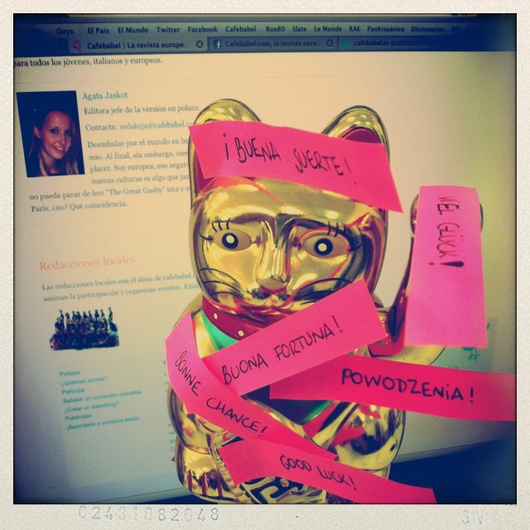 Agata Jaskot, Brussels, October 2012