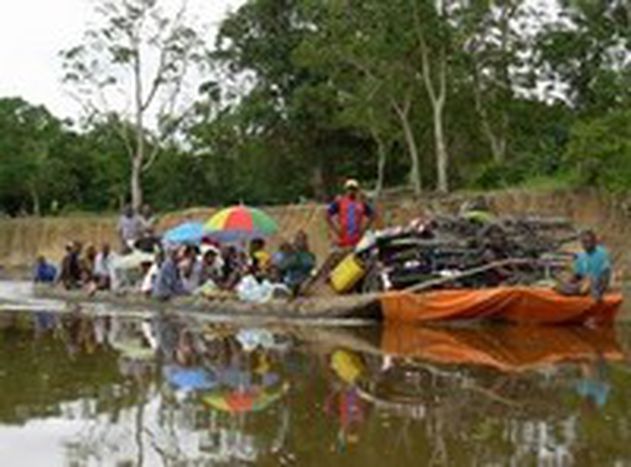 A vote for a piece of soap
Published on
In the interior of the humid Congo basin, amid corruption and endemic poverty, the preparations for the elections on the 30 July were a huge challenge
The men and women in Yasira market have no illusions about the elections in the Democratic Republic of Congo (DRC) and the benefit their votes will bring. "We expect presents from candidates, otherwise we will not vote for them," 20-year-old Lobela Lionda told IRIN.
Bodouin Lombelejale, 43 and a father of 12, is especially pessimistic that his vote might improve his daily life. "Once the candidates are elected, we will never see them again and nothing will change here," he said. "We want to see something today."
Almost 10 years after a rebel movement overturned the 32-year rule of President Mobutu Sese Seko, the people of the DRC finally have a chance to democratically elect their president plus 500 members of parliament. But, in early June, nobody in Yasira knew the date of the elections, which, after many delays and postponements, were scheduled to be held on 30 July.
Here in the interior of the humid Congo Basin, news travels slowly. From the air, you glimpse roads that opened up this huge country for colonisers from Belgium, now swallowed by nature and disappearing into an endless forest.
The challenges in holding free and fair elections in this vast and anarchic country are tremendous. Yasira market in Isangi Territory is the largest trading venue for a population of 500,000 people. It takes several days to reach Isangi by dugout canoe, or pirogue, from Kisangani, capital of Oriental Province in northeastern DRC, some 1000 km from the nation's capital, Kinshasa.
Propelled by an outboard engine, the canoe trip on the Congo and Lomami Rivers, passes dense secondary forest, abandoned oil palm plantations, a collapsing agricultural institute and the skeleton of a derelict sugarcane factory.
Flying high in almost every village along the river are yellow flags with the insignia of the Parti du peuple pour la reconstruction et le developpement (PPRD) - the political party of President Joseph Kabila, who came in to power January 2001, inheriting the post from his father, Laurent-Desire Kabila, leader of a rebel movement that ousted Mobutu.
No visible opposition
There are hardly any colours flying for any of the other candidates contesting the election. It looks as if Oriental Province is a sure thing for the young and incumbent president. Almost every observer IRIN encountered said the same thing: "Kabila has the money, so he will win."
At Yasira market, a vendor sells unlicensed drugs; others offer smoked fish, bananas and cassava cake wrapped in leaves. Aside from petty trade, the economy is at a virtual standstill. The electorate here, as in other villages throughout the impoverished heart of the Congo, is needy: "We want money, beer or T-shirts," one voter said.
In Kisangani, people walked around in T-shirts emblazoned with the images and names of candidates a month before the official start of campaigning.
"In all this misery, you can buy a poor man with a piece of soap," said Sister Marie Madeleine Bofoe, head of the Catholic NGO Caritas in Isangi.
This also illustrates a paradox: an election to end despotism is making an entire society gamble with its future. "We don't know any of the candidates, and we have no idea who to vote for," said Bebale Bombole, a fish vendor.
With more than 9,600 parliamentary candidates and a campaign period limited to one month, many voters will not be able to make an informed decision.
Lack of information
Information reaches the population through radio, but at Yasira market, there have been no batteries on sale for at least a month. Hence, there was no information for the electorate. The price of batteries is out of reach for most; a set costs 200 Congolese francs (US$5), four times more than a month's worth of school fees.
During his presidency, Mobutu looted state coffers, spending the national budget on private yachts, planes and a lavish lifestyle in expensive hotels the world over. When the senior Kabila marched into Kinshasa, people hoped for change. The fear now is that history is repeating itself.
Corruption is rife in the DRC. In a recent scandal, $4 million - almost half the country's official budget for doctors and hospitals - went missing from the Ministry of Health. The money had been set aside under a debt-relief scheme for some of the world's poorest countries.
An administrator in Isangi town does not deny the governance problems his country faces: "We have no political culture, and elections are a new thing to us. People have no basis to make value judgements, and candidates who distribute presents will have it easy, cheating others."
When the administrator was appointed by the transitional government a year ago, he inherited an office run by people who had not been paid a salary in years. Forget computers; there was no typewriter or paper.
With a start-up budget of $3,000 from the provincial governor, the administrator bought a pirogue with an engine to start a business that would finance his office.
He also plans to buy a chainsaw to cut down forest trees to sell to help his salary and that of other government employees. "You have to help yourself in this country," he shrugged unhappily. "It's called auto-financing."
(c)IRIN