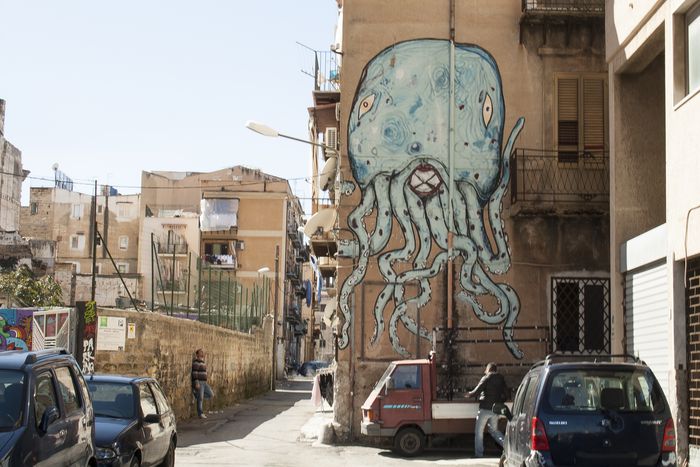 A "street museum" in Borgo Vecchio district
Published on
A blue octopus stands out among the colourless facades of Palermo's harbour's buildings, welcoming us to Borgo Vecchio neighbourhood, urban location of the new street-art experiment led by Borgo Vecchio Factory.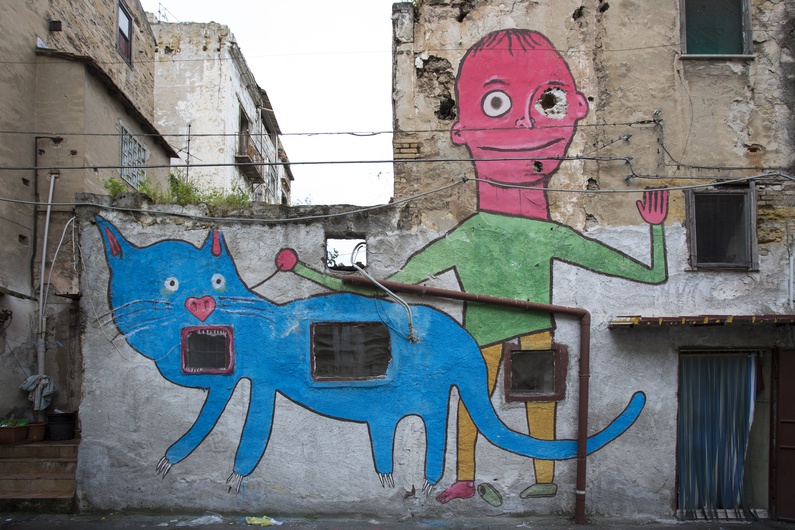 Since 2014 the aged walls of Borgo Vecchio's streets have begun to become animated, enlivened by the work of the ever-increasing number of artists operating within the neighbourhood.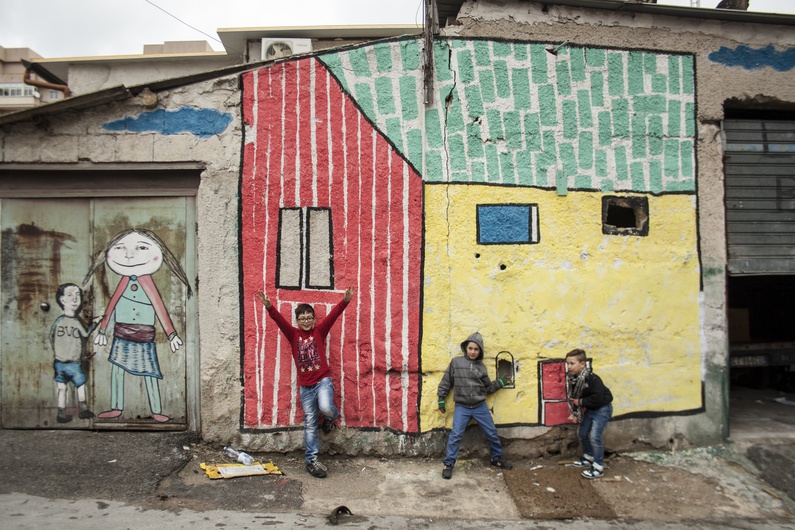 The experiment was initiated by local "Per Esempio Onlus"association, with its "Frequenza200" project, and has been carried on in cooperation with  PUSH, a non-profit organization. So far, it has allowed to host artists such as Ema Jons from Como, with whom artistic workshops directed at kids were set up during after-school hours.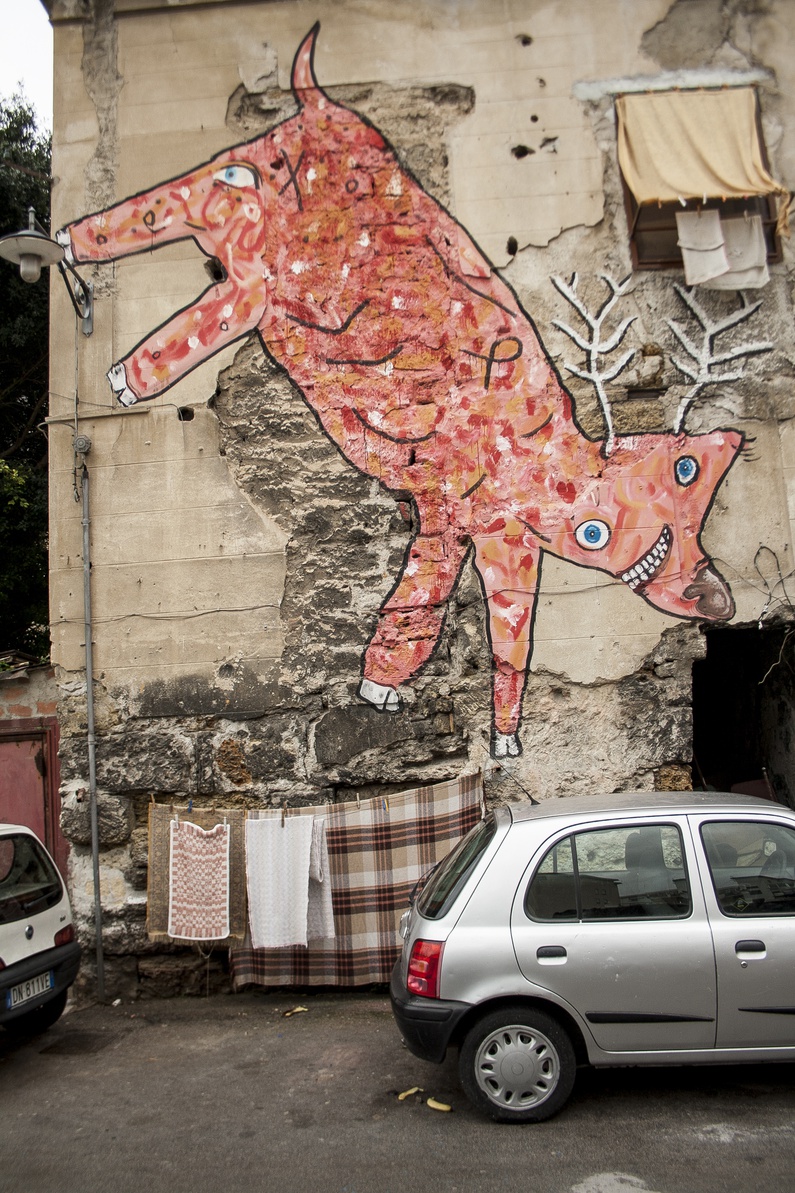 During the preparatory phases of each artwork's production kids work together with helpers and volunteers, creating poster-paint drawings over big, white paper sheets, which are left to dry at the end of the day.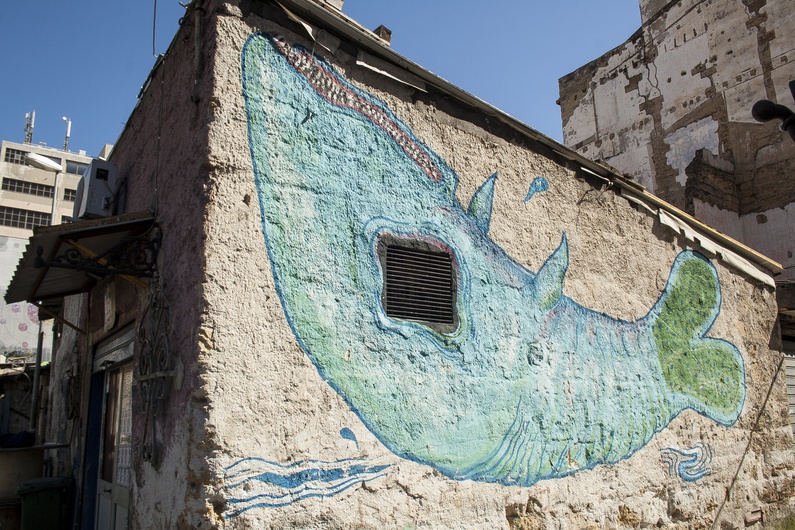 In between paper sheets and concrete walls stands Ema, who interprets the drawings and finds their right adaptation to the urban fabric – always with the young authors' assistance.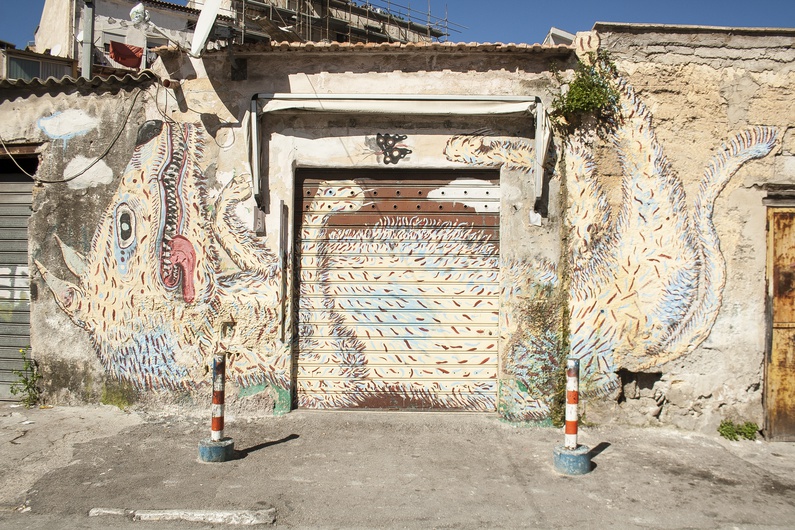 Local residents appear to have equally welcomed the new look on their houses, proudly showing the artwork to passing tourists, as if guides in a museum.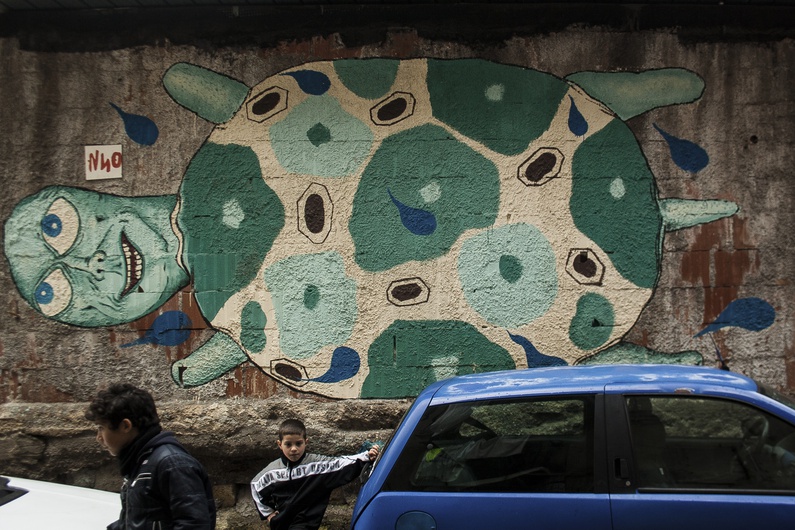 The paintings often take direct inspiration from the district's street life, as in The Turtle-man's case: while Ema and the kids were colouring a turtle, a curious tourist stopped by to ask what they were doing. It was then that the group noticed a certain resemblance between the man and the animal, and decided to merge his portrait into the artwork.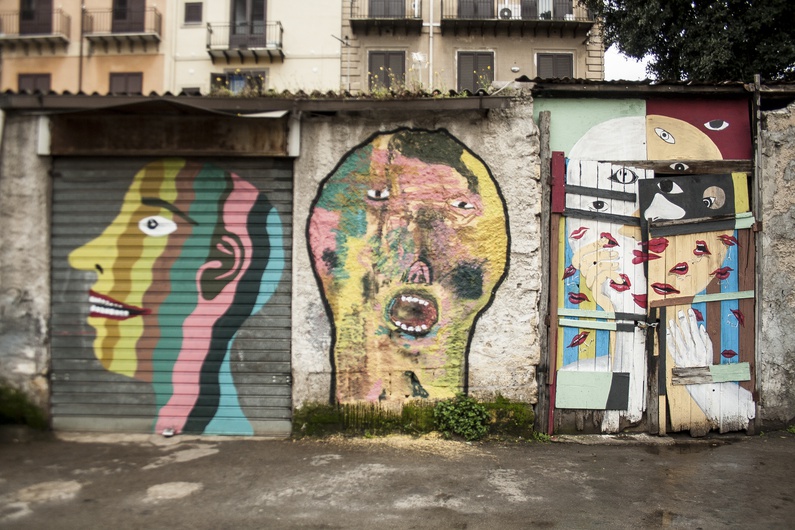 Nearby the after-school offices, three utterly different faces mark in succession a shutter, a wall, and a wooden door. This is one of the latest art series realized in Borgo Vecchio, expressing how shared identity can be discovered through apparent diversity.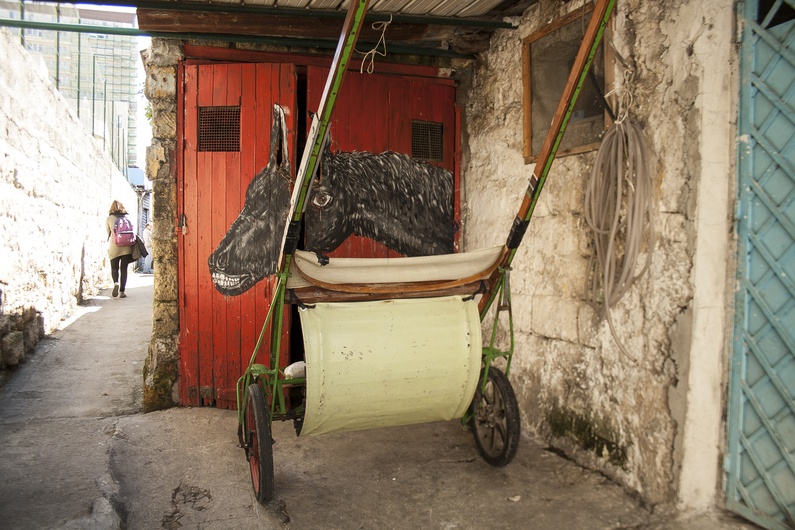 Such wall paintings perfectly merge with the neighbourhood's urban elements, offering vivid sceneries to the passerby.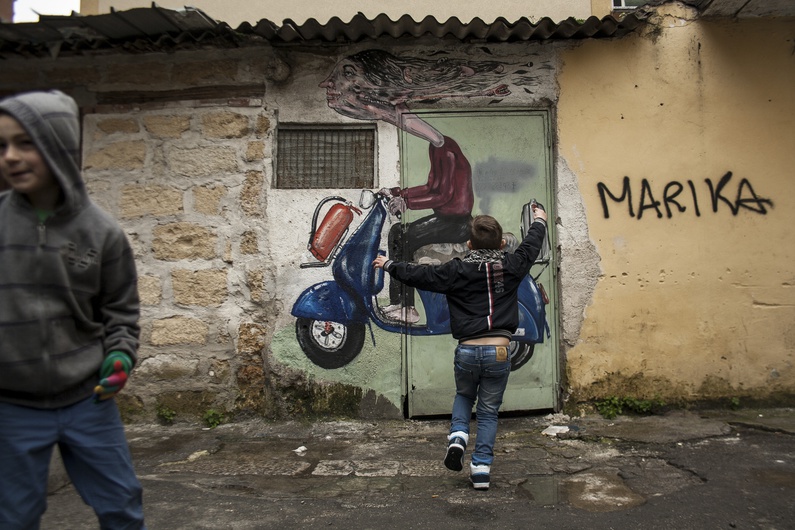 Sometimes, residents themselves happen to commission one of the paintings for their property, thus assisting "PUSH" in its aim - that of increasing local youngsters' sense of belonging to their neighbourhood, through the acknowledgement of their own possibilities.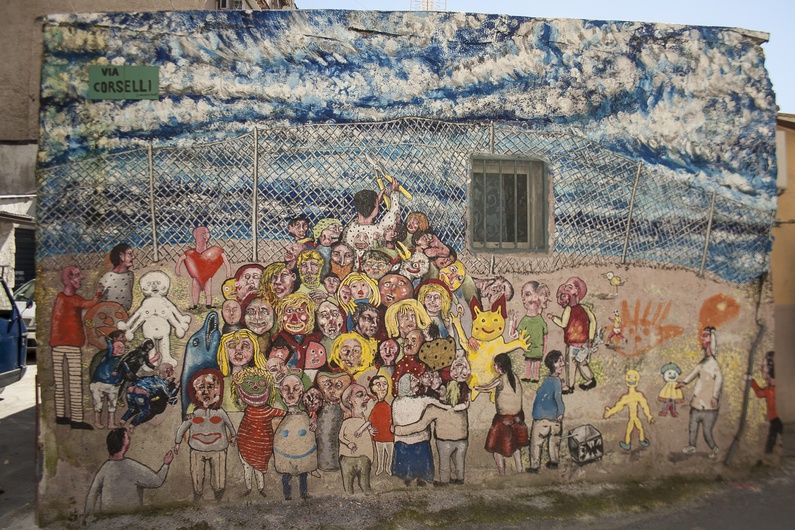 The Ascent of Rebel Angels, located opposite the offices of "Per Esempio Onlus", is Borgo Vecchio  Factory masterpiece, depicting double-faced kids, dolphins, clowns, soccer players, birds, and smiling t-shirts, cutting the net screen to get out.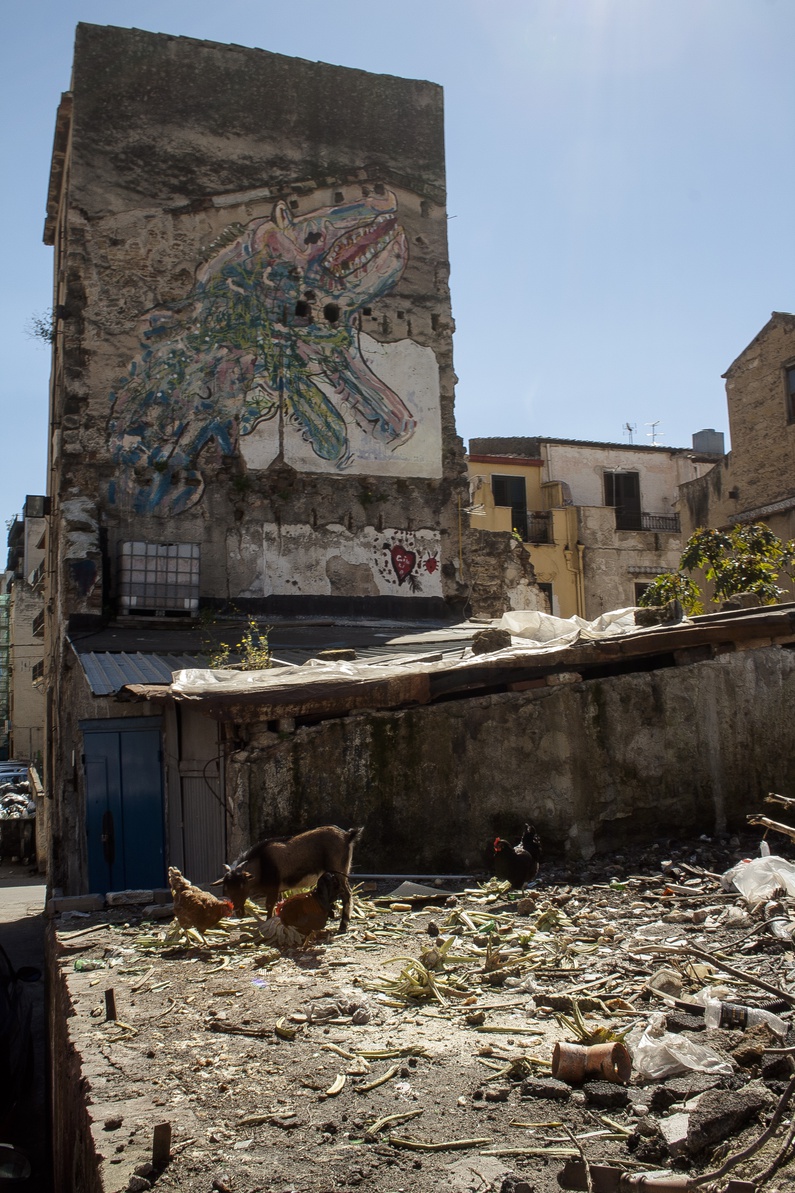 The Dog-pig represents, instead, one of the lab's first artworks. While I didn't get close to it, as a rooster bullying a goat stopped me, a video shows clearly how sprays were tied to long stakes in order to realize the painting on the side of a block of flats.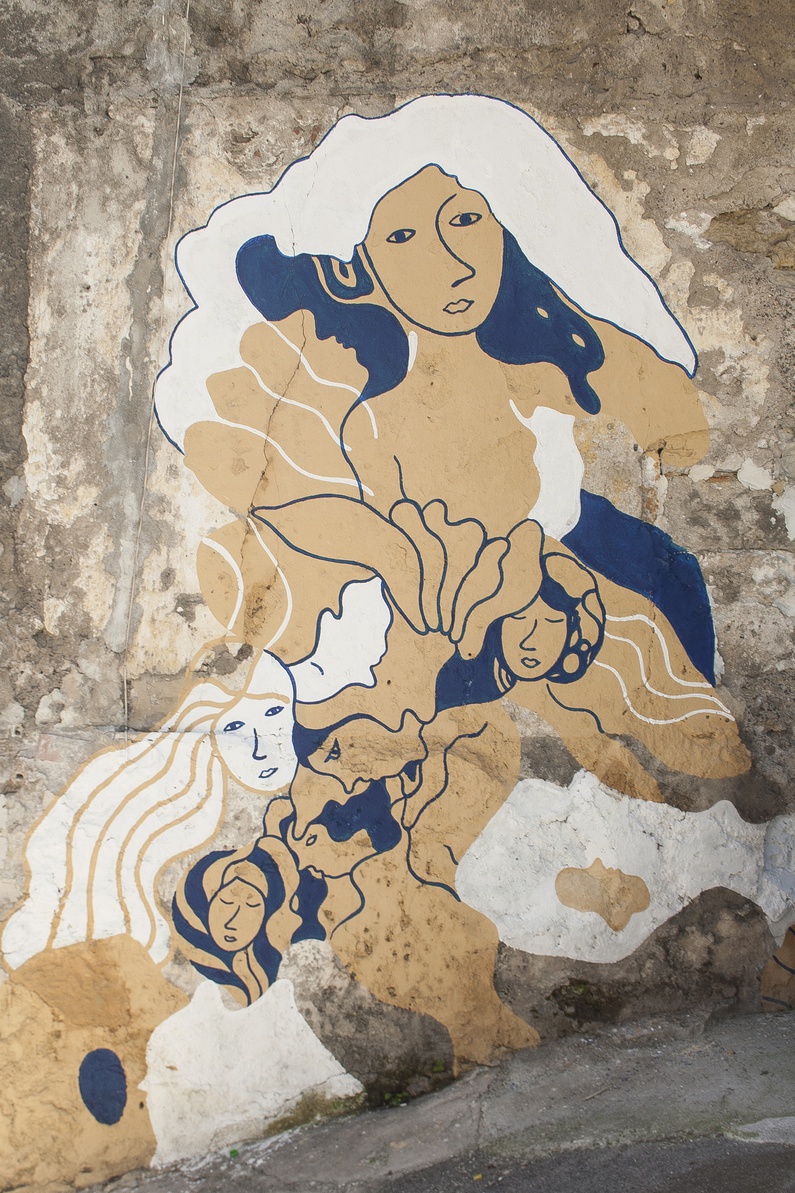 Lately, artist Aris also begun to operate in the district, his presence marked by drawings where faces hide among sea waves and moon-ish landscapes. And the list of artists keeps growing, thanks to spontaneous contribution of those who see this neighbourhood as a place where to unite art and social awareness.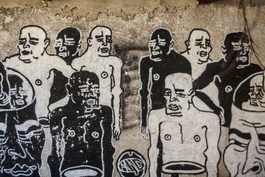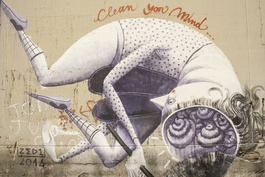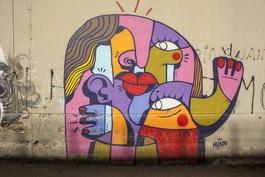 Translated from Il "museo" tra le strade di Borgo Vecchio