A Pole in love with the heart-shaped land, Bosnia
Published on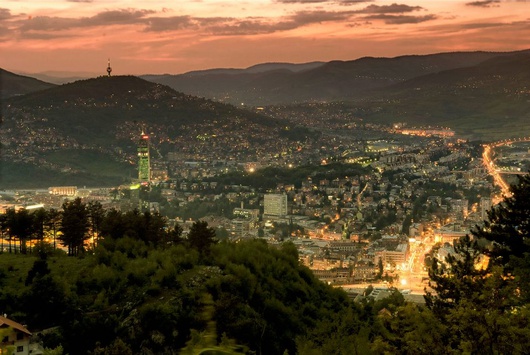 ''Bosnia is advertising itself as a heart-shaped land, implying that you are very likely to fall in love with it. All of the expats and tourists I have met in Bosnia over the last twelve months attest that they did. If you ask Bosnians the same question they would most likely say that they are fed up with the reality and don't see any reason to adore this place, says Artur Krzykowiak
Sarajevo, view from Trebevic Mountain, © Artur Krzykowiak
Despite the expensive and often difficult flight connections, foreigners and expats are coming back to Bosnia by the truckload. Bosnians will describe it the worst country in the world: see High Corruption, No Career/ Life Perspectives, Unemployment reaching over 45% and Ever Visible Recent War Wounds. 'The only quality of this country is the war, but since the war cannot be a quality there is nothing,' says one friend. So many times Bosnians have told me: 'You must be crazy if you want to live here.'
Poland to Bosnia
In Bascarsija, the old Turkish part of Sarajevo, there is a water fountain next to Begova Djamija (Central Mosque) with a story: once you drink its water, you will sooner or later visit Bosnia again. I have sipped it myself, but I don't believe the myth. People who went away during the war or soon after suffered from nostalgia and really wanted to come back. Being somewhere else is nice, but in Bosnia it is nicer. With all the problems, political issues, lack of common sense and other issues it is better to be back in their own country.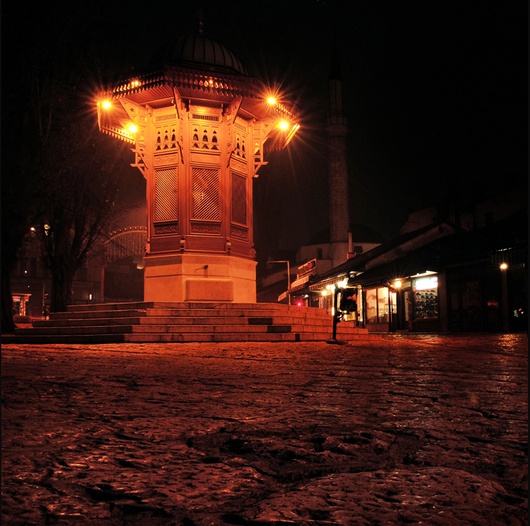 Sebilj, Bascarsija on the pigeon square in Sarajevo, © Artur Krzykowiak
You must be a foreigner or live away for a while to see some other qualities than the family values that keeps people here. In a way I shared the same opinion about my own country before I emigrated from Poland. I left my country when I was 20. If anyone asked me then if there was any future in my country I would have had the same blank look and answered the same as most of Bosnians here – no future, no point, no way. After a decade away I realised I was wrong. My life and those of my friends who didn't emigrate is not better or worse, it is just different. There were opportunities - I just didn't see any for myself at that time.
How to leave Bosnia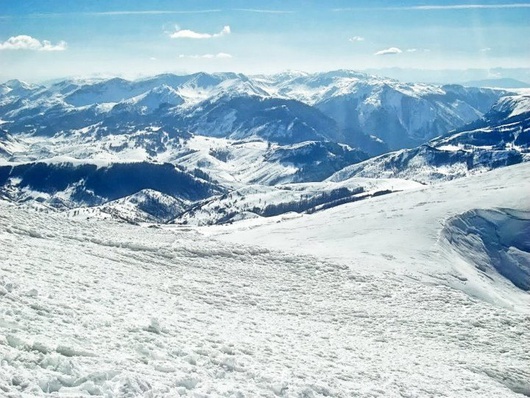 Six months in Bosnia has become fourteen months. I have found so many reasons to stay - bars with a Yugoslavia feel like the Balkan Express, modern trendy places like the bar Opera, great theatre plays that are often cheaper than movie tickets, concerts, amazing rivers where you can go rafting and drink water from, hills that you can climb in 15 minutes to have the most amazing views on the town, hundreds of coffee places that are hidden between tiny streets, Olympic mountains around the corner for great winter sport adventures, and the people who make this city so lively and interesting. Most inspire me; many more became good friends and companions.
Winter Scenery from Bjelasnica Olimpic Mountain © Artur Krzykowiak
I find myself inviting my old friends to visit Bosnia, to be a part of it, to see it before it will change its character and spirit. Bosnia is transforming slowly, becoming more like other European countries day by day. At the moment it's still one of those few places on earth where you don't find an English menu in restaurants, an exchange office on every corner or organised tourist groups flooding the streets. But since tourism here is one of the fastest growing in world and the idealistic dream of Bosnia entering the European Union is becoming more realistic, it will have to change. Sceptical Bosnians say it wouldn't be so quick. 'I am 60 years old, I cannot wait for change, I have no time my friend, I need the change now, but I know it won't happen,' says one taxi driver. This change is not going to be revolution, but it's already a decent evolution. The slower changes are harder to see, but you don't need to look far.
For example Skakavac waterfall is one of those places that unless you are in a mountain hiking club, or you been dragged by an expat friend, you will not visit if you are Bosnian. Most foreigners find out by word of mouth. 'There is nothing out there, and yet this nothingness is all what we needed,' two friends said. At only a 30 minute bus ride from the city, you have an 8km hike up the mountain.
Half way up is the most bizarre mountain house, a small wooden shed in the middle of nowhere where Dragan the owner and host will serve you coffee, homemade Rakija and the amazing food he cooks himself. All that for the price that is so low you almost puzzled if you got someone else bill instead of yours (Dragan remembers all his guests' bills, and hardly ever writes them down. Even when there is close to 30 guests he knows who ordered what). But even this small and remote place changed for me within just one year - the trash left around by tourists, more plastic bottles and garbage than last year. The recent add on to Dragan's nothingness is a swimming pool filled with spring water and with views on beautiful mountains - but a big blue plastic swimming pool it is not raw and authentic anymore. It doesn't fit into the wild nothingness I knew from a year ago. There is also some new asphalt on the road up to Skakavac - so what is next? A highway, parking places for 100 cars, a souvenir shop and a hotel next to it, just to make it look like anywhere else in the world.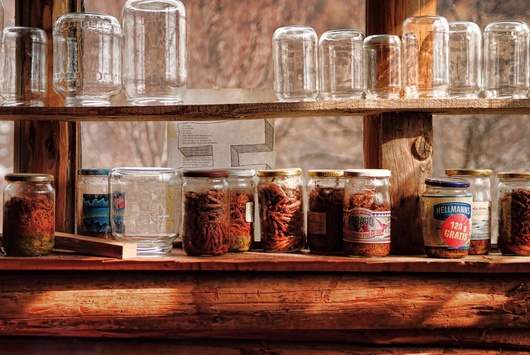 Dragans house window with jars full of homemade specialities, © Artur Krzykowiak
Dragan has seen something that normally expats are better in spotting here - the opportunities. The heart-shaped country has loads of them, but it is a little harder here to spot them. This country will love you as much as you will fall in love with the country. So next time you come here be careful. If you drink water from the fountain in the old town you might come back and stay here for much longer than you ever planned.
In partnership with the Paris-based Franco-German office for journalists (Ofaj), this article is a part of Orient Express Tripled, cafebabel.com's 'return journey' series of articles with journalists resident in the Balkans, Turkey, France and Germany