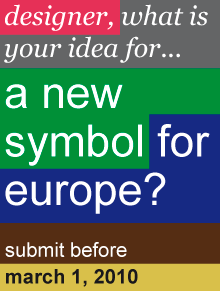 A new symbol for Europe: contest and deadline
Published on
A new symbol for Europe: international call for entries
Designers are invited to send in their design for a new symbol for Europe. 12 Submissions will be selected by an international jury and will be printed on flags. These flags will be shown during the first edition of Design and Government in 2010 in Den Haag and Berlin.
Deadlline: All entries must be submitted by February 28, 2010, at 23:59 CET
Who can enter? All designers, young and old, professional and students, can enter as individuals or as groups. The number of submissions is unlimited.