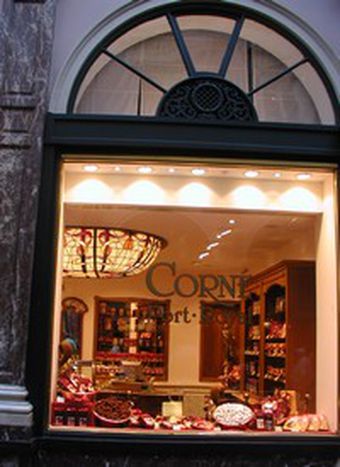 A heaven for the connoisseurs
Published on
Translation by:
ucja didkowska
Connoisseurs from all over the world visit Brussels to stock up on pralines, the famous traditional Belgian chocolates
Chocolate was introduced by Christopher Columbus in 14th century from South America. At first, it was known only in Spain as a hot drink from cacao seeds prescribed doctors for depression. It was not popular because of its bitter taste. When sugar was added to the mixture, cacao became more popular and appeared in European houses. For ages, chocolate was used as a medicine against bad moods. "Chocolate is a lord and ruler of our stomach," said Josse Snackers, trainer and consultant in field of chocolate.
Belgium's pride: Pralines
The advantages of chocolate were noticed by Jean Neuhaus, who left Neuchâtel in 1857 in order to establish pharmacy with his brother in the 'Galerie de la Roi', currently the oldest European shopping arcade in Brussels. Firstly, chocolate was sold as a medicine to cheer up clients. Later in 1912, when Jean Neauhaus invented recipe for praline, it became favourite delicacy for city inhabitants. From that day the chocolate industry flourished. Recipes were mystified and passed on from a generation to generation. "Fortunately, there are many young people who very qualified," said Jo Darops. "Passing on the knowledge to them is a pleasure and pride. We know our national traditions will be continued," Snackers underlined.
Actually, there are about 260 thousands producers of chocolate, including both large chains as well as small local confectioners. The most famous are Mary, Neuhaus, Leonidas or Wittamer, the official supplier of the court. Depending on quality and ingredients, prices vary from 20 to 60 Euros. The present firms on the market do not rival, but complement each other. "Large companies do not threaten me. I produce traditional chocolates with unique tastes. They are highly appreciated by regular clients, who buy 60% of my production. But tourists also appreciate my chocolates," said the shopkeeper of La Maison du chocolat artisanal.
Taste
Pralines are covered with white or milk chocolate and filled with cream, chocolate or hazel nuts stuffing. Clients can choose between hundreds, even thousands of different tastes, because every producer constantly broadens their offer. In one of "the chocolate houses", Les Frères de Sadeleer, I found pralines with a chilly and pepper taste. Belgians consume about nine kilograms a year stick to the traditions and the new tastes are like fashions – they appear and then disappear. "Chocolate is also a fashion and tastes changes. Added pepper is the sign of new trend, but people always come back to the traditional taste," said Jo Draps, director of the Chocolate Museum and master of chocolate making.
Everyday sweetness
Chocolate is part of daily routines for citizens of Belgium, and thanks to "a diversity of prices and types, it is available to all the social classes," said Jo Darps. The real siege occurs right before the Christmas. "Belgians are mad about chocolate before Christmas and buy pralines in bulk," confirmed Tadeusz Tebinka.
Translated from Raj dla smakoszy