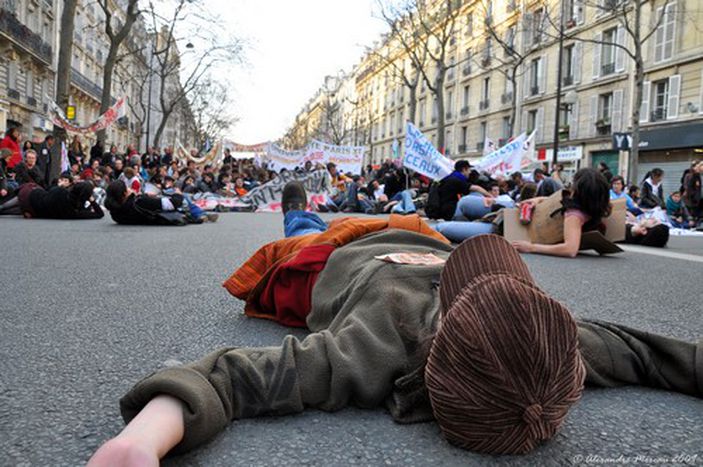 65% of European students want free university
Published on
In Germany, students are threatening to strike. In France, certain universities are blocked for the long term. The question of end of year exams is looming. 'Students and the further education reform?' - perilous survey by the European commission
In France the LMD reform for license-('undergraduate')-masters-doctorate degrees - has already been adopted by 39 countries. It was followed by the LRU law (relating to the freedom and responsibilities of universities). Whatever the name given to these legal texts in all the countries, the harmonisation of European higher education in terms of structure and financial models has provoked plenty of turmoil in universities across the continent.
France-Germany-Spain discontent
The concrete implementation of the Bologna process, the reform which first saw light in 1999, doesn't only irritate in France, where striking is a common form of protest action. The Germans, little accustomed to action, are also calling for lessons to stop in June 2009. The discontentment crystallises following declarations from the likes of Marius Reiser, professor at the university of Mayence, he handed in his resignation in January and published an article in German daily the Frankfurter Allgemeine Zeitung 'against the dissolution of the German university and its transformation into a cramming factory.' In Spain, thousands of students are scared of becoming clients of an overly-capitalist university. A new minister of education, Ángel Gabilondo, former president of the university principals board, has been in the job for a matter of weeks in order to move forward a 'Bologna plan', which has been at a standstill for two years.
Doing an MA would mean embarking on a minimum of five years study, with the same amount to pay each year
After the Leuven and Louvain-la-Neuve meetings at the end of April in Belgium, education ministers from the 46 participating countries redrafted their objectives for 2020. Firstly, to attain the statistic of 20% of students having studied abroad. Secondly, to improve the comparison between the quality of training. Lastly, to increase co-operation with the work world. The more social question raised by the students protesting outside the summit only gave rise to promises, notably on the cost of tuition fees. Doing a masters would mean embarking on a minimum of five years study, with the same amount to pay each year. It is also worrying that the competition between training programmes leads to the construction of social barriers.
Accepting all students?
In effect, according to a survey of 15, 000 students carried out by the EU commision in February 2009 across 31 countries (the 27 countries of the EU, Croatia, Iceland, Norway and Turkey), 65% of students think that going to university should be free. 33% tolerate tuition fees on the condition that a system for loans or scholarships exists. Students in Spain, Greece, Belgium and Cyprus are the least in favour of a principle of selection (21 - 24%). On the other hand, the majority of them think that selection for training based on profiles compiled by the institution is logical (50%). But for 48% of students, European universities should accept all students.
Only 550, 000 out of 31 million European students go abroad each year
Both ministers and students agree on the professionalism of education: nine out of ten students believe that communication skills, teamwork, and techniques which allow one to 'learn how to learn' should be added to theory classes in order to ease the transition into the workplace. Going abroad is certainly seen as a sizeable asset to a CV: 53% of participants expressed the desire to have the experience (only 10% of Europeans have done so). However it's on this point that the Bologna report for the last ten years fails: only 550, 000 out of 31 million European students go abroad each year (160, 000 of which are thanks to the Erasmus student exchange programme). The system to provide an equivalent rating of credits (ECTS, 'European credit transfer and accumulation system') has not sufficiently allowed diplomas to be recognised from one country to another…
Translated from 65 % des étudiants européens pour la gratuité de l'université