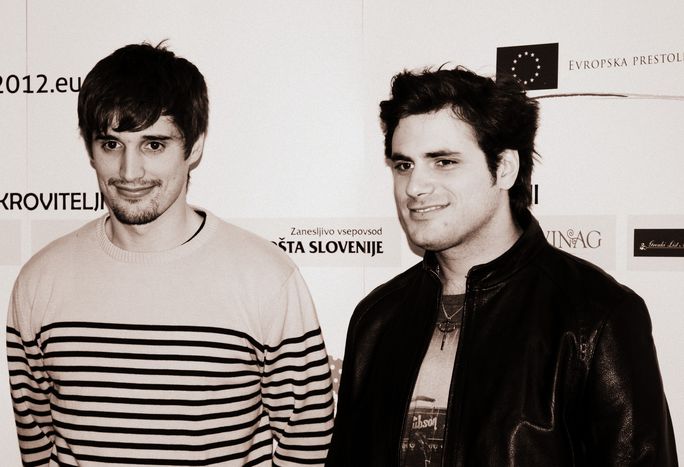 2Cellos: Slovenian-Croatian duo who were 'playing Bach in churches for grannies'
Published on
Once upon a time Stjepan Hauser and Luka Šulić were rivals. It wasn't long before the EU-Balkan duo decided to unlock horns. Meet the happy, handsome cello players from Pula and Maribor, most famous for playing a stand-off, stunning version of Michael Jackson's Smooth Criminal, touring with Elton John and making it to the US
A sleepy morning in Ljubljana. The only sound shaking up the peace of guests in the train station bar is Smooth Criminal pounding on the radio. It's got an unusual twist: it's played by cellos only. Fast forward a couple of hours; it's a sunny afternoon in Maribor. I get to chat with the two smooth criminals guilty of adapting this Michael Jackson hit for cello about a year ago, uploading it onto youtube. Other hits followed, making 2Cellos a world sensation. Incidentally, they're also guilty of being incredibly chatty, insanely talented, and ruggedly handsome.
From Rostropovich to supporting Elton John
Stjepan Hauser was born in Pula, Croatia in 1986, and Luka Šulić a year later in Maribor, Slovenia. After studying cello in Zagreb and Vienna, he crossed paths with Stjepan in the UK, where the latter was undergoing his musical education at the royal northern college of music in Manchester. Smooth Criminal brought them world fame, but even before, they were far from being unknown. Between them, there's a pile of prizes from prestigious competitions, performances in renowned music halls worldwide; Stjepan was an appreciated student of the late cello master Rostropovich, Luka studied at the royal academy of arts in London, and they're currently touring with Elton John.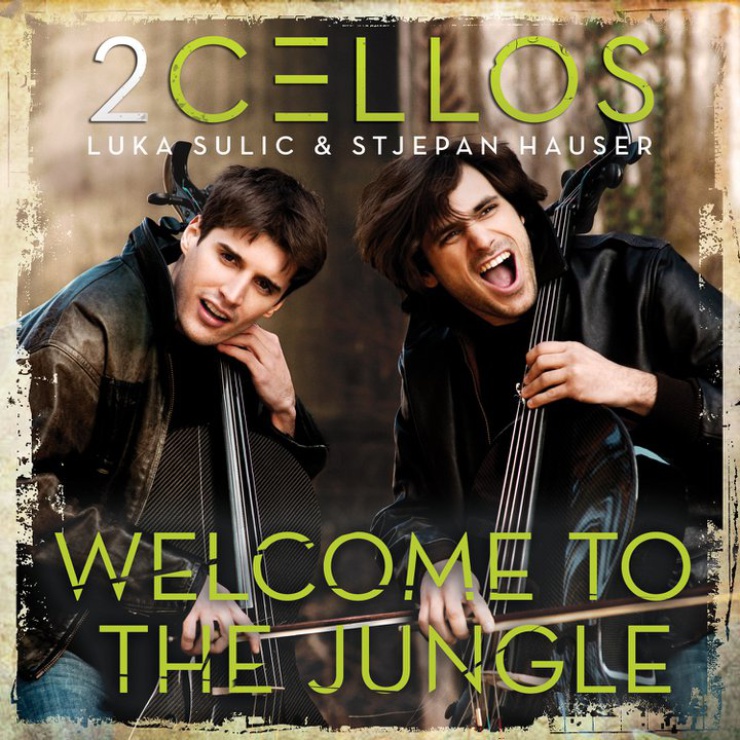 As I'm approaching the mansion where the interview is held, I expect a solemn atmosphere, dominated by two serious young men. Leather jackets, broad grins on their unshaven faces, firm handshakes: the dynamics between the two cellists is obvious. Not so much the rivalry between them that seems to be the media's favourite topic. They can't get over the story of how these former rivals joined forces. 'Sure! We're still rivals,' beams Luka. 'We're both handsome, talented...' explains Stjepan in Croatian, 'and there's a healthy level of competitiveness involved. Always has been. But we've also always been friends. No destructivity,' Luka finishes Stjepan's sentence in Slovene.
Secret life of a cello player
I have the impression Luka's the more serious one; Stjepan bursts into spontaneous laughter more often. They have unbelievable energies. I'm not the only girl who ever noticed it; among countless comments left by the female population under one of their facebook photos, my favourite is by a girl who wants to reincarnate as their cello. 'Must have been under mine,' grins Stjepan. 'He doesn't get comments like that.' Do they mind all the attention suddenly being paid to their looks? 'Well, if she's pretty...' A roar of laughter. I try to steer into more serious waters. Did fame really come overnight? 'No,' laughs Stjepan, 'over two. So much for my steering. 'Ours isn't the usual life of a cello player. Our lives turned upside down in an instant. Before, we were playing Bach in churches for grannies,' explains Luka, as Stjepan continues: 'Now we're a boy band. More or less everyone listens to us. Except maybe metalheads.'
'Our lives turned upside down in an instant. Now we're a boy band'
There must also be people who don't like what they're doing. 'We're only doing cello good,' says Stjepan. 'Everyone clever can see that.' 'There always are people criticising, and there always will be,' adds Luka. 'Times have changed,' explains Stjepan. 'Now we're playing exactly what we love, what we like. We're enjoying ourselves. More than before!' Their eyes shine. 'If somebody else isn't, it's his problem,' laughs Luka. As simple as that. Just like choosing songs to adapt. 'We play songs we like, that send a message and sound good on cello. Simple,' confirms Stjepan. But there are limits, intervenes Luka. 'It would be great if Jackson's Man in the Mirror would work on two cellos.'
One for the girls
How frequently is their cooperation connected to the recent conflict between Croatia and Slovenia? Luka spreads his arms determinedly. 'My dad's Croatian, my mum's Slovene. They love each other.' No further explanation needed. Do they ever wake up in the morning and don't feel like playing? 'Yes! It's sane to take a break,' they say simultaneously. 'Sure, it happens. Lasts for a couple of years with me already,' winks Stjepan. As I go through the door Luka gallantly holds open for me, I can't help but wonder if they take anything seriously.
Watching them play a concert in Maribor two days later, I get my answer. They do; their music. They're shaved now, their hands firmly control the cellos. But the jackets stay, and so does their sense of humour. 'It's not a classical concert,' Luka encourages the crowd. 'Sing along if you know the lyrics! We don't.' Halfway through the show, Stjepan rises. 'The next one' - screams interrupt him - 'is for all the girls.' Female cries turn into emotional sighs: With or Without You. The crowd takes Luka's advice at the most appropriate part. And you give yourself away... They really do, 100%, and we can feel it. Minutes later, they finish it off rock-show style. AC/DC, Guns N' Roses; people throw their hands in the air and award them with an ear-splitting applause. After such a performance, it's hard not to be inspired by two charmers putting their hearts and souls into what they love. Be it in a church or on stage.
2Cellos second album is due out in autumn 2012. Catch the boys in Germany, England and Northern Ireland in June 2012 and find out other dates on their official tour page
Image: main © Jasa Pipan; in-text courtesy of © 2Cellos official facebook page