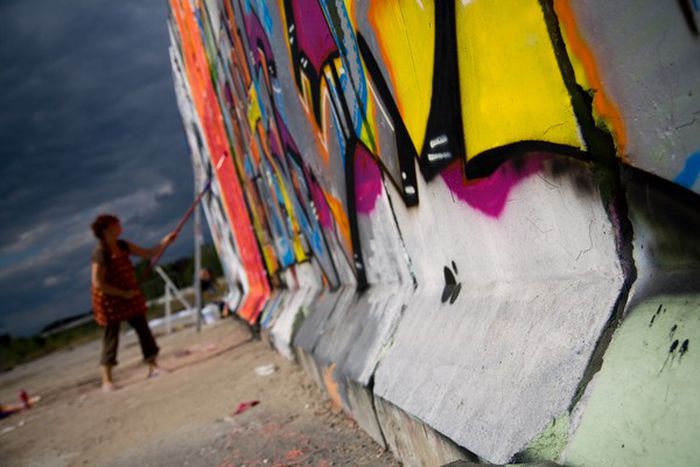 20th anniversary: go and see the 'Berlin wall' be destroyed in Paris
Published on
On 9 November 2009 there will be a lot of commemoration services to celebrate the Berlin wall coming down 20 years ago. Two 'euro-enthusiast' associations in Paris are organising a 'destroy party' on the big day itself. What's the concept? A wall made of foam, some pickaxes and some good wine
9 November 2009 is an emotionally-charged day for Benjamin Chassaing, a wine merchant from Montpellier. Not only is it the day commemorating the fall of the Berlin wall, it's also the 121st anniversary of the birth of Jean Monnet: one of Europe's founding fathers. The association named in his honour – Jean Monnet Spirit  was created in 2000 to remind people of the first president of 'ESCS' (the European steel and coal community), and to make people aware of his writings as well as his life. The timing to throw this kind of party was perfect: Benjamin has organised a 'destroy party' along with the 'Groupe des belles Feuilles' (a pro-Europe group, literally, the group of 'beautiful leaves' - ed) in a Parisian bar, and the destruction of a symbolic wall. It was 20 years ago that Benjamin saw the real wall fall on TV…
Isn't having a 'destroy party' to commemorate the Berlin wall coming down more about uniting than destroying?
Yes, it's about marking the day and in order to do that it was necessary to organise something jovial and fun; an event where people can meet up to enjoy a glass of wine and chat. We came up with the idea to build a fake wall that we could destroy throughout the evening, just like how it happened 20 years ago. We show our enthusiasm for a (united) Europe by knocking down this symbolic wall all over again, brick-by-brick.
Will it be necessary to wear safety equipment?
No, as thankfully this wall will be made of foam breeze-blocks; it's more of an 'innercity' vibe, and opposite the bar we have booked for this party. It was complicated enough getting permission to block the street for that evening… This wall will have a blue and red side to symbolise the east and west Parties in Berlin. A cellist will also be there at the bottom of the wall, just like in 1989. We will also take photos and film, but we aren't artists and some of the people will have to be able to graffiti up the wall, like the one in Berlin. I really do hope they'll come…
So, who are you expecting to break down the wall?
Even if I remember this powerful and historic day correctly, sitting there watching it on TV, today's young people don't remember that it all happened back in 1989. We hope to bring together as wide an age range as possible to make young people take notice, perhaps by destroying a bit of the wall, of just how life was for those people before the wall came down. At this current point in time I don't think that young people are interested in Europe, generally speaking. I'm only 37 years old, but when I open my mouth to tell people that we have lived for 45 years in peaceful times, thanks to people like Jean Monnet and the European Union, I see clearly that I bewilder them all and I come off as old-fashioned. Let's have a look at the figures: before the end of world war II there were 26 wars in Europe over 400 years. Following this line of logic, we should have been through four wars since 1945! The young people of today prefer to play on their 'playstation', or trying hard to get themselves out of underprivileged areas, rather than thinking of that…
Do you think the fun aspect of the event will allow you to raise awareness in young people?
We'll see; I don't know if I should be optimistic or not. Today, the process of building Europe has been bogged down, it's weakening… The youth are becoming more detached (from history); this often causes a clash in conversations with grand parents who have suffered in the past. Everybody has to make an effort; to help lay the foundations and understand this continent, and the cause to further its prosperity. We wanted to cause a media buzz with this 'destroy party'; a fun event open to all and free of charge. Conferences and debates are all very well and good; there's no need to stop there though. We have no great intellectual claims to make; we just fancy letting our hair down a little and having a party!
The 'destroy party' will take place on 9 November 2009, rue Léopold Bellan, Paris 2e. Free entry
Translated from Une « destroy party » à Paris pour faire retomber le Mur de Berlin