2 Days in Paris: 'the French are apparently perfect'
Published on
Translation by:
chris reynolds
G. Ring
Julie Delpy's multicultural comedy with bite, starring her parents, US actor Adam Goldberg and Germany's Daniel Brühl, opens in French cinemas on 11 July. Reviews from both sides of the Rhein
Tale of a disenchanted generation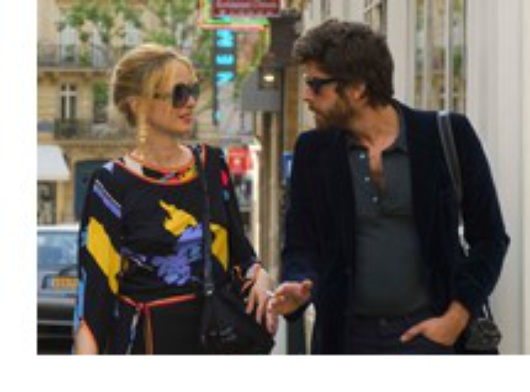 A boy, a girl, the streets of Paris...sound familiar?
Having co-scripted Before Sunset (2004) with director Richard Linklater and lead actor Ethan Hawke, French actress Julie Delpy, 38, enjoys playing with the rules of on-screen love and romance in her first acclaimed feature film as director and co-producer. And while it presents a picture-perfect image of the French capital, with Montmartre's Place du Terte, the Latin Quarter and the Canal St Martin all making an appearance, the film doesn't exactly have the same effect for Parisians themselves.
Marion, a New York-based French photographer, tries to put right a disappointing trip to Venice by dragging her American boyfriend off to meet her family in Paris. But neither the dome of St Mark's Cathedral nor the towers of Notre Dame manage to relight the faltering romance between the two thirty-somethings. And as Jack – a role literally made for actor Adam Goldberg – comes to uncover the true nature of Marion's parents, both post-68ers more caught up in their own marital difficulties than in the sexual abandon of their youth, Marion finds herself bumping into ex-boyfriends at every turn.
From this albeit rather uninspired basis, a couple, far from the place they call home, get to know each other in the most silly of situations, with Delpy pushing her subject almost to the edge of ridicule and even spite.
She also gets a kick out of caricaturing her fellow countrymen in a less than flattering light: racist taxi drivers, misogynist rednecks, sex-obsessed intellectuals who are devoid of talent and thirty-something Parisians shown as perverted, love-sick, amoral depressives. As the film's director and female lead, Delpy admits that she was somewhat self-indulgent in exaggerating the different characters.
'But,' she explains, 'the French are the only ones to have taken any offence from it. There's an old tradition that we don't criticise our own faults. The French are apparently perfect – it's well-known!'
The result is that the Franco-American woman that she's become hits the French where it hurts, painting a portrait of a country sure of itself - arrogant, dull, shallow, and highly provincial, whose sense of spirit and rebellion has given way to a lack of inspiration and reinvention. It's an impression reinforced by the direction and costumes which give the film a very 'nouvelle vague' feel (Delpy even appeared in a Godard film back in 1984), with the image of permissiveness conveyed by Marion's friends clashing with the puritanical correctness of their American guest, who ends up dizzy in the face of so much excess.
Fortunately, none of it's too serious though. Delpy handles the humour with verve, the dialogue being firmly anchored in the best tradition of stand-up comedy: 'actually I think a blowjob is a big deal. After all, it's because of a blowjob that the United States blew its last chance to remain a democracy.'
The film's ending is tinged with just a sprinkling of malevolence, at once both cynical and melancholic: is it still possible to be rebellious when you're over thirty? Appearances can be deceptive: at first sight it might seem light-hearted, but 2 Days in Paris questions the fundamental politics of a generation in search of its moral values.
Nathalie Six, Paris
Translated from the French by Chris Reynolds
In-text photos: (Rezo Films)
2 Days, one French capital
Paris is the city of love and Marion (Delpy) and Jack (Goldberg), happily together for two years, also know that. So there should no cause for concern as the couple decide to spend two days in Paris at Marion's parents (played by Delpy's real-life parents). However, in these two days the couple's relationship hits a crisis - and it's not just about differences between French and Americans.
Delpy – known to the wider public for her roles in Before Sunrise (1995) and
Before Sunset (2004) – made 2 Days in Paris almost single-handedly. The actress directs, edits and composes in this movie. Audiences lapped up the film at its Berlinale screening earlier this year.
One and a half hours later, the shaky camera follows the French-American couple's descent into hell. Delpy doesn't reduce the two characters only to cultural differences though. Here it's about something more. She comes from a family of liberal 68ers. He's a little uptight. Despite being in a relationship, she still seeks approval. He thinks he's sensible and grown-up. It would be too easy to unrestrictedly identify with either of the complex characters. Sympathy and misunderstanding offer up a proper exchange of blows. And those who didn't know it yet, find out now: life is much too complicated to see things in black and white.
Despite the relationship problems there is still plenty of time to throw in some French clichés for good measure. Here Delpy has very little respect for the culture of her fellow compatriots. Many of the comic scenes feature outbursts, like when a young artist assiduously copies the works of his artistic role model, adding 'only with much more sex.' At every chance they get, the French always seem to be discussing 'the S word.' Whether it is over a meal or at a party, likes and dislikes are discussed freely and in detail. It's a real schadenfreude to see how Jack's image of the French seems to materialise with every encounter.
2 Days in Paris is without a doubt Delpy's first French 'Woody-Allen'. Even in Paris everything seems neurotic somehow, with an element of the New Yorker in any event. Everything is a little quicker, a little more in pieces, and at times a little more barbaric – like one thinks it is on the other side of the Atlantic. In any case, this 'culture clash' romcom is one not to miss!
Karsten Marhold, Berlin
Translated from German by Geraldine Ring
Translated from 2 Tage Paris