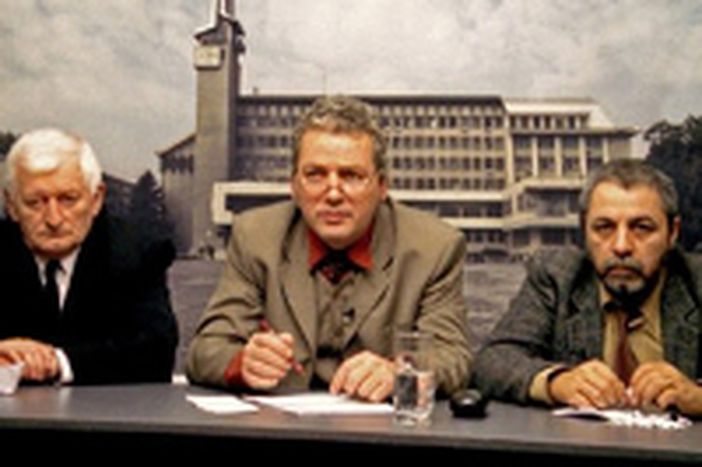 '12:08 East of Bucharest': revolutionary rendevous
Published on
Translation by:
claire schultz
From the set of a local television station, three madcap characters attempt to understand what happened in their sleepy Romanian town the day that communism died
In Romanian director Corneliu Porumboiu's entertaining first comedy, it is December 22. It is also the sixteenth anniversary of the Romanian revolution which ended Nicolae Ceauescu's communist regime. Virgil Jderescu, owner of a local television station, organises a televised debate to mark the occasion, with the help of Piscoci (a pensioner) and Manescu (history teacher and local drunkard). These three participants in the show try to prove a bizarre theory - did a revolution really take place in their little town, east of the Romanian capital?
A poster from the square where the supposed revolution took place. It is the only prop that the lead character can use to transport his viewers back to that December morning which changed Romania's history. They meticulously try to reconstruct historic moments in that square, as they were experienced by each person in a completely different way. For example, surreal phone calls, testifying to the truth of the past, are transmitted live on the programme.
Sleeping giant
12:08 East of Bucharest is a low-budget film, but two things are worthy of mention. It has a smart script, which provokes roars of laughter from the audience. It's rife with situations that verge on absurdity, led by the central trio played by Mircea Andreescu, Ion Sapdaru and Teo Corban. The more serious the characters try to be, the funnier things get.
It also has an innate ability to go beyond geographical borders. No-one could have imagined, before now, that a low-budget Romanian film would be sold to ten countries at the most recent Cannes Market (the Co-production Office); that it would be awarded the Golden Camera (for best first-time director) during Directors' Fortnight at Cannes; or even that it would creep into the final four nominations for Best Script at the most recent European Cinema Awards, held in Warsaw on December 2.
For the viewer, there is an additional challenge; who can say for certain, after watching the film, whether a revolution did indeed take place in Romania on December 22, 1989?
The film premieres in France and Belgium on January 10, 2007, and was released in Hungary on December 14, 2006
Translated from Cita con la revolución en 12:08 East of Bucharest