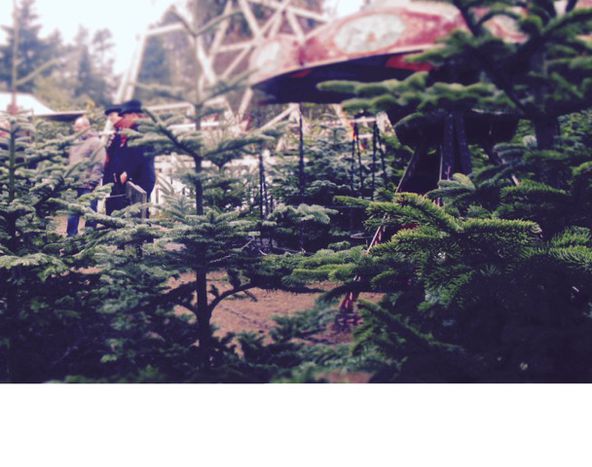 101 Christmas Trees 
Published on
Den Gamble started Christmas season last Sunday. Christmas fans can now discover how the Danes celebrated Christmas Eve over centuries.
The open-air town museum "Den Gamble By" next to the Aarhus Botanical Garden has become more beautiful than it already was. All 75 buildings have been transformed from their original historical style into a historical Christmas theme park.
Christmas fans can now discover how the Danes celebrated Christmas Eve over centuries: Instead of the usual sign in the historical living rooms, every room pretends to be on the 24th of December. You discover that Danes used to cover their floor with hay on this special occasion. Then, the entire household – including servants! – would sleep on it during the 16th to 19th century. Some landladies are "present" in the rooms to explain their traditions and bake fresh cookies for you.
Outside, a very traditional Christmas market is waiting: Can throwing, horseshoe throwing, stilt walking and bowling on a boiling lane out of wood, with wooden bowling balls and wooden pins. If you dare you, can try out one of the old swing boats or make a picture with your head in a toilet. Christmas elves watch you from everywhere wherever you go.
If you have had enough, you can go and send your Christmas letters from the ancient post office. The post officer sells you his Christmas cards and you can try out an old filler to write on them. The Christmas marching band, followed by one of the horse-drawn carriages, passes while you are writing. 
The best thing however, is –naturally– the fresh brewed Christmas beer waiting for you to be tested in the brewery. While you nip the dark caramel tasting beverage, the friendly brewers explain the brewing process in the old trunks.  
Of course, you can also drink mull wine or coffee at one of the fair stands everywhere in the town if you are freezing.
Finally, it is getting dark. The fairy lights on the Christmas trees in every house shine through the windows and enlighten the streets as you walk to the exit of the exhibition. Happy Christmas season!
Find the historic Christmas in Den Gamble By until the 30th of December.
Price for students is 70 DDK and totally worth it. Nevertheless, if you are not that into Christmas, I highly recommend going when there is no Christmas theme because all information signs on life in Denmark have been exchanged to only inform about Christmas Eve. This could be disappointing for those who only came to learn about history.
Opening hours are from 10-18h until December 22 and after 10-17h. Please notice that Den Gamble By actually is closed December 24, 25 and 30. 
For more information go on https://www.dengamleby.dk/eng/plan-your-visit/ . 
This article was also published on jutlandstation.dk.