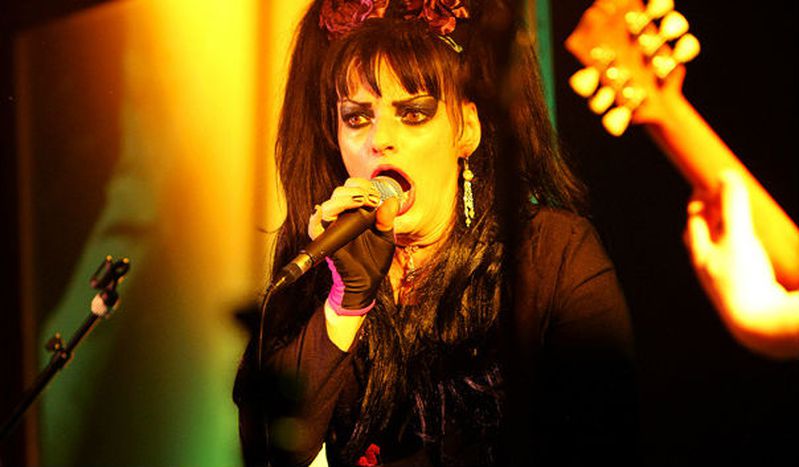 berlín jukebox: la capital que la rompe
Published on
La mú­si­ca de hoy, en Ber­lín puede ser en la ac­tua­li­dad to­tal­men­te elec­tró­ni­ca, pero tam­bién hubo mo­men­tos en que las gui­ta­rras eléc­tri­cas es­ta­ban de moda. Se pre­fie­ría el ras­gueo apa­sio­na­do, pero tam­bién el te­chno rá­pi­do punk y la his­to­ria del rock, son parte de Ber­lín e aquí una lista de re­pro­duc­ción.
El Kri­mi­na­li­täts­för­de­rungs­club, (en cas­te­llano el club de la cri­mi­na­li­dad) que se abre­via KFC, era en los  años 70 una de las pri­me­ras ban­das rock punk ber­li­ne­sas.  KFC, Stil­le Tage in Ber­lin (1981). 
Silly tam­bién en la misma línea de Ta­ma­ra Danz. Silly, Hal­lo­ween in Ostberlin (1993). 
Uno era para con Die Ärzte siem­pre con la idea clara: Si no se desea a la Bun­des­wehr (a los mi­li­ta­res), se se­ña­la a Ber­lín Oeste. Die Ärzte, Westberlin (2001). 
La pri­me­ra banda bri­tá­ni­ca hace un con­cier­to en Bran­deb­bur­guer Tor al­re­de­dor del muro de Ber­lín, antes de que años más tarde tam­bién le can­ta­rían. Pink Floyd, A Great Day for Free­dom (1994).
¿Qué sería del Punk en al­me­na­nia sin ella? res­pues­ta corta: nada. Nina Hagen, Ber­lin (1993). 
 Bloc Party, aun­que ve­nían de Lon­dres, se  ins­pi­ra­ron mucho Ber­lín. Bloc Party, Kreuz­berg (2007).
Ele­ment of Crime  co­nec­ta con Ber­lín:  pero sus can­cio­nes no son sólo de la ca­pi­tal, la banda se pre­sen­ta­rá este año, en la Fies­ta de la Mú­si­ca su pop-ro­ck me­lan­có­li­co en Ora­nien­platz. Ele­ment of Crime, Jung und schön (1999).
Aun­que la banda es ori­gi­na­ria de Sue­cia, sin em­bar­go, Ber­lín les pa­re­ce in­tere­san­te: Por­que Su­gar­plum Fairy se reali­zó el video en el Wann­see y esta can­ción se re­pro­du­ce en la ca­pi­tal. Su­gar­plum Fairy, In Ber­lin (2008). 
Pese a que la banda se di­sol­vió en 2011, pero Ber­lín está re­pre­sen­ta­da en su úl­ti­mo álbum. R.E.M., Über­lin­ (2011).
Ade­más, si uno fa­lle­ce en Ber­lín puede ser algo muy dis­cu­ti­ble y enig­má­ti­co. La vida es bas­tan­te buena en cual­quier caso. Ra­mo­nes, Born to die in Ber­lín (1995).
El PVC es Ber­lín: De­bi­do a que la banda se formó aquí y pasó pre­sen­cia en todos los clu­bes co­no­ci­dos. No es de ex­tra­ñar que una de sus can­cio­nes más fa­mo­sas de la ca­pi­tal es. PVC, Ber­lin By Night (1977).
café babel ber­lín y más no­ve­da­des en ju­ke­box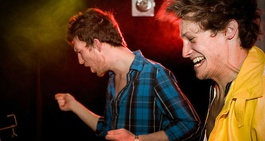 ¿Can­sa­do de los mis­mos vie­jos éxi­tos  de radio o Spo­tify y sus lis­tas  de re­pro­duc­ción? A par­tir abril de 2014, te po­ne­mos en la ca­te­go­ría Juke­box  jó­ve­nes mú­si­cos DJs, y ac­tua­cio­nes, iné­di­tas en vivo desde  Ber­lín.Más can­cio­nes y no­ve­do­sas lis­tas de re­pro­duc­ción pue­des en­con­trarlas en Face­book y Twit­ter. 
Translated from Playlist der Woche: Die Hauptstadt rockt