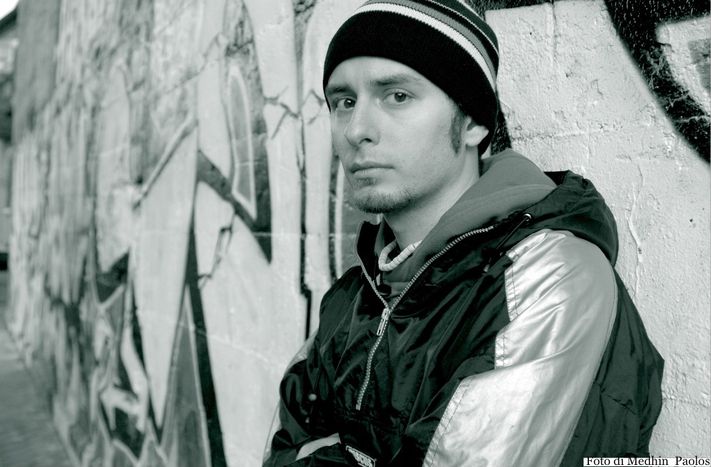 Zanko: the 'White Arab' Italian rapper who would perform for the Lega Nord
Published on
Translation by:
mary maistrello
In English slang, the word 'Zanko' is someone who is a social and cultural pioneer. Like this 28-year-old Syrian Italian, who gigs in unique political hotspots such as Zingonia and Lampedusa, has 'fought' for hip hop and would happily show the far-right Italian party what he's made of
Zanko, 'el arabe blanco', has three good reasons for making me wait two hours to meet him in the pretty park in Cernusco sul Naviglio, a small town on the outskirts of Milan. Italians are famous for being late, but he's only Milanese by adoption, as he was born in Italy to Syrian parents. Secondly, 'The White Arab' is just coming back from the other end of the country, namely Lampedusa in Sicily, a place oft debated as an outgrowth towards Africa or an outpost to Europe. It has been a week of debate and initiatives on the island, a symbol of illegal immigration landings which the government has to fight every day. Thirdly, he has had to perform a half-hour set. Rhyme and beatbox in the park, and all is forgiven.
Immigrant culture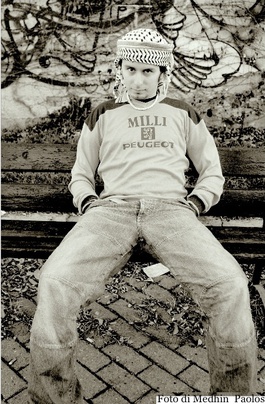 The event today is about remembering Abba, an Italian boy originally from Burkina Faso, who was tragically clubbed to death by two bartenders a year ago for allegedly stealing a packet of biscuits. Zanko's story has much in common with the one lived by Abba. Zuhdi is short in his huge rapper's T-shirt and doesn't have much of a tan for this time of year: 'an average Italian', as his lyrics say. As a working student, the 28-year-old doesn't feel that he's representative of a changing Italy. 'But I definitely must be, even if people try to ignore the fact,'  he adds.
Zanko is a second generation Italian and calls himself 'a foreigner in every nation'. He counts at least four identities: he is Syrian and Italian, but he has also lived in Montreal and Paris. He doesn't renounce any of these, but has absorbed the best bits of every experience. He is aware that identity, in the end, is individual and 'poly...poliedrica…' he says. 'As Pirandello said, we have infinite facets to ourselves and we are continually changing.' He doesn't get asked to show his papers very often, as opposed to his 'dark' friends, who he says sometimes envy him because he can walk by unnoticed. But it's enough for someone to stumble on the H's in his name to classify him in the 'different and abnormal' category, a potential criminal. Zanko knows that he is privileged: it was his parents, pioneering migrants, who had to face the biggest difficulties. What he does is balance the cultures in which he lives, as mirrored in his lyrics.
Hip hop: a multicultural power
His parents did not support him however. 'Hip-hop is a sentiment' – Zanko has really just called it that – 'which I have fought for. I have lived through a generational as well as a cultural conflict. Maybe it was destiny,' he continues as he smokes beside me on the grass. 'In sixth form, a teacher asked us to write something on racism and I wrote it in rhyme.' 'Without thinking about it', Zanko edged closer to hip-hop. He defines it as a 'multicultural power', the power lying in the fact that you 'learn it in the street' and that it's 'democratic'. 'Hip-hop is not difficult,' he explains, 'but to do it well is another story.' He thinks that the only place in Italy where hip-hop has no frontiers in winning people over is in Bologna. In other parts of Europe, like France or Holland, it unites people of different origins and from different walks of life with a single passion.
'Hip-hop is a sentiment which I have fought for. I've lived through a generational and cultural conflict'
On the other hand Syria is 'hardly westernised at all'. There, hip hop is a genre which is barely heard, viewed as something from afar, a stranger to the 'eastern hubble-bubble.' But there are always some Arab followers at his concerts, identifying with his integration difficulties. He goes back to Syria as often as he can. He describes having to 'put on a local accent' to avoid being ambushed by locals trying to sell him souvenirs, thinking that he's a tourist. He likes to keep in touch with his Syrian relatives, read the papers and he also keeps up with television series, the 'best in the Arab world.' 'Integrated does not mean assimilated,' he raps in his songs, and he repeats it to me now.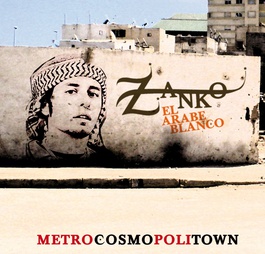 Communicating, playing with words, sounds and music is what Zanko does best in his debut album , where he claims to be a 'human being' above being a 'nationality.' He has described the album as being 'multiethnic in the sphere of hip hop', as it has been recorded with other second generation Italians who have French and Arab roots. 'Mixed race people are more widespread than you think,' he sings as he tries to stir the listeners, reminding them of the absurdity of a death caused by the words 'dirty black'. Multiculturalism is evidently a resource for Zanko. Maybe it's the next gear which could help save Italy in a period of economic and other crises. Two weeks ago he sang in Zingonia, a ghetto in the outskirts of Milan, where he often hold concerts. Would he ever play if invited by the Lega Nord, I tease. 'Yes, absolutely,' he replies. 'I'm open to confrontation, I like to express what I think. The Italian right is like a southern hemisphere right. It's still firmly stuck on past fears. What other countries define as the extreme right is widespread in the parliamentary right in Italy.' He does not lay on the blame, but reflects his commitment to try and change stereotypes and fears. With the 'creativity and speed of freestyle, which is a lifelong exercise,' he knows that he can try to build new models, which will evolve alongside an Italy that is trying to convince herself that she is not multi-ethnic.
Catch Zanko at the Eterotopia in Milan on 17 October
Translated from Zanko: un rapper italiano dalle molteplici identità