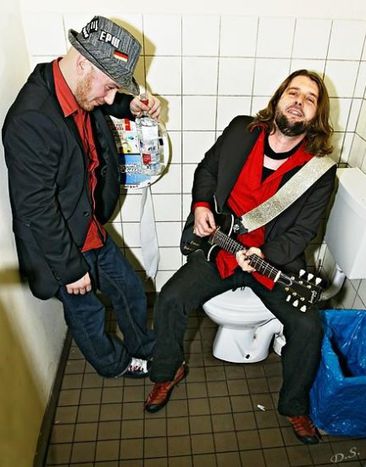 Yuriy Gurzhy: 'Achtung! The party is Russian-rock-free'
Published on
The legendary 'Russendisko' organiser is a notorious DJ and producer in Berlin. The Ukrainian-born musician co-created the club dance event in 1999 and his band Rotfront in 2003 with fellow Jewish Russian and Hungarian 'emigrantskis'. Time for some tea in Cologne
The stage is small at the Kaffee Burger club in the centre of Berlin. A band dressed in punky, predominantly red outfits, is playing a Balkan-sounding variation on the Jewish hora, a traditional circle dance. The crowded dancefloor is a formation of German, Russian, Jewish, Spanish concert-going circles. They embrace in exhilaration, dancing faster and faster, creating an ecstatic mixture of unadulterated joy.
Those Rotfront and Russendisko sounds
Rotfront, the resident Berliner band who make Emir Kusturica's No Smoking Orchestra look like a tired stereotype, was founded in 2003 by the Ukrainian-Jewish Yuriy Gurzhy and Hungarian Simon Wahorn. Describing the German-Russian-English-Hungarian mix of Kleyzmer, Balkan, punk, reggae, hip hop and electro they play is a challenging task indeed. No wonder they felt their sound required a whole new term, hence: Emigrantski Raggamuffin. 'I hate the word 'crossover', it's so overused,' says Yuriy, whom I meet for dinner in Cologne a few hours before he is due to DJ for an international party. 'We basically juggle with elements of musics of different nations, with different musical styles, with certain cultural layers. The most important thing is that it works. It's like a cocktail: you can mix something no-one has ever mixed before, but if it doesn't taste good no-one will drink it. Perhaps the initial reaction would be 'Wow, that's interesting', but it won't last. Really, it's all just pop music.'
Read cafebabel.com's interview with Wladimir Kaminer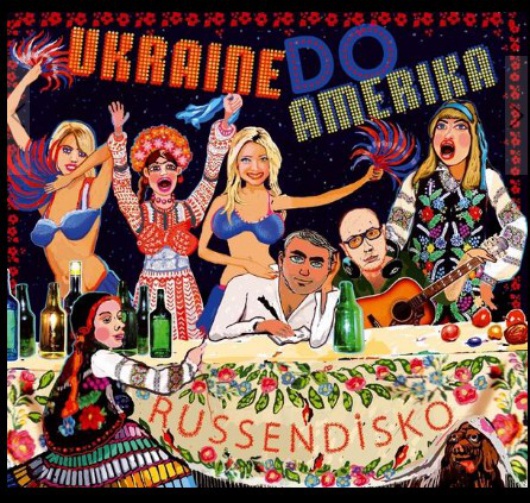 On top of playing guitar for Rotfront, Yuriy is the second half of the famous Russendisko events (which he co-created with Russian author Wladimir Kaminer), and a successful DJ in his own right. 'Achtung! The party tonight is Russian-rock-free,' he warns me jokingly, making it clear that the Russendisko ('Russian disco') line of Russian/Ukrainian-speaking underground/ criminal/pop folk remains the same even when it leaves its usual residence at Torstraße 60, Berlin.
Leaving Ukraine for Berlin and vodka for tea
The small traditional restaurant in the centre of Cologne is a little piece of German countryside across from a shopping mall, whose neon lights can be seen through the large glass windows. Wood panelling, large wooden tables, long benches decorated with red-and-white chequered pillows and faded pictures in dark wooden frames. In the background Germany's pride and joy, Lena, is singing the 2010 eurovision song contest-winning hit Satellite. Yuriy orders the meal of the day, pasta with mushrooms and cream sauce, and a cup of green tea. It's not quite the vodka-garlic combination he celebrates in one of Rotfront's biggest live hits. 'Not drinking?' I ask, ignoring my own choice of a coke light. Yuriy retorts with a popular Russian joke. 'Little Vovochka comes to his parents and says 'Mom, Dad, can you imagine? Lenochka doesn't drink and doesn't smoke!' 'Really, Lenochka?', the parents ask the ten-year-old girl. 'You don't drink and don't smoke? Why?' 'I GOT SICK OF IT!'' he finishes off, imitating a deep hoarse voice and laughing.
Yuriy followed his parents from Kharkiv, Ukraine's second largest city, to Berlin fifteen years ago. 'They came up with the decision. I just came with them, like on a big adventure. Missing a chance to go to Germany would have been stupid. In my heart I decided that if I didn't like it I'd come back – those were not after all, the sixties, when leaving meant burning all bridges.' Evidently, he liked it enough to stay. Visiting Kharkiv on a regular basis, Yuriy has made Berlin his home, making an unexpected career in music. Aside from Rotfront, Russendisko and general DJ gigs, Yuriy is part of a long line of various musical projects. The most recent of those is Mama Diaspora, along with Serbian Igor Sakach (Ingvo), Ukrainian Ivan Moskalenko (DerBastler) and Moldavian Eugeniu Didic (former member of Zdob şi Zdub). The more electronically-inclined Mama Diaspora, established at a festival in Belarus in 2009, is just recent adding to a myriad of bands showcasing endless variations on the Balkan sound. It suffices to mention the New-York based Balkan Beat Box – born, of all places, in Israel - to give a shining example of the musical invasion of the new millennia – the Balkan invasion.
Nor is Berlin falling behind. The city which prides itself on being the world's electro capital is now bringing a different style to the front. With the Balkantronika wandering party line, DJ Robert Soko's regular BalkanBeats night at club Lido in Kreuzberg, and live concerts by various bands, it is safe to say that the genre is in Berlin to stay. During Music Week in September 2010, Berlin announced its goal is mixing different forms of music, so it is indeed a small wonder that for Rotfront playing at Kaffee Burger feel like home. By nine o'clock Yuriy and I are the only two customers left sitting in the tiny restaurant. On the way to the S-Bahn station he scouts the people around us. 'You know Valenki are in style now?' he says, referring to this winter's popular trend of UGGs and their likes, which resemble the traditional Russian felt boots. 'Hipsters in Valenki,' he laughs.
Images: main ©Dmitriy Shakhin/myspace.com/yuriygurzhy; Russendisko ©myspace.com/yuriygurzhy