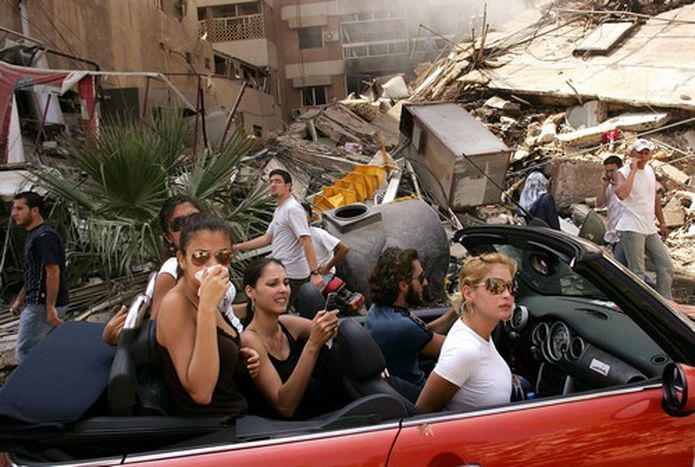 World Press Photo Awards 2007
Published on
Bombed Beirut, Paris and Burundi – 2006's most important events captured in images. The annual awards ceremony takes place on April 22 in Amsterdam
1955. A black and white shot of a crashed motorcycle, with its racing owner's legs in the air as he hit the championship tracks, won the first ever World Press Photo's news-related image of the year. The Danish entry was the precedent for professional news photographers from all over the world to send in their best images. Categories range from 'general news' and 'sports action' to 'portraits' and 'stories.'
'We are interested in the photos that best reflect the visual communication of the news. They produce a psychological and emotional effect that stick in your mind,' says Kari Lundelin, head of communication at World Press Photo. The American, French, Swiss and Spanish winning photographers tell us about their pieces.
Spencer Platt - winner of World Press Photo of the Year 2007
'For me this photo was an obvious choice to enter for an award. It had all the incongruities, the surreal elements that can only be viewed in a society which is going through war. The jury spoke about its contradictions and how it is an image that tells an uncommon story about war. The photo was not manipulated in any way. Moments like these can tell us volumes about cultures, individuals and the ability of people to persevere in war. The people in the car had lost their homes or loved ones that summer, as many thousands of Lebanese had. We were all struck by the total destruction and carnage. This picture could not have been made on any other patch of land in the world; it is picture about lovely, sad, surreal Beirut.'
Denis Darzacq - 'Arts and entertainment' winner
'The work of La Chute is metaphoric. The photos reflect a sense of urgency about reality of the youth in Europe. The youth nowadays lives in a difficult situation: 9/11, immigration. What do we do with migration? Immigration helps us. But we are afraid of everything: China, Islam, USA. Youth take part in the story. They have the most energy.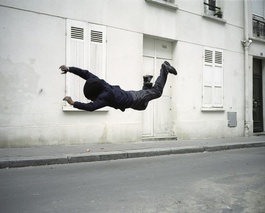 I am 45 years old. I can think and write to express myself. For the youth their first language is their body. I asked a few athletic men to jump. Falling is a feeling of urgency, about suspension and waiting. Though, the work is not so much a social commentary as an expression of a desire to be stronger than you are. Think of Icarus. These images are a power against anxiousness. Actually the image gives more questions than answers.
I chose this background because it is neutral. You cannot see if the image was made in a rich or poor neighbourhood, or even in London, Berlin or Paris. They have significance for the youth everywhere in Europe. My work hangs mostly in galleries. Commonly the winners of the World Press Photo Award work for a newspapers or magazines. It is an important new step the jury has taken to award me this prize. There is a militant wedding between documentary and art.'
Nicolas Righetti - 'Portraits' winner
'I visited Turkmenistan a few times last year, when dictator president Saparmurat Niyazov was still alive (he died in December 2006 - ed). The president's image was in the bathroom of my guide's house, positioned where a mirror usually stands. Even while brushing his teeth, this man was looking at his clever and charming king.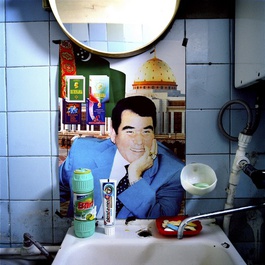 Previously I had visited North Korea, another country closed to the world, where I had no chance to talk to the people. In Turkmenistan I managed to overcome the linguistic barrier and censorship. Photojournalism is about symbolism. A photo is one small moment in time, a snapshot which tells a story. Nowadays everybody has a camera, but a good photo tells a story. That is not easy to do.'
José Cendón - 'Contemporary Issues' winner
'I was based in Rwanda, covering the Great Lakes Region for AFP. I found it amazing that in a region with so many records of deaths and wars, almost nobody works on mental health.' This photo was taken at the neuro-psychiatric hospital of Kamenge in Bujumbura, capital of former German East African Burundi. 'The inmate lay on a kind of made-stone bed, inside an isolation cell. I captured the moment when he stood up with a lot of effort. He looks like a Greek statue, with all the lines ending in his figure.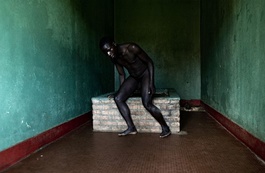 This story is part of a bigger work about insanity in the Africa's Great Lakes Region, entitled Fear in the Great Lakes. I tried to show the suffering of the inmates in a personal way. I wanted to hit the people who look at my pictures. I don't think I can change many things with my photographs, but at least I can be where I want to be and say something.'
Many thanks to Mariona Vivar Mompel
Keep an eye out for the exhibition near you
24 April – 17 June : Amsterdam, Oude Kerk
26 April – 27 May : Hamburg, Gruner + Jahr Pressehaus
27 April – 27 May : Athens, Athens International Airport
27 April – 20 May : Poznan, Cultural Centre Zamek
30 April – 27 May : Knokke-Heaist, Cultureel Centrum Scharpoord
6 May – 21 May : Milan, Galleria Carla Sozzani
8 May – 21 May : Split, Akvarij
(Micro-photo: Michael Bretherton)
Courtesy of © World Press Photo