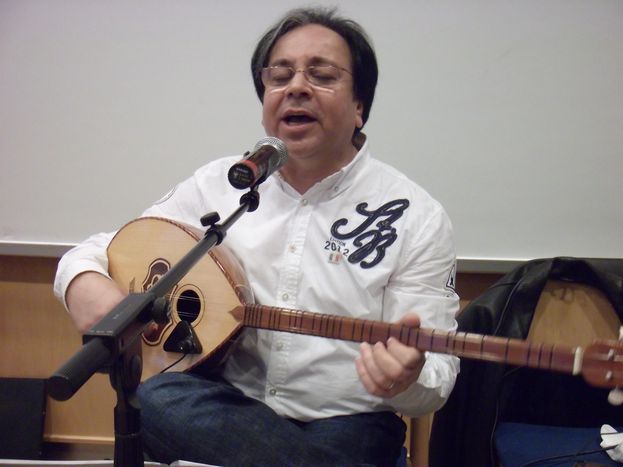 World music in Vienna: Yezidi we can
Published on
From a Yezidi party in central Vienna to the world music stage of artists resident in Vienna from Syrian and other origins, the patterns of the Austrian capital's oriental music world don't quite mirror society when it comes to integration. Can oriental rhythms foster social change?
Young Iraqi Kurdish men from the Yezidi community in Vienna hold hands while line dancing according to traditional shawm sounds and drum rhythms. People of Yeziden faith are celebrating easter, which also marks the beginning of their new year. Seeing them relaxed, eating Turkish sweets and drinking rich red wine, one could never think that not long ago violence, religious strife, hunger and uncertainty about the future were their everyday companions. The escape to Vienna changed everything.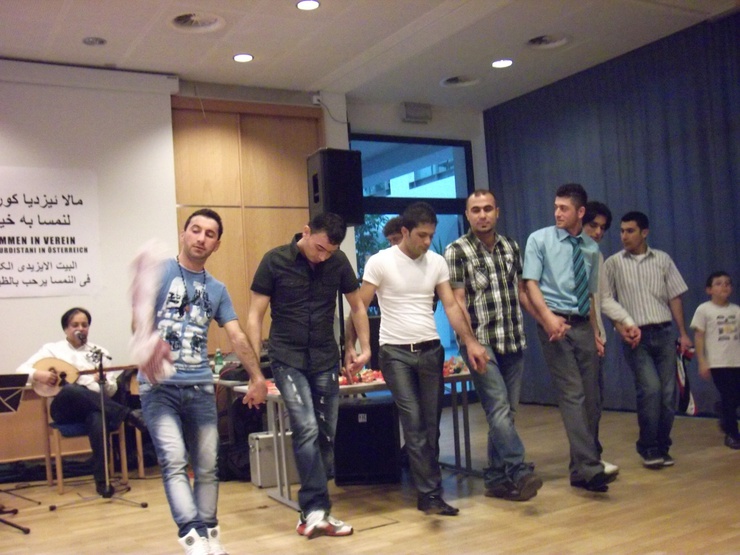 Vienna: freedom for the future
'We organise concerts and parties because we want to entertain those young people, to boost their spirits,' says Dimosi Al Najar, 19, who came to the Austrian capital from Baghdad and now volunteers for the Mala Ezidia organisation. The organisation is partly funded by Kurdistan's government. One of its main responsibilities is to provide Austrian immigration offices with information about whether an asylum seeker is of yezidi faith or not. Yezidi is a religious minority that is severely persecuted in its homeland, so the yezidi people are usually granted asylum. Hearing familiar sounds is a therapy to newcomers. 'It helps them to overcome longing of their loved ones and homesickness,' Dimosi explains.
'It's like a family celebration,' says Asmat Omari, who plays the oud at the party. The musician came to Austria from Syria two decades ago and is invited to most of the celebrations of the Arabic, Syrian and Kurdish communities in Austria and neighbouring Hungary. It is not traditional for yezidis and muslims to become friends - quite the contrary - but it seems that being in the exile and appreciating same artist may cause some attitude changes. For example dozens of muslim women are listening to Asmat in the hall, some even joining in with the dancing. 'Of course I miss home,' says Asmat after the concert. 'I try not to think about it too much. In Syria all the big artists die or are forced to live in poverty. Vienna is a place where one can think about the future.' So whilst Asmat usually plays traditional oriental music, but also likes experimenting with European folk musicians.
The sound of being deported
However not all Austrian immigrants can enjoy freedom in Vienna. Everyday an average of seven asylum seekers are deported back to their home countries. Only very few of their personal stories accidentally become public. Most immigrants to Austria come from Turkey and former Yugoslav countries, the Arab world and Africa. In 2006, when the Austrian government was planning to strengthen immigration control, Austrian-born and immigrant folk players took joint political action and formed the IG world music association. Its goals are to promote the awareness and tolerance of different cultures in society as well as to lobby for progressive Austria's immigration and integration policy. Even though fundraising for musicians with migration bacground and events organisation became easier after the association was founded, public funding to the world and folk music scene in Vienna remains modest, especially if compared with the financial support provided to the classical music scene.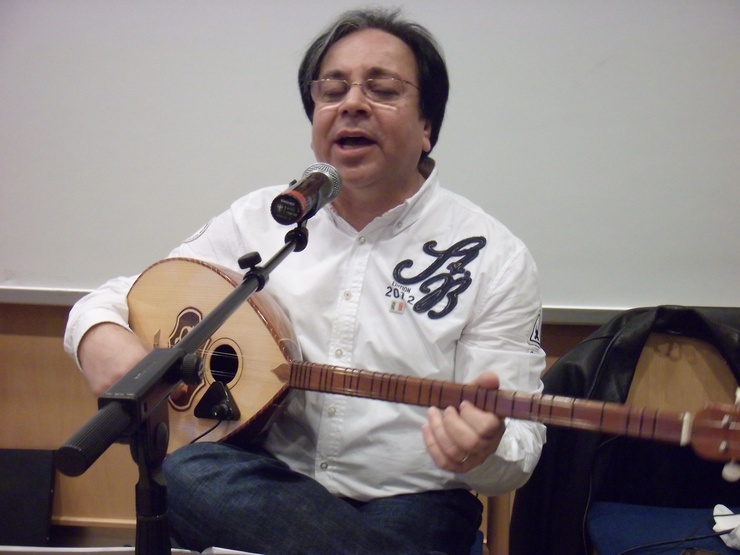 Nicole Janns, who specialises in oriental rhythms and with whom Asmat sometimes collaborates, is affiliated with the IG world music association. We meet the president of the 'EU roots' NGO in an underground music club called Heureka, that she and her fellow musicians founded ten years ago. There are no online concert announcements. The signboard over the main entrance to the club is modest and difficult to detect. 'Those who care knows when we are open, so they just come,' she explains. This semi-secret romantic place for folk players, rockers and hippies to gather every Friday is partly funded by city's municipality.
'I wish that immigration could influence our world music scene more'
Nicole starts to cook her spicy 'Asian Spring soup' chef-d'oeuvre; she is a singer, percussion and bagpipe player in a five-piece all-female folk outfit called W.h.i.t.ch. The group's aim is to integrate every kind of musical tradition into their music – be it oriental, European, American, Russian, even African. 'Being in the world and folk music scene you need to be an open-minded person,' she says. 'You have to like to learn from others and meet different people from all over the world. You have to change, adapt. So it's unlikely for a musician or a folk music fan to be a racist or have extreme right-wing feelings,' she says. However Nicole thinks that the trend to integrate various musical traditions and sounds on the Viennese stage does not mean the same processes are happening within society. 'I wish that immigration could influence our world music scene more. Since I am playing with oriental people I know that most of them stay within their communities and are not going out to build new networks. We maybe need to encourage them to do it more often'.
This article is part of the sixth edition in cafebabel.com's 2012 feature focus series on multiculturalism in Europe. Many thanks to the team at cafebabel.com Vienna
Images: main (cc) Beni Ishake Luthor/ flickr; in-text © Dzina Donauskaite/ video (cc) Avirtinikli/ youtube