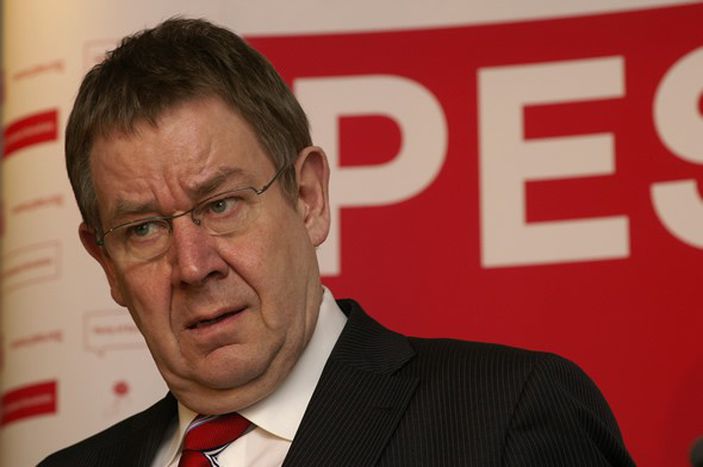 Will he or won't he: Poul Nyrup Rasmussen to head European commission?
Published on
The former Danish prime minister has committed the socialists to winning the June 2009 European elections. His strategy is based on the idea of a new social Europe. His objective: to ensure the welfare state retains its place in globalisatio. Interview
'I cannot guarantee people they will always keep the same job. In fact no one can! However, I can guarantee them that I will fight so that they have employment for life.' It is this nuance between work and employment that Poul Nyrup Rasmussen differentiates. He is the president of the party of European socialists (PES) and was the prime minister of Denmark at the time when the Scandinavian country turned to 'flexicurity' (a welfare state model with 'flexi' bility of hiring and firing for employers and sec'urity' for employees).
'People in the street ask me where we're going. They want us to take a direction because they are frightened'
Furthermore, they are turning towards Europe, particularly with parliamentary elections favouring the socialists. It is the first time that a European party has put together an electoral program which is 'the result of two years of work with party militants and civil society. The program comprises 71 proposals that aim to point Europe in a new direction.' The main message: 'the people first'.
The only real contender
Rasmussen: he is close to the people. He has a programme. US president Barack Obama's Yes we can is still hanging in the air. His rhetoric is not simply one of an 'intermediary between governments', as the European commission's current president and candidate for re-election, José Manuel Durão Barroso, describes it. However, due to a lack of support from the socialist heavy-weights, Rasmussen hasn't yet announced whether he will stand for the European commission presidency, and for good reasons: British PM Gordon Brown did not go to Madrid in person and Spanish president Zapatero has not hidden his intention to support the re-election of the Portuguese conservative.
'People in the street want us to take a direction because they are frightened'
Rasmussen is convinced that the socialists will win the elections. 'People in the street ask me where we're going. They want us to take a direction because they are frightened,' he confirms making allusions to Barroso's passivity. According to him, the commission isn't doing enough to protect Europe from the crisis and the lack of support from the German chancellor Angela Merkel is being felt. But, we'll have to wait a few more days to know whether or not he will stand for the European commission presidency. Indecision? No, let's say more like strategic calculation. Rasmussen has announced that the PES will take no decision until mid-February. 'Don't say that I told you I wouldn't stand, but don't say that I said that I would either,' he says with caution. Europe could finally be developing an electoral strategy on the continental scale.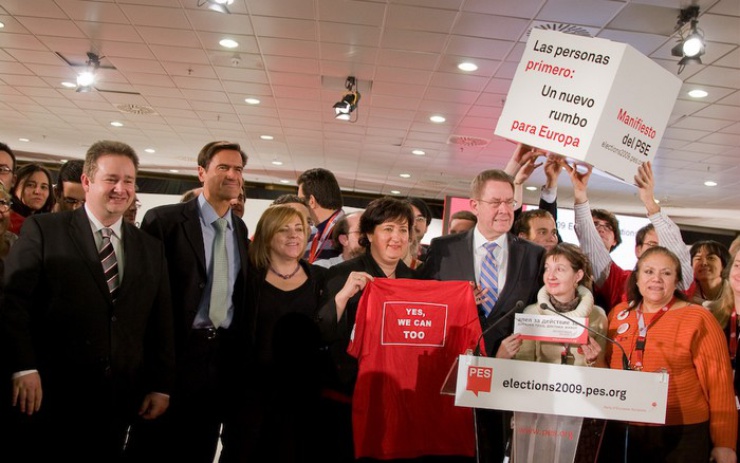 Public investment and low tax reductions
In Spain, the number of unemployed has risen by a million in one year. 'To guarantee employment, we must expand investment over the next two years.' This is what the European commission and various governments have begun to do, but in Rasmussen's view, 'the commission want to stop the process too early and so it won't do any good at all. In my view, the priority is Zapatero's approach, in other words linking investment to job creation: in education, infrastructure, ecological and energy projects such as solar and wind energy. Reducing taxes is no longer a relevant option because people are afraid. Any money they have to save they'll stuff under the mattress.' 
Rasmussen makes a difference between reducing taxes and reducing VAT. Reducing VAT is labour's Gordon Brown's strategy, the first of Europe's politicians to have taken measures against the economic crisis. 'You must see that reducing VAT is not the same as reducing income tax: by lowering VAT, goods become more attractive and people start consuming again,' he continues.
'Flexicurity', a dish that is not on the welfare state menu
'We must consider the poorest,' continues the man who is rediscovering his most socio-democratic values faced with the crisis. 'A fair, inclusive society with jobs for all.' The Danish economist is fighting for an overhaul of labour legislation so that instead of making redundancy easier, it encourages a reduction in working hours for employees in difficulty so that they may develop professionally through state-financed training and qualification. 'This way, when the economy picks up, they'll be ready to apply for higher-level positions,' he concludes.
Sarkozy's version of flexicurity - lots of flexibility, no security - will not work
But this is an approach that moves closer to 'flexicurity', a concept that frighten the Italians, the French, the Spanish and the Portuguese? 'The Danish model was constructed over 35 years and can't be applied in its current state to countries with a different history,' he reassures. 'Furthermore in Denmark, 10% of GDP is injected into education whereas in Spain its only 1.3%. One thing is certain; with globalisation, we will change jobs much more often. This is what led me to tell French president Nicolas Sarkozy that his version of flexicurity, in other words lots of flexibility and no security, will not work; and I say to Merkel that too much security and no flexibility is not recommended either.'
Translated from Poul Nyrup Rasmussen: "Lucharé para que tengan empleo toda la vida"