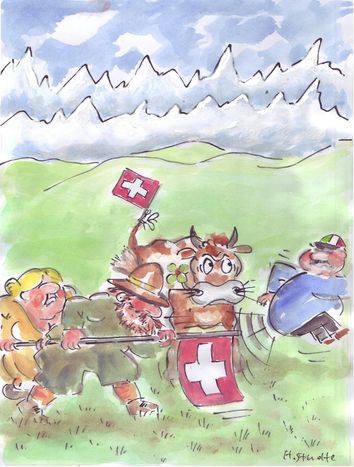 Why the Swiss call Italian workers 'baliaratt'
Published on
Translation by:
Helen Dray
What's the problem when three rats devour a Swiss cheese? Nothing, except when the rats represent the 45,000 Italian workers 'stealing jobs' in an Italian canton of Switzerland. That's according to 60 billboards splattered over the mainly Italian-speaking canton of Tessin or Ticino. Term of the week
It's well known that Switzerland is a truly democratic state. What other country is shrewd enough to hold a referendum to stigmatise a religion by voting for a ban on minarets? Then news broke of the 60 anti-Italian billboards in Tessin, or Ticino in Italian, a canton with 83% of Italian-speaking residents. Not the slightest referendum took place. Some began to doubt democracy.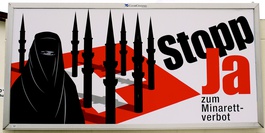 The subject came as no surprise of course. On the billboard, three rats devour a Swiss cheese. The three rats are a Roma thief and the Italian finance minister, but also an Italian worker. 45, 000 Italians work in this canton which borders, allegedly 'stealing' jobs from the locals. An internet denouncing the balairatt targets Italians who work in the tourism, construction and public health industries instead of the Swiss. The site also denounces the Italian inland revenue for instigating tax evasion.
Balairatt means the 'rodents at play' in Tessin dialect.It is taken from the Italian expression quando il gatto non c'e', I topi ballano!, which translates perfectly to the English idiom while the cat's away, the mice will play. For the Germans, the mice take to the tables when the cat slips out of the house (Ist die Katze aus dem Haus, tanzen die Mäuse auf dem Tisch), whilst the Poles are clearer still: mice go mad when there are no cats (kota nie ma, myszy harcują).
The balairatt campaign is another testament to democracy
On 28 September the Swiss French magazine L'hebdo reported that 'the sleeping partner of these controversial billboards is keeping out of the limelight'. But according to the New York Times on 12 October, the author of the racist cartoons is none other than Pierre Rusconi, leader of the far right Swisspeople's party (SVP). According to him the three rats represent an 'issue that's very keenly felt in the canton of Tessin.' It does stem from a democratic initiative. A referendum was organised on the agreement signed in 2002 between the European union and Switzerland, allowing the exchange of workers between the two parties. 60% of Swiss are still in favour, but 66% of residents in Ticino are against. It's good news for the balairatt campaign, which in the end is another testament to democracy. We're not so sure all this make the stigmatised Italians feel better. The last vengeant word goes to an Italian from the northern Italian town of Varese in Lombardy who created the bailavacc - a dancing cow homage to the Swiss working in Italy!
Images: Balairatt poster ©balairatt.ch; anti-minaret poster (cc) rytc/ Flickr
Translated from Suisse : après les minarets, les rats italiens