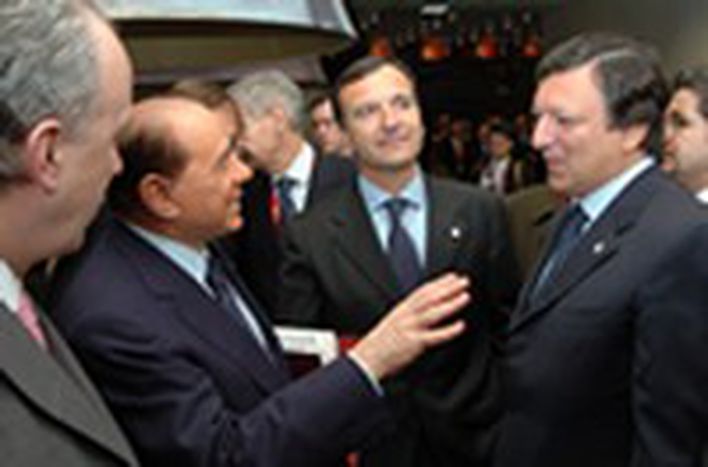 Why Italians will keep voting for Berlusconi
Published on
Translation by:
akasemi newsome
When it comes to controversy, Silvio Berlusconi has nary a peer among European heads of state. Although widely attacked by opponents as a danger to democracy, the 2006 election is still to be won.
These days, the 'Cavaliere' is constantly under fire. Sabina Guzzanti's documentary, 'Viva Zapatero!' which discusses the interweaving of media and political interests, deals a blow to Berlusconi. He has also been mocked on the TV show, 'Rockpolitik' hosted by singer Adriana Celentano.
Perjury and Tax Evasion
Berlusconi has been critized for consolidating political, economic and media interests under his control. After winning the last election, Italy's richest man and most powerful media mogul obtained a controlling stake in Mediaset, one of the largest corporations in the country. The list of charges goes on, ranging from perjury and tax evasion to accusations of overstating corporate profits and illegal campaign financing, even Mafia collusion. So far, of course, Berlusconi has managed to place himself above the law to escape prosecution.
Still, only with Berlusconi's leadership, was the centre-right coalition 'Casa Delle Liberta' (House of Freedom) able to capture the 2001 elections. Recent poll results report that Berlusconi's splinter party, 'Forza Italia' can count on 22.6 percent of the vote while the entire ruling coalition commands 47.9 percent of the electorate.
Italy's Messiah
It would be too simple to dismiss Berlusconi's voters as pitiable immature citizens without a sense of political responsibility. The roots of the 'Berlusconi' phenomenon can be traced to Italy's first republic. From the end of World War II until the 1990s, democracy stalled as power rarely changed hands between ruling and opposition coalitions. This was because Christian-Democrats-led ruling coalitions were never beaten by the Communist Party. Instead, decades old clientelism dominated national politics.
When news of the bribe scandal 'Tangentopoli' came to light in the early nineties, virtually the whole Italian political class counted among its casualties. Berlusconi, more than anyone else, understood the need to fill the power vacuum and used his party, Forza Italia, to gather support. The fact that he had no political experience did not hinder his ambitions, rather they helped him bring disillusioned voters back into the fold. The novice reinvented himself as a self made man capable of saving Italy.
45 percent of Housewives chose Berlusconi
Michael Braun, of the social democratic party foundation, 'Friedrich Ebert Stiftung' believes that Berlusconi's recipe for success lies in 'the illusion of his political program'. It is a program that adapts itself to the needs and wishes of particular voters and is not beholden to political principles. Berlusconi stirs up irrational fears of the 'communist menace' associated with the democratic left to get votes from conservatives. His party program also includes neo-liberal elements, like free market capitalism, privatisation of state-owned utilities and banks as well as tax reform to appeal to business interests.
At the same time, in 1994, the unemployed were promised 'a million new jobs' and in 2001, retirees had a '525 euro minimum monthly pension' to look forward to. For these reasons, 57 percent of the jobless and 40 percent of those over 65 voted for Forza Italia in 2001. Last but not least, 45 percent of housewives also chose Berlusconi.
Pulling one over on the government
As tempting as Berlusconi's promises are, one has to ask why the conflict of interests between his elected position and media ownership or corruption scandals fail to frighten away voter support. But from their point of view, it is not such a crime to take a little from a plunderer state. It is acceptable for the president to use the state for personal benefit as long as he uses the state for voter benefit too.
Not all Berlusconi voters support him whole-heartedly. The meagre budget surplus contributes to growing discontent. Many worry about when
and how he will exit from politics. The left on the other hand is in disarray and has no alternative plan. Berlusconi has exploited this and the recent banking scandal that sullied the reputations of a number of left politicans. For many Italians, there simply is no one else to vote for.
Translated from Berlusconi: Meister der Beliebigkeit