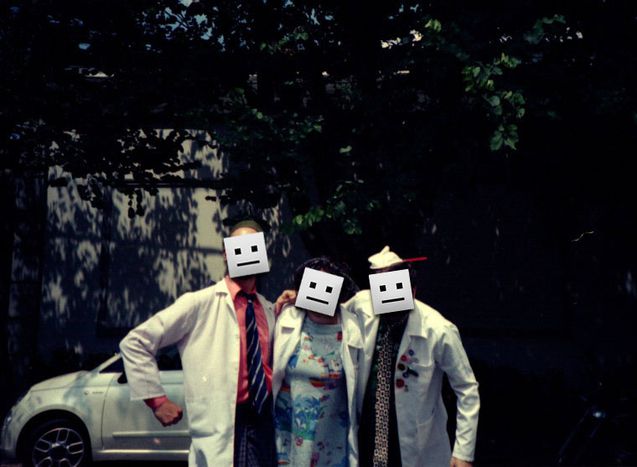 Where did all the Romanian doctors and French med students go?
Published on
Mobility within the European Union also applies to the medical sphere, resulting in a freedom which leads to problems as well as advantages. Celia Laherre on the failings of medicine without borders
17-18 May 2011 will see theEuropean summit on medical tourism - the Central and Eastern Europe Medical Tourism and Healthcare Summit in Zagreb, Croatia. Countries such as Romania, Serbia, Bulgaria, Hungary, the Czech Republic and even Poland will attract the attention of medical tourism agencies, associations, hospitals and consultants from all over the world. But to what extent can the EU be blamed for the failings in our medical systems? Migration flows have been increasing substantially for the past ten years and have accelerated since 1 January 2007, the date of Romania and Bulgaria's accession to the European Union. Freedom of movement, the creation of low-cost airlines and then unification and the recognition of medical studies between the member states has led to a 'European medical highway' linking western and eastern Europe. Professionals leave their countries to practice, students continue their training abroad while patients take up medical tourism.
France and Romania
The UK, Ireland, Denmark, Norway, Sweden, the Netherlands, Austria and even France and Germany recruit doctors from eastern Europe to fill the vacancies for general practitioners in less attractive rural areas. These countries guarantee these adopted practitioners a high salary and the prospect of better working conditions. While doctors go west, students go east. Western patients are following the trend. Tired of waiting for weeks for an appointment and unable to pay the high prices for medical procedures (in particular dental and opticians' fees), they turn to private practices based in Romania, Hungary, Poland and the Czech Republic, no longer hesitating at taking a plane in order to have dental implants inserted or to have an eye operation.
France and Romania are a perfect case of the 'medical highway' phenomenon. In France, approximately 12% of foreign doctors are Romanian. Since 1 January 2007, when Romania joined the European Union, the number of Romanian doctors who are members of the French medical association has risen from 174 to almost 1, 000. Through fairs or agencies, French rural municipalities have no difficulty at all recruiting specialists and general practitioners seduced by the promise of salaries ten or fifteen times higher than Romanian salaries, not to mention the attendant advantages (accommodation, a place in a crèche, a consulting room and help with setting-up, etc.).
The Romanian public health system is suffering from the full force of this exodus. Romanian hospitals have a shortage of doctors. The government invests in private clinics for foreigners, thus exacerbating an already alarming situation. Without financing, there are insufficient technical resources and drugs in state institutions. Last October the main hospital in Brasov temporarily closed its accident and emergency department because of a lack of drugs and supplies. At the same time, the hospital of the Mehedinti region, in Drobeta Turnu Severin, announced total arrears of 1.35 million lei, as well as its inability to cover hospital staff salaries. Ironically French students are leaving France to continue their medical training in Romanian universities. Finding themselves the victims of the unrelenting demands of the selection process (85% of students fail at the end of their first year), they join establishments such as Clujuniversity, which has set up a French department. Unlike the French faculties, Cluj University charges fees (5, 000 euros per year) and recruits from file. Today it has more than 260 French students. If French students decide to leave Paris for Budapest, it is not because the medical programme there is more complete, but because finishing their medical studies in France involves so many hurdles.
Story so far
This 'medical highway' provides immediate solutions to emergency situations without really eradicating the problem. Just like a bandage, it is ineffective for deep wounds which, without in-depth treatment, will continue to worsen. It is the responsibility of each member state to reform its own health system. Western European countries such as Germany, England or France are encouraging students and doctors to remain in their own countries. In France, the 2009 medical studies reform aims to increase the 'numerus clausus' in regions with a shortage of doctors. Local level initiatives such as the 'maisons de santé' (multi-disciplinary healthcare centres) attract young doctors. For the moment most of the proposals are finding few listeners in an overwhelmed medical world. Eastern European governments are also trying to improve their public health systems. At the end of 2009, the Romanian government approved the allocation of an additional 3.2 billion lei to the national healthcare insurance budget. The government also promises a 'radical reform of the health and contribution system'. This is an ambitious project and the changes will be a long time in coming. In the meantime, the 'medical highway' will continue to flourish.
The author Celia Laherre is one of 27 EU Health Journalism Prize 2010 finalists (for France) for this article
Image: main (cc) weno/ Flickr/ weno ilustracao and design