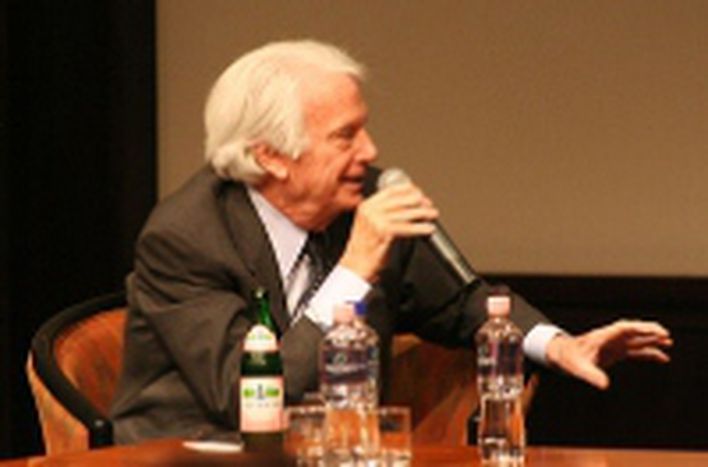 What it means to be European
Published on
Translation by:
corina gafner
French PM Dominique de Villepin and Spanish author Jorge Semprún have teamed up with a new offering: a book about Europe
Helmut Kohl did it, and of course so did Jacques Delors. Prominent European personalities writing about their continent; hardly a phenomenon worth writing home about yourself.
But the book 'What it means to be European' by the Spanish author Jorge Semprún, who was Minister of Culture between 1988 - 1991, and the French Prime Minister Dominique de Villepin, who himself is a budding writer, is more than just another book cluttering up the overcrowded European bookshelf.
The book doesn't have the painstaking detail of scientific volumes from Landwehr/ Stockhorst, not the thoughtful complexity of prizewinning essays about European roots. It's not as radical as the Czech philosopher Jan Patocka's heretical essays, with which he ended up paying with his life. But nevertheless, it is an important book, and marks an important moment for Europe.
No more marching
The European unification process came to a standstill with the double no vote from the French and Dutch referendums. It was blocked by the very people who should actually want to be unified - Europeans.
But what really constitutes Europe? Is the rejection of the constitution also a rejection of the European mind? Semprún and de Villepin try to look for the answers to this question in their book. Two figures of European current affairs engage in this discussion. They have different nationalities, but they work for the same European concept.
And you'd better believe it! The book is a sequel under very different premises to the dialogue between German author Günter Grass and the French journalist Francoise Giroud, who published their correspondence about all things Europe in 1989. It was a time when the idea of Europe was shining brighter than ever. Today, the European star is flickering. Semprún and de Villepin do not try to conceal this, which is wherein their strength lies. There is no defiant 'onward march!', as was heard about the no-vote, its echoes resounding even in Germany.
A look into the past
The fears and doubts of the European citizens were taken seriously and constructively. One had to clearly and credibly understand not only the dangers of capitalism, but also the over-bureaucratisation of the European organization. The book glamourised the idea of a future Europe, painted in all its appealing colours. But it hadn't been given its a coat of varnish yet.
To succeed in the future, you have to look into the past and think about the following question - 'What does it mean to be a European?' For Semprún and de Villepin it is a binding question. It is a responsibility that can only be understood and dealt with through understanding the history of Europe's origins and civilisation.
In their texts about European borders and history, the authors use numerous well-known authors and witnesses, from Jacques Delors to Voltaire, and tell historical anecdotes. With these, the major problems of the European idea are also (accidentally?) revealed. The first one is an excessive elitarism Semprún cannot manage to completely avoid, being himself part of the continental élite. The second one is state nationalism (Villepin). For a Frenchman like Villepin, it is difficult to completely exclude from his own narrative perspective.
In its entirety, 'What it means to be European' is a book which most Europeans understand. It's a good starting point for beginners, and at the same time carries you further into the issue. It doesn't just deal with the traits for and against European construction. The authors don't doubt that our Europe today is made up of our values and freedom. The possibility and the will of living in peace and democracy - as we have been doing for more than 60 years - is what all Europeans do.
'What it means to be European', by Jorge Semprún und Dominique de Villepin, Murmann Verlag 2006
(Photo homepage: Dominique de Villepin (European Commission)
Translated from Was Europa ausmacht