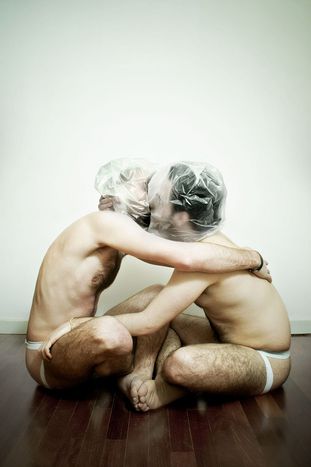 'Webouting' site publishes list of ten 'gay' politicians in Italy
Published on
On 23 September, an Italian LGBT movement 'outed' ten homophobic politicians who they have esteemed have 'ulterior motives' for their overt phobia online. Is it a criminal action or justifiable revenge? 75% of the country's gay community have agreed with the US-based blog's initiative
The briefest of comments are often the snappiest. 'I hate lists, they're fascist.' Exactly. Why would a gay politician and father of a family who voted homophobic laws in not be allowed to protect his own private life? The Italian website web-outing, which is run by a group of expats, published a list of the top ten of these 'hypocrites' who they accused of hiding the fact that they themselves were gay in explanation for their anti-gay actions. This includes the president of Lombardy, prime minister Silvio Berlusconi's number two as well as the official prime ministerial spokesperson and the director of a main newspaper (remember, this is the country where politicians runs papers).
The idea for one of the biggest controversies of the year in Italy came from Aurelio Mancuso, who is the president of the Equity Italia association. 'This initiative was born to bring a bit of justice to a country where people can't defend themselves against insults or daily attacks instigated by a politically hypocritical and mean class,' say the activists in a note on the website. 'We decided to list these ten people to show how much hyprocrisy and discrimination reign in the parliament.'
Outed
Indeed, this list marks just the start of around one hundred politicans who risk being ridiculed publicly online. Every politician named in the list that was released first are members of the centre-right party or are former christian democrats, thus the perfect typical enemies of any LGBT (lesbian, gay, bisexual and transsexual) community. In a more general political context, it comes at a unique time when the Italian parliament twice rejected an anti-homophobia law, the latest being halted in July.
Whilst seeing the contents of the list itself doesn't really surprise anyone in Italy, it is funny to think of one of the politicians 'outed' with regards to the slogan of his party: the Lega Nord (the far-right Northern League) slogan is The League Is Hard (La Lega ce l'ha duro!). The reaction to this list is one of solidarity on two levels: to all of those who have chosen to live their lives a certain way, albeit privately, but also to those on this list who have now been labelled something they probably aren't.
Over on my social network page, gay friends of mine continue to publish the link to this list. Others are more explicit and repost the names of said politicians, and the reaction to this from other people is that they are 'too mean' and 'disgusting'. Webouting risks widening the gap between the heterosexual and LGBT communities in Italy. Both leading gay rights activists Ivan Scalfarotto (vice president of the democratic party and LGBT activist) and Paolo Patané (president of Arcigay) have already distanced themselves from what they see a 'counter-productive' matter. 'This list is a symbol and the clear proof of the mediocrity which is destroying Italy right now,' says Francesca, a young teacher from Rome. It would have been better to have never spoken of this list, let alone comment on it, but it spiralled across the most important information websites in Italy. And by then, it was all out.
Image: (cc) saturnino.farandola/ Flickr
Translated from Lista dei politici gay: la comunità LGBT fa Harakiri