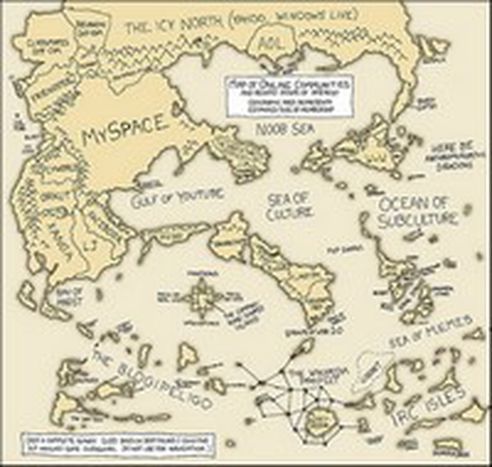 Web 2.0: welcome to the global village
Published on
Translation by:
rachel lansdown
With its blogs, podcasts, wikis and other so called 'social networks', version 2.0 of the web has propelled the surfer to the crest of the wave. Could this be a virtuous version of globalisation?
To be 'in', you must have your own 'space.' Display your private life and hobbies for all to see in the 'global village' (in the words of Canadian philosopher Marshall McLuhan). This is a village without walls, where the neighbourhood is made up of 1.1 billion users around the world. A virtual open space that is a godsend for advertisers and feeds an old Orwellian fantasy.
In addition to it becoming simpler to create personal pages and other individual spaces, the rise in net usage has lead to an increase in anxieties. We fear that the information we leave on websites, like digital imprints, could be exploited by the public powers to control the population. Is the web a sort of inerasable permanent record of the world? French journalist Yves Mamou ponders 'will internet succeed where all the big 20th century totalitarianisms failed?'
Admittedly, this fear comes primarily from a fantasy nourished by rising use of the net and a number of rare but well-publicised examples of 'big brotherism.' Such as the scandal in 2006, when it was found that the CIA had been able to access data held by Swift - an interbank messaging society, based in Brussels, which is supposed to oversee financial transactions.
The snag is that we deny public administration what we tolerate in private businesses. Thus 'viral marketing' and community sites trading users' personal data is greatly increasing.
On 6 November, Facebook announced a publicity offer allowing advertisers to have access to 50 million member profiles (sex, age, sexual, religious, and political preferences). Computer spying does not necessitate a great deal of special equipment: Gmail (Google's email service) already sends targeted publicity and Microsoft, as well as Google, is developing 'health portals' designed to store the medical information of 300 million Americans (at the risk of making them partially public) in order to better target their attentions. Publicity sent from these sites, all the more effective as it is ultra targeted, is a windfall for advertisers, and it is these same profits that serve to ensure that the 'informing' sites stay free, thus guaranteeing their success.
Online legislation
Since 1978, the French have been boasting that they are protected by the Data Protection Act which gave birth to the French Data Protection Authority. But the French are not necessarily saved by this law. This commission is powerless to bring action against non-French social networks, as is the case at the moment with American giants Facebook and Myspace.
Safeguards do however exist: Safe Harbor notably is an agreement signed in 2000 by American authorities and the European Commission to respect the European directive of 24 October 1995 - 'the protection of individuals with regard to the processing of personal data and on the free movement of such data.'
This directive has been adapted in the different national legislations of the EU. However, the co-existence of different national laws trying to govern a virtual space, which has no borders, poses difficult cohesion problems. Thibaud Grouas, the man in charge of the core mission of the Internet Rights Forum, advocates a labelling system in order to check the risks and allow evaluation of whether a site is trustworthy or not.
Network or die!
There is an obvious paradox between the voluntary displaying of your intimate details, or your 'e-privacy', and the demand for protection against external intrusion. Everyone wants to trade their private life on the stock market that is the web version 2.0, as if it is capital that must bear fruit – virtual space from which we want to make real profits.
More than laws, the net needs to produce principles, whilst it is universalising, to govern the issue of individuals' rights. 'The advent of new relationships created by the internet necessitates new ethics to protect the internet user as an individual,' confirms Limore Tagil, a specialist in new communication technologies.
Whatever we seek on the net, be it freedom of expression or virtual recognition, sharing private information is the price that must be paid. The education system needs to teach at least young people the real value of privacy – before they give it all away.
'The Machine is us/ing us' on YouTube
Translated from Web 2.0 : bienvenue dans le village planétaire