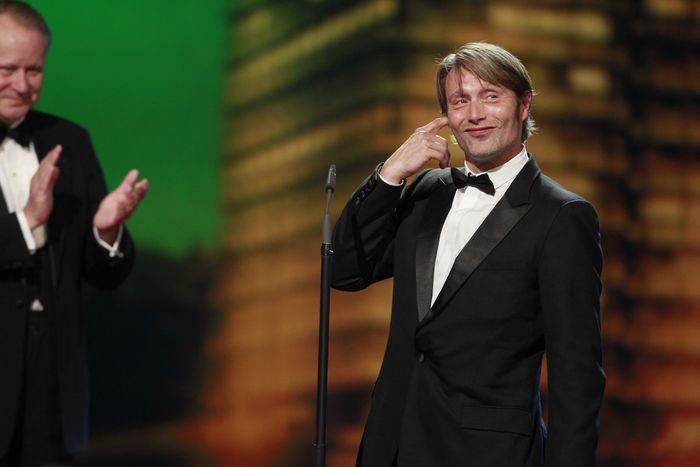 Von Trier, Bier, Mikkelsen: Denmark cleans up at European Film Awards 2011
Published on
On 4 December the 24th edition of the European film academy's (EFA) annual film awards gave the top prizes to Melancholia and The King's Speech, as well as an honorary award for Mads Mikkelsen
There was fighting and passionate talk at the 2011 European film awards on a Sunday in Berlin. After a plethora of European directors, producers, cutters, screenplay writers, film score composers and actors had flounced across the carpet, giggled into waiting cameras and taken their places at the Tempodrom, director Wim Wenders called for a united Europe which existed apart from 'banks, financial crises and bureaucracy'. The European mind had to be filled with emotion, and what better to do this than films?
The European film academy was founded in Berlin in 1988 when a group of film technicians from all over Europe, east to west, decided to develop European film culture in times of political transition. They were looking for their own version of the American oscars to counterbalance the order of the day. French film-maker Claude Chabrol, Swedish director Ingmar Bergman, English director Stephen Frears and Wim Wenders himself were part of this early awakening. Today the EFA counts 2, 500 members who vote in the awards ceremony every year.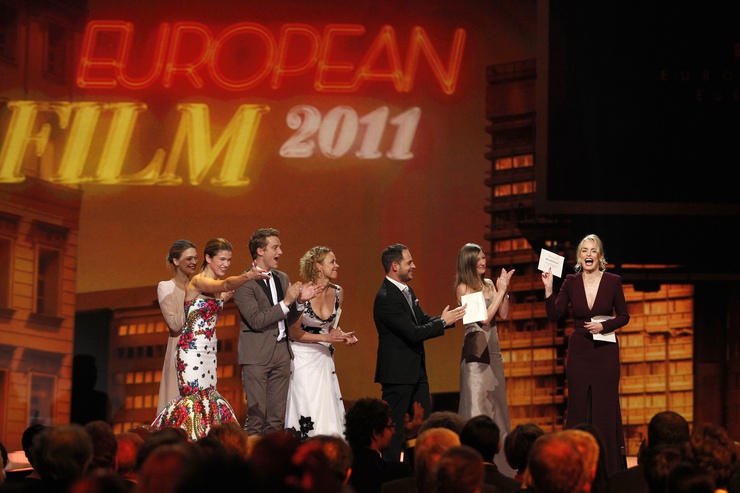 2011 was the year of Danish cinema. Lars von Trier aesthetically influential end-of-the-world drama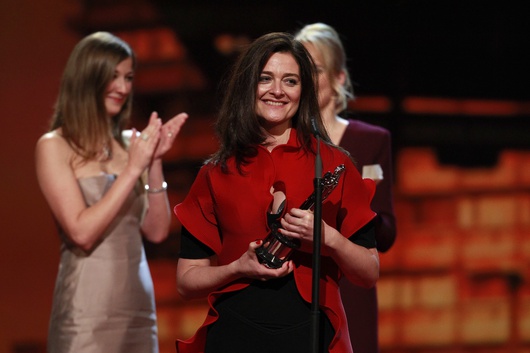 Melancholia is the year's best European film; his colleagues Manoel Alberto Clara and Jette Lehmann won the prizes for best camera work and best production design. Von Trier didn't show up at the awards himself, perhaps since his doomed comments at the Cannes film festival in May where he appeared to sympathise with Hitler had him banned from the event. His wife attended in his place, who merely waved to the audience in a friendly manner as she scooped the gong away. 'Lars is so great at bringing people so far that they give him their best,' explained Manoel Alberto Clara. It's all about teamwork.
Danish director Susanne Bier picked up a best foreign film oscar for In A Better World, and the EFA confirmed her role as the best European director too. She was one of the professionals who signed the Dogma 95 manifesto which called for a 'cleaner' Danish cinema style – which calls for shaky hand cameras, no artistic light, no flashbacks or flashes forward, just stronger stories, feelings and characters. In A Better World is a well-paced film which stays close to the protagonists, their feelings and worries in an almost documentary-style manner.
So how to explain the success of these Danish films? 'Denmark is a small country with a very complex cultural identity. It is always on the search for its cultural diversity.' The actor Mads Mikkelsen, who won a special achievement award for his contribution to world cinema, added: 'We don't have any huge political or social problems. We concentrate more on the interpersonal stories and relationships. They have a higher intensity.'
British cinema wins in Berlin
British director Tom Hooper picked up three awards for his The King's Speech, winning in the 'people's choice' category, and editor Tariq Anwar was recognised for his work in the cutting room, whilst actors Colin Firth and Tilda Swinton (We Need To Talk About Kevin) were best European actors; Firth was not present at the ceremony but a message from him said he was 'dancing inside with joy.'
'We love European film!' screamed Belgian brothers Jean-Pierre and Luc Dardenne, whose 2011 drama The Kid with a Bike (French: 'Le Gamin au vélo') won best screenplay. 'The best thing about European film is that we can shoot movies in our home countries and the whole world can see them. Every film has its specialties, but the story is universal.' Despite this feeling, some of the award-winning films have had no European release and were known only in the countries they were made in. Director Volker Schlöndorff is aware of the problem: 'European films are actually still fighting to cross national borders and be seen elsewhere.' The EFA is a ceremony with Sisyphus standards which will never end. Europe stays on the move and the European union is not only a project of ideals but also of millions of Europeans and their day-to-day life. So the efforts of European film will continue too. 'To the battlefields, European film soldiers!' Volker Schlöndorff calls out into the public.
Images: all images © Franziska Krug/ Action Press für EFA
Translated from Von Trier, Bier, Mikkelsen : Dänemark sahnt beim European Film Award 2011 ab