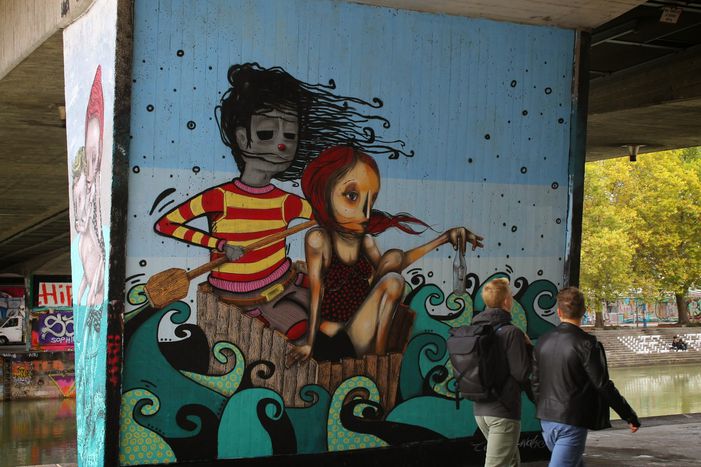 Vienna: The Street Art Waltz
Published on
Vienna often brings to mind majestic palaces and an imperial past. While the train stops at Wien Meidling, one wonders if the city will also amaze you with a young and alternative side.
"It is difficult to work with all these historic buildings." Nicholas Platzer knows it well. The 30-year-old has curated an art gallery that focuses on street art coming from the most diverse urban subcultures for the past eight years. Between exhibitions, he organises the painting of murals in Vienna. "There is a lot of bureaucracy in order to get permission," he says, from under a lock of light brown hair, as he arranges frames. "We see if the murals clash with the neighbouring buildings, something which often happens with all of these historic buildings. But, I understand: heritage must be preserved."
On the other side of the desk, Nathalie Halgand, co-owner of the Inoperable gallery, nods. She recently co-wrote a book based on interviews with ten female representatives of street art in Austria. "Some of them feel discriminated against," she confesses. "In a male-dominated context, sometimes they have been told that no, they could not join them for a night of graffiti. It is too dangerous for women." In September, some of their works were exhibited in the gallery. Some photographs immortalise Feba in front of the graffiti she completed. Helga instead focuses on iron and bodice, perhaps signs of a woman still imprisoned by obsolete social constructions.
Indoor Street Art: The Unexpected Oxymoron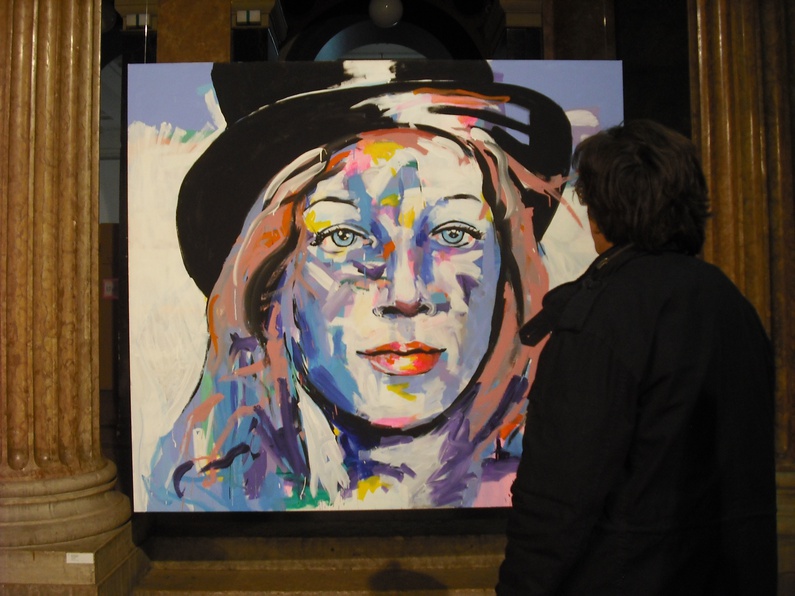 A hamburger with the halo of a saint is enshrined on a canvas. I find myself at another exhibition of indoor street art, at the Academy of Fine Arts. Together with Laura Schützeneder, Jakob Kattner has curated the exhibition, which is part of the Calle Libre Festival of Street Art & Graffiti. Jakob, in his 30s, tells me that he made a video documentary about street art in South America, as part of his doctoral thesis. "I've met many artists and I decided to bring them here to Vienna," he recalls, enthusiastically. The exhibition, which includes more than 50 works, demonstrates that street art can also be found inside museums, with paintings or door pieces found in the street, perhaps exposing the crisis in Greece, such as those of Wake. "During Calle Libre, the city of Vienna granted us, for the first time, space along the Danube where artists and students could legally make graffiti." This first festival will be followed by one every year "to show that street art is not synonymous with vandalism or illegality," says Jakob, passionately.
I was not only astonished to find street art indoors, but also to find graffiti in traditional institutional environments. In addition to being a research institute on graffiti, including an archive, Vienna has a website for artists to find out where it is legal to paint. At the Museum's Quarter, on the other hand, there is the street art passage, with information, Invader's mosaics and Busk's three monkeys, which can be found here and there around the city. But, the most underground place remains the riverside, dotted with many graffiti, especially among the Schwedenplatz and Friedensbrücke metros. "Every day I cycle by when I go home from work," a blonde lady at the tourist information centre tells me, confirming that the phenomenon has become an integral part of city life.
Young Artists Grow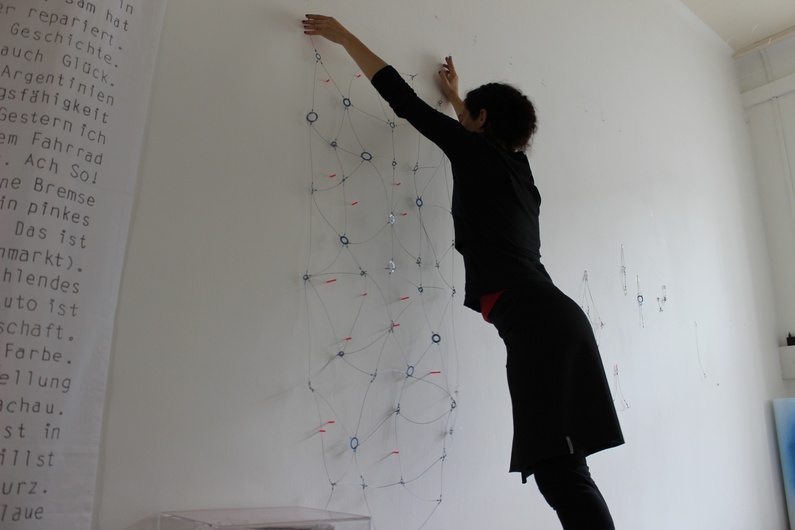 The atmosphere is surreal. The rustle of 30 pencils rushing on sheets of paper and as many heads moving imperceptibly, shifting their gaze to the centre of the room and then back to their drawings in lightning speed. At the centre, the model of this Sketch Art Group. For the past five years now, the self-managed group meets every Thursday at 7 pm on the sofas and armchairs of a Viennese café and everyone sketches a portrait for two hours. "Every time we change the subject and model," explains Tiana Maros, the organiser. "The language used is English, as many are from Canada or the United States." Different origins, different motivations. Some, like the Canadian Jade Amazon, studied art and want to practice. Others, like Carina Salchegger are self-taught. "I come from Salzburg, am self-taught and I want to meet other young people interested in sketch art." But, it is this shared passion for sketching that unites these youngsters, in an exchange of advice and friendship.
"das weiss haus (The white house — Ed.) is a non-profit organisation that supports young contemporary art," explains Alexandra Grausam, director of the centre. "With our projects, such as the studio das weisse haus, we host 16 local artists, each to whom we give a workshop where they can work, usually for 12 months.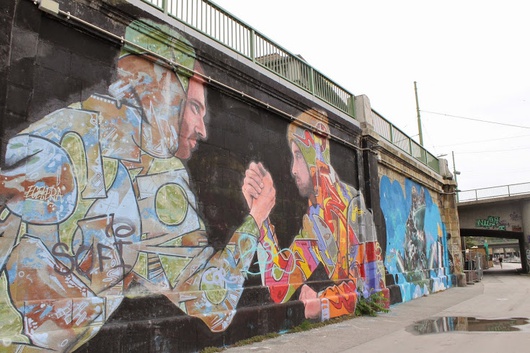 Every Saturday, you can visit these laboratories. We also run an exhibition space, which opened in 2007. Since 2013, we have also hosted 17 young international artists who have the opportunity of creating a project in Vienna for three months, which we support financially." Among the internationals, there is Rah, a Canadian video artist who will interview members of the LGBT community in Vienna, capturing their life experiences. She has just arrived but "the atmosphere is youthful and exciting, I feel very motivated," she says. Juliana Herrero, sitting beside Rah on the sofa, agrees: "Compared to the very low cost for the workshop, the networking opportunities and exchanges offered with other young artists are priceless." On the other hand, "it's nice to have such close contact with the young art scene and make it accessible to the city of Vienna," says Katharina Brandl, the project coordinator, enthusiastically. Vienna 1, stereotypes, 0. 
THIS REPORTAGE IS A PART OF "EUTOPIA: TIME TO VOTE," A PROJECT CO-FINANCED BY THE EUROPEAN COMMISION, THE FRENCH MINISTRY OF FOREIGN AFFAIRS, HIPPOCRÉNE FOUNDATION, THE CHARLES LÉOPOLD MAYER FOUNDATION AND THE EVENS FOUNDATION. 


Translated from Vienna, il valzer della street art