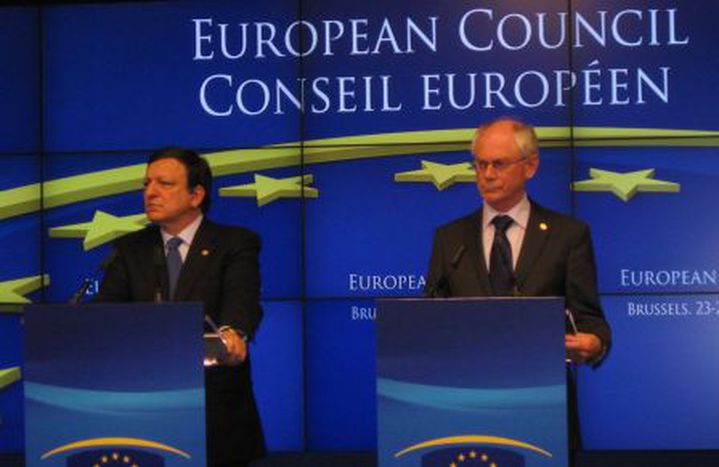 Van Rompuy presents five points of action
Published on
By Cristina Mariani We waited until 10.30 at night to attend the last press conference of the day, and for President Barroso and Van Rompuy to make statements on the Euro Summit. Not really useful since there are three more days to wait. That's 72 more hours of work to be done to reach a solution on the Euro crisis.
"We need to work on the five fronts of action" said President Van Rompuy, to build a comprehensive strategy to reinforce and guarantee the stability of the euro area.
Firstly, a "forceful action by all governments to ensure sustainable public finances and enhance growth. This means the full respect of agreed fiscal targets and an acceleration of structural reforms". In other words, clear commitments have to and will be made, and also Italy will have to do so.
Secondly, a sustainable solution for Greece. Member States in the eurozone are working towards a new, second programme to help re-build Greece, with the involvement of the private sector to improve sustainability.
As a third point, President Van Rompuy stressed the need to create sufficient firewalls against contagion. In practical terms, this means the need to render the European Financial Stability Facility (EFSF) more flexible and to maximize its resources, without extending the guarantees at the basis of the EFSF. Several options have still to be discussed. President Van Rompuy preferred to leave the press curious about them. Wednesday will be the day of clarifications.
Again then, the restoration of confidence in the EU banking sector and the need of a coordinated scheme to recapitalize the banks.
Finally, we were told of the need for better governance and stronger integration of the euro area, which requires, for the short term, the strengthening of the fiscal and economic monitoring and, for the medium term, stronger economic convergence.
All the five fronts are part of a single package, for which further work is required, at least until the follow-up Eurosummit that will take place on Wednesday.
The press conference at the conclusion of the European Council, jointly held by Merkel and Sarkozy, was surely more entertaining.