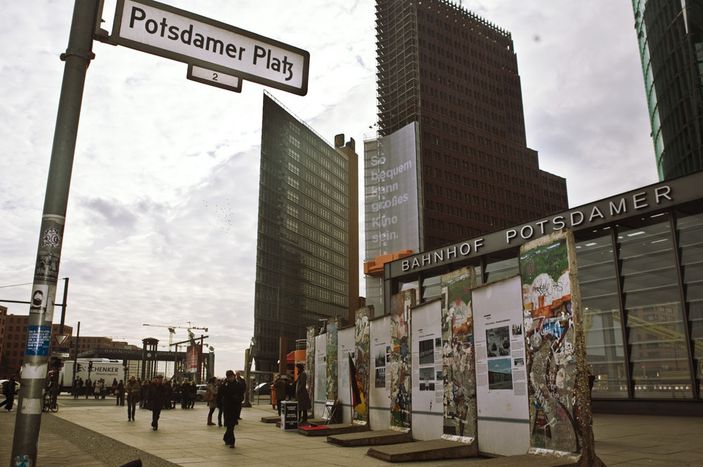 Twenty years on: why Berlin is not Germany
Published on
The city buzzes with cultural events to commemorate the reunification of Berlin and the European continent. But how do the protagonists of the change view each other - whether they are born after 1990, are pre-1990 migrants or modern-day visitors?
'Please raise your hand if there is an empty seat next to you!' calls out a desperate voice, scanning the audience in the half-light. A hand shoots up, and Anna-Marie Schulze starts off in its direction, climbing across the long row of people.This is the screening of Jadup und Boel at the Berlinale. The theatre is so packed that even the stairs are occupied, but it's not an international premiere. Jadup und Boel was filmed in 1981 in the German democratic republic (GDR), and this is where its attraction lies. Banned by officials, it was only released in 1988. Now it appears as part of a special series about the end of the Cold War. Young and old gather to remember or discover.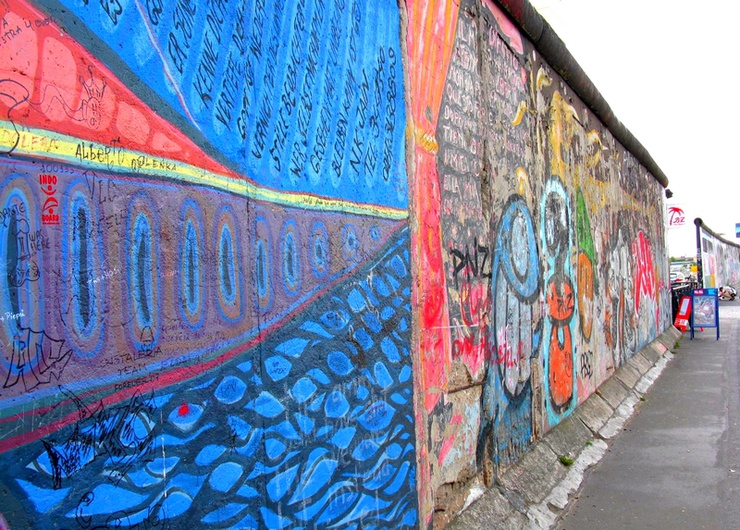 Concrete truths
Anna-Marie, who studies social sciences at the Humboldt University in Berlin, is 19. She was born after the reunification in 1990. 'It's unbelievable life was like that twenty years ago,' she reflects after the film. 'It seems impossible.' There are concrete reminders though. Like outside the movie theatre at Potsdamer Platz.  A line of cobblestone runs through the busy square, the glittering symbol of the new Berlin. It marks the shadow of the Berlin Wall which was once situated here in its monstrosity, the iron curtain that handed the geographic terms 'east' and 'west' over to politics.
Not long ago, Potsdamer Platz was dozens of hectares of wasteland. Its buildings, bombed in world war two, were completely demolished when the wall was erected to help monitor the border zone. In 1989 all eyes fell on the square, when the wall was breached. Eyes fell again when Pink Floyd's Roger Waters staged a massive charity concert on the vacant terrace. This mega event brought about the detailed survey of the site, then the successful redevelopment process. In fast pace, modern buildings shot up on the square like mushrooms. United Berlin stood.
This is the life
Argentinian director Ciro Cappellari has lived in Berlin since 1984. He declared his strong love for the capital in his documentary In Berlin (2009). 'Berlin is actually the only place where Germany is united,' he says. Anna-Marie agrees: Berlin is not Germany. 'The ci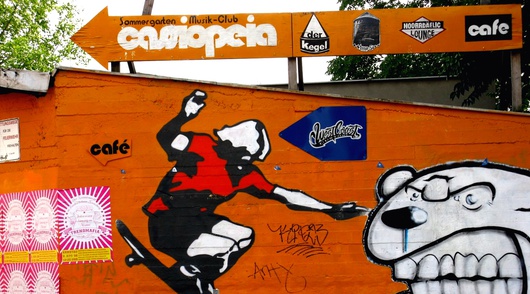 ty is special. If you are from Germany you are either east German or west German. The distinction is made. But if you're from Berlin, it doesn't matter.'
While extreme efforts were taken to unite Berlin and make it a presentable capital city, it actually claims a 60 billion euro debt. Much of the tax revenue the city generates goes toward paying it off. This stays largely unnoticed when you are a visitor. The graffiti and squats are all part of the appeal. Berlin is funky because of its vibrant alternative culture and art life. This cannot be said for the rest of eastern German.
'A westerner doesn't differentiate between Hungary and Poland'
Since the nineties, east Germans have been fleeing the region in search of jobs elsewhere. Unemployment is rife. Over 10% of the unemployed are under 25. This east-west economic divide can be generalised for the continent. 28-year-old Dennis from Hamburg is in Berlin for a jobfair. 'There are more and better work opportunities in western Europe,' he says, listing higher wages, higher living standards and 'supposedly better' social security systems. 'Of course there are the prejudices against the east. This is why westerners do not move there.'
Dr. Karin Pieper, a visiting post-doctoral researcher at the center for European integration at the Free University of Berlin, looks at the bright side. 'Having learned how to cope with transformations and adaptations, eastern and central Europeans are much more flexible, more willing to grasp opportunities and go abroad. A western person still speaks of the 'member states' and of 'eastern Europe'. For example they don't differentiate between Hungary and Poland.'
Go East
Regardless, there are westerners who venture east. 32-year-old Sophie Decker, a corporate lawyer in Strasbourg, recently moved to Warsaw where she married a Polish economist. 'Polish people are very friendly. I want to continue working as a lawyer, but it won't be easy. I'm not talking about the money, I know it will be less and that is fine, but I want to learn Polish and use it at work and that will take a while.' Economic development in accession countries is significantly lower compared to the original EU member states. The European Union is working hard on bridging the gaps. Between 2007 and 2013 the structural and cohesion funds will use 81.5% of a 347 billion euro budget on the 'convergence regions' - aka mostly eastern and central European states, where GDP is less than 75% of the EU average.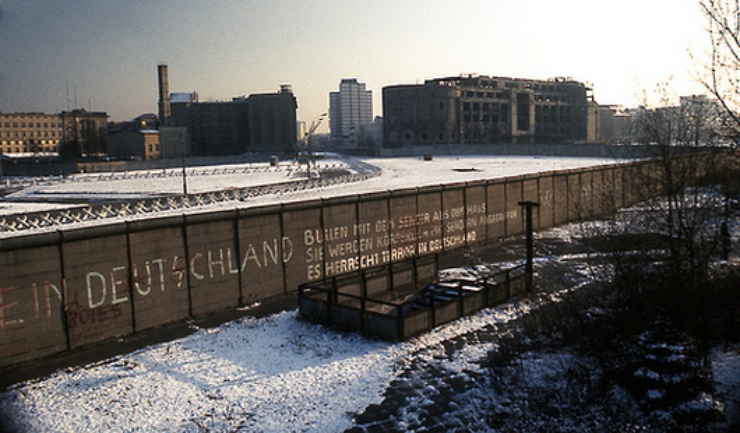 One success story comes from the east German town of Bitterfeld-Wolfen. In the nineties, half of the town's population left due to the lack of work opportunities. Thanks to the cohesion funds in 2001, a solar cell manufacturing plant (for 'micromorph silicon thin-film modules' in Solar Valley Thalheim) was erected, with a 2008 report claiming it would create 250 new jobs. The joint venture is by Swedish company Solibro AB and Berlin-based company Q-Cells AG. The latter began production with a workforce of 19, and today employs about 800.
But will reducing economic and social disparities shape mentality? Only time will tell. There is a tendency to feel nostalgia for the simpler life of the GDR. Termed Ostalgie (a concoction of ost+nostalgie), former GDR residents reminisce about the time when there were jobs for all and a strong sense of community. Parallel to this, current fashion considers socialist kitsch trendy. In east Berlin, for example, the Stasi-themed bar Zur Firma is decorated with mock security cameras, uniforms and souvenirs from the era. A tourist attraction? Perhaps, but consider: the majority of schoolchildren from eastern Germany don't see the former communist country as a dictatorship, but think of it positively.