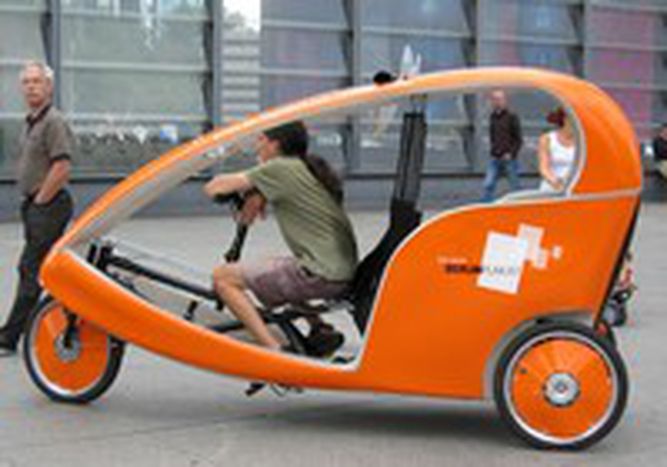 Turkish taxi through Berlin
Published on
Translation by:
sarah pybus
In a beige Mercedes with a yellow and black taxi sign on the roof and leather seats, the destination is the Berlin of yesterday, today and tomorrow
Berlin, main train station, 10:30. I take a seat next to Sabi Ginal. In his mid-40s and of Turkish descent, he came to Berlin in the seventies and has been traversing the German capital in his taxi since 1992. We leave Europe's largest connecting station behind us and immerse ourselves in Berlin, a city that never sleeps.
Berlin has changed since the seventies. Back then, he always met his friends in front of the Reichstag to play football. 'That area was an enormous, fallow expanse,' Ginal explains. Once close to the border between east and west Germany, it was cultivated after the Wende (reunification). Playing football there now is out of the question.
We reach the Brandenburg Gate, symbol of German unity. Events take place here almost every day, from fashion shows to fairs. When the wall fell in November 1989, hundreds of people congregated here - including Ginal. 'I was limping after injuring myself during football that afternoon.' The borders were opened and 'before us Wessis (west Berliners) lay east Berlin, the unknown. The streets were in very bad condition and everyone drove Trabants,' Ginal remembers and laughs. 'Those cars made an awful smell. We always overtook them.'
'Ah, here comes the Ossi!'
We travel in the direction of the Gendarmenmarkt - a square which at one time lay in east Berlin – and draw closer to a miniature idyll with cafés, trees and a busker. One side of the square is closed off by the luxurious Hilton Hotel, which was erected in GDR times, explains Ginal. 'But back then it all looked much different here. The whole of east Berlin was in the dark; there were no street lights. Shortly before the Wende we were scared when we had to take a passenger to east Berlin. But now that fear has gone.' After the Wende, the streets and buildings were renovated. 'Today, people look forward to going there; and as for the Ossis [east Berliners] and Wessis of those times, they don't exist anymore either,' he adds with a laugh.
The traces of the erstwhile divide are disappearing throughout Berlin. In the past few years, the most recent buildings by well-known architects such as Italian Renzo Piano have arisen at Potsdamer Platz, back then a wasteland divided by the wall. And once more, there was one football pitch less for Ginal. Does he find it a shame that all these changes have taken place? 'There's two sides to every story. But today Berlin is the capital of Germany and it was the right decision. Berlin is beautiful now,' he adds.
We reach Schlossplatz, a square on Museum Island. Before us stands the weakened skeleton of the Palast der Republik, former symbol of the GDR. After lengthy discussion, it is still unclear what will be built on this site. Neither castle nor palace, the current centre of Berlin is a construction site in the shadow of the dizzy heights of the TV tower landmark, close to Alexanderplatz, in the centre of the capital.
'Kreuzberg nights are long'
The most beautiful area of Berlin? Difficult to say. Ginal lives in Schöneberg, a well-known gay and lesbian district, in contrast to most of his fellow countrymen, who live in the marquee district of Kreuzberg. There are many pubs and kebab stalls and as he puts it so well, 'Kreuzberg nights are long. They start off slowly. But then, but then...' No, he likes Schöneberg. It is central and he has always lived here. There may not be as many pubs in Schöneberg, but 'you just go to drink coffee.'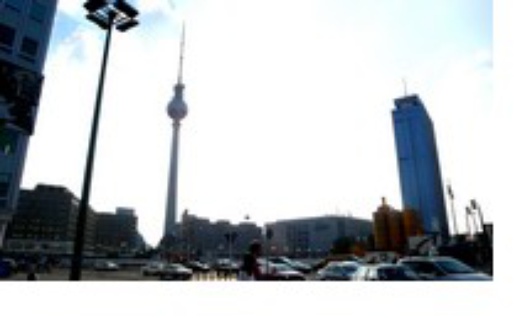 We have arrived at Alexanderplatz. Due to its history, Berlin now possesses not only more than two centres - Alexanderplatz and Kurfürstendamm ('KuDamm') - and two opera houses, but even the street names are replicated, Ginal explains. 'You need to know this if a passenger wants to go to Eisenacher strasse underground station, for example. Is it in the east or west?' Most of his passengers just want to go to the Galeries La Fayette department store on busy shopping street Friedrichstraße downtown, or huge department store KaDeWe on KuDamm.
In the holidays, the airport is the main destination. 'I like driving people to Schönefeld airport,' laughs Ginal. 'It's a long way. The fare is worth it.' The expanded airport at Schönefeld is to open in 2011. It will take at least forty minutes to get there. And what will happen to the legendary Tempelhof airport? Ginal shrugs his shoulders. No decisions have been made, but it may become a private hospital. 'It'll be a good landing spot for your private jet,' he laughs. It seems that all boundaries have disappeared from the once divided Berlin.
It is 11:12 and we arrive at Oranienstrasse, another legendary street cutting through east Kreuzberg. Whilst Ginal forces his way through restless Berlin accompanied by a new passenger, I take a seat on a terrace and enjoy the wild nights of Kreuzberg with a coffee in the sun.
In-text photos: (JL), Trabant in Kreuzberg: (Schwellenreiter/ Flickr)
Translated from Mit dem Taxi durch Berlin