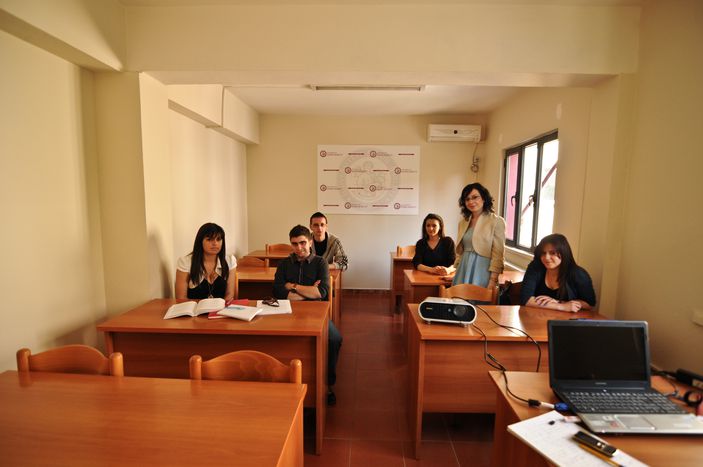 Try finding an Arab revolution in Albania
Published on
Translation by:
ZoeBBee
Late afternoon, outside the headquarters of Tirana's central electoral commission. A rather burly group of Albanian socialist party militants await the announcement of the results of the local elections of 8 May. A sizeable police cordon ranged in front of them protects the building where, for the umpteenth time, ballot papers are being counted and recounted.
Things seem to have reached an impasse
Tirana's socialist mayor Edi Rama was declared the winner of the local elections held on 8 May. But after the electoral commission's decision to recount the ballot papers, Lulzim Basha has emerged as the winner. It just so happens that the representatives of the democratic party of Albania, to which Lulzim Basha and the current prime minister Sali Berisha belong, form the majority in the commission. The opposition is crying foul and calling on the people to protest.
Dictatorship, dictatorship?
Rumours abound that buses full of Edi Rama's supporters are en route to Tirana and that the bloody put-downs of the protests of 21 January, where the police fired shots into the crowd and three died, could be repeated. Even European commission head José Manuel Barrosocancelled his May visit to Tirana for security reasons. 'If we're lucky, the police will just use tear gas. We're pretty much safe here,' a young man tries to convince himself as he sits outside at a café where those who are wary of a police clampdown gather. The militants are calm. Despite chanting 'Dictatorship, dictatorship', they avoid confrontation with the police. It takes no more than a shower of rain for the small crowd to disperse as they run for the cover of the café's umbrellas.
The events that have plunged Albania into deep political crisis are not recent. Since the general election in 2009, the socialist party has contested the legitimacy of the victory of Sali Berisha's democratic party. The situation was exacerbated when a video came to light that showed the Albanian deputy prime minister Ilir Meta abusing his position by asking the finance minister Ridvan Bode to appoint the winner of a tender. Despite his resignation, opposition protesters took to the streets of Tirana to call for early elections. The police opened fire with live ammunition, killing four and injuring tens of people.
Students talk
All the Albanians who I approach seem disaffected and tired of the political situation which is still unstable, even twenty years after the fall of communism. Two parties take turns at leading the state but the problems persist. The level of unemployment is cause for concern and corruption is rife. However, as soon as the word revolution is mentioned, everyone backs off. Students have little enthusiasm for their mantle of progressivism. Evrona Lena teaches human rights at the private Marin Barleti university. Her second-year students are unexpectedly guarded when I approach them. Their response to every one of my questions about the country's political situation is to shrug their shoulders. They open up bit by bit, with unspecific, arbitrary responses. In their view, the political elites are too immature, but they think that the current situation is to be expected, because Albanian society is in transition. 'In our country, election results are always contested. This is nothing new or out of the ordinary,' asserts a female student dressed in the latest Italian fashions.
None of them has political aspirations or extra-curricular interests, let alone a part-time job to pay for their studies. They simply want to get their degree, find a job and maybe even go to Europe. 'But only to do a masters and then come back to Albania,' one of them declares. Later, the professor opens up. 'My students are brilliant, intelligent young people, full of ideas. They are well aware of the political and economic situation, but it's difficult to fire them up, because the legacy of the communist regime is fear, of free speech and even freedom of thought. I find it hard to imagine that a revolution along the lines of those in Tunisia or Egypt could happen in Albania.' Nonetheless, most of her students were born after the fall of communism ...
Young and inert in Albania
'Young people's inertia is completely understandable. Since they were very small, they have been conditioned to listen first to their elders, then their teachers, their bosses, and above all, never to challenge, and to repeat without question everything that they learn,' explains Aldo Merkoci of the MJAFT!('Enough!') movement, whose activists bring the numerous political and social problems in Albania to public attention. In his view, Albanians are tired of Albanian political games, but they don't do anything about it. But not everyone has opted for apathy. In 2008, the G99 political party was founded by MJAFT militants in conjunction with students. Despite their determination to change things, unfavourable media coverage and the chicanery they endured during the campaign meant categorical defeat for them at the 2009 governmental elections. 'They didn't even win a single seat in parliament. They were very disappointed and finally threw in the towel.'
'Try and avoid the city centre, I've had a tip-off that the demonstrations might turn violent.' It's the third day of waiting for the results and the situation outside Tirana's electoral commission hasn't moved even a fraction of an inch. The police are still out in force, demonstrators are coming and going, and the message that I receive from my contact ahead of my meeting with Monika Stafa, a journalist at television channel Top Channel, seems like an omen. 'After the fall of communism, I could have left for Europe, but I was young,' she says, ordering an energy drink. 'I believed that we would have a better future. But now, we've been taken back twenty years. I'd like to leave, now more than ever. Not for myself, they've already stolen a large part of my life, but for my son, who has no chance of succeeding in this society,' she concludes. Outside, the Tirana air is filled with disappointment and defeat. How long can this go on?
This article is part of cafebabel.com's 2010-2011 feature focus on the Balkans - read more about the project Orient Express Reporter and read articles from the mission here
Images:  © Sladjana Perkovic
Translated from Tirana : à la recherche de la révolution perdue