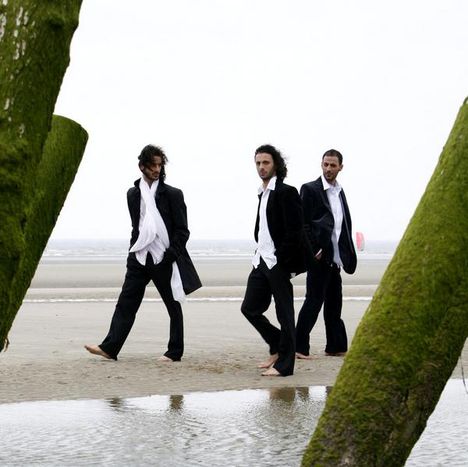 Trio Joubran: 'It's hard to be Palestinian musicians in the world'
Published on
Samir, Wissam and Adnan Joubran are international musicians whose performance and perspectives nonetheless remain rooted in their homeland: Palestine. Just before the UN is due to consider Palestine's official bid to become a UN member as well as a state, we meet the brothers in Paris about how their hopes for their country influences their music
The lights are dim, the theatre hushed. Three brothers in a semi-circle, faced by their percussionist (Youssef Hbeisch, 43), play against a backdrop splashed with orange and red, evoking a heat so often associated with the east. Their music starts off quiet but deep. The young men sit bolt upright, seemingly gazing into a source of light. The music speeds up. They relax. Their bodies sway and they seem to dance with their 'oud', traditional Arab instruments, in a playful but highly stylised routine. Trio Joubran's rooted performance at Paris' Theatre des Quartiers d'Ivry is wistful and unashamedly exotic. It softly yet persistently plays with the audience's initiation to the orient.
The origins of the three brothers are present in everything they say as well as play. Addressing the audience in English, Samir, the eldest, talks about the Arab spring and his hope for and pride in Palestine. 'We will need your support in two weeks' time,' says the 37-year-old of the Palestine's United Nations bid, to an audience largely here for the season presentation of this off-beat theatre's 2011/2012 programme. 'We are fed up of living in occupation. We just want to live in peace and justice. I hope.' After the performance, his brother Wissam is staunchly optimistic that Palestine is 'going to have its right'. If not in two weeks (although I have to push him to get him to consider this option), then next time. 'All countries had to go down this route to be recognised as a state,' says the 27-year-old. 'Even Israel.'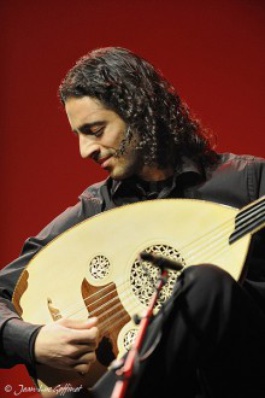 It is almost hard to bring the conversation back round to music. Theatre des Quartiers d'Ivry director Adel Hakim has directed a separate play in Arabic with actors from the national Palestine theatre which will run here in March 2012 and which makes use of the Trio's music. His description of the Palestinian artists he has worked with is that they are obliged to be 'Palestinians first, and artists second' and it is hard not to think of his words. Wissam characterises his and his brothers' music as very consciously coming out of their homeland. 'We perform all over the world but we make sure that each new production starts in Palestine,' he says. 'We want to take the power and the energy from our people for our production.  If we have this energy and they approve of our new creation it gives us courage to have success internationally.'
If the brothers are obliged to 'be Palestinians before they are artists', then they are also ambassadors, using their performances to bring across borders a culture which so often gets lost in the politics of their region. The thought provokes the question of how their beautifully sculpted performance would change were Palestine a universally recognised state and had the brothers no longer need to fight for their identity. Maybe that would be the moment when they would truly relax. Yet I can't help wondering whether the light which seems to drive the brothers' performance would also disappear.
The Trio Joubran will be touring France, Germany, Switzerland and Austria between September and December.
Images: main © Trio Joubran/ Myspace; in text © Trio Joubran; video/ Youtube