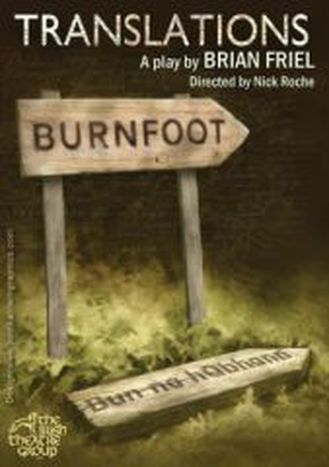 Treading the boards in Brussels
Published on
Brussels' amateur drama scene is thriving, nurtured by the vast number of long-term ex-pats who join theatre groups to escape the EU bubble, meet new people from different walks of life, and express their creativity.
The Irish Theatre Group is just one of many English-speaking amateur groups active in Belgium's capital.
Founded in 1982, its aim is to promote Irish and international theatre, provide theatrical training and entertain audiences. Although the group is open to everybody, one member confesses that all current members are Irish or "of Irish stock."
The ITG has just finished a one-week run of Translations − a touching play about linguistic, cultural and generational communication barriers − with filled seats at every show. The play is set in the isolated Irish community of Baile Beag, which two English soldiers are visiting on their mission to translate place names into English to make a map of the country. Whilst the playwright certainly pokes fun at the pair, Translations is much more than a straightforward, acerbic play about Anglo-Irish politics. The love story that quickly develops between Máire, a local girl who speaks only Irish, and Yolland, the younger of the two English soldiers, carries a broader, warmer message about human similarities - and peoples' ultimate desire to understand each other.
Brian Friel, who wrote the play, was in the audience when the ITG first performed Translations in 1983. Two of the original actors featured this time round, although in different roles. The ten-strong cast gave an enchanting, deft and sensitive performance that interweaved humour, sorrow and love. For the cast and crew, putting on a play like Translations is a chance to get involved in producing a quality piece of theatre. Kevin O'Conner, who played Manus, says the experience was a lot of fun - although he agrees the thrice-weekly rehearsals were "quite a commitment." Kevin's main reason for auditioning was to get back into drama, in which he'd been heavily involved as a child. He hadn't heard of the ITG before he auditioned for this play, but is sure he'll be treading the boards with them again in the future.
The ITG has close ties with six other English- speaking theatres and shares its premises, the Warehouse Theatre in Schaerbeek, with the American Theatre Company and the English Comedy Club. The sheer number of these theatres demonstrates the appeal of amateur dramatics for both audiences and actors. The Brussels Light Opera Company alone has 200 members from 22 countries.
Amateur theatre groups demand much time and commitment from their members. But getting involved brings infinite rewards. When the work is done, the satisfaction of seeing a play through from first rehearsal to closing night is priceless. And it's not just about the show. Theatre groups bring people together of all ages and backgrounds, and allow them to put their day job aside and rediscover the childish joy of creating something just for the fun of it.
Click here for information on upcoming ITG performances at the Warehouse Theatre
Sign up to the newsletter for information on auditions, performances and play readings