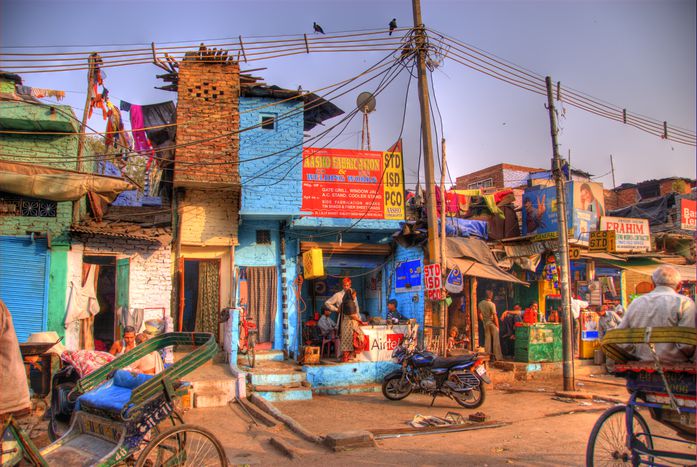 Travel fragments from India: Rushdie, Tibetan refugees and precious stones
Published on
Four days to leave Nepal, to breathe in its strong odours and let the little children of the Indian sub-continent comb my hair. This travel log takes us along the unmade road going from Kathmandu to Delhi, from the sequins of Bollywood to the simplicity of Tibetan refugees. Welcome to India
The landing is a gentle one. I am in Nepal. I quickly slip out of the plane and run towards the corridors of Kathmandu airport. Tired and weighed down with luggage, I cannot stop laughing. I look around me and everything is magnificent in its decadence. Once I have arrived at the passport control, I step forward happily, like a prisoner who is about to be released. Only a sliding door separates me from freedom. After a few seconds, they take away my passport, giving me a helpless look and telling me, 'Miss, we are sorry, but you only have four days before you have to leave Nepal.'
Kathmandu-Delhi: 36 hours travelling on an unmade road, smelling stinky feet. It is night-time and we have stopped for five hours in the middle of nowhere. We have to wait for the sun to rise high in the sky in this No Man's Land, a border village which separates Nepal and India.
Welcome to India
As soon as we have crossed the border, I realise that the world of snake charmers, belly dancers and wise hermits only exists in stories. I can feel the pride of the Indians, a people who are immersed in their own traditions and swallowed up by big cities. We stay in the Tibetan refugee camp in Delhi.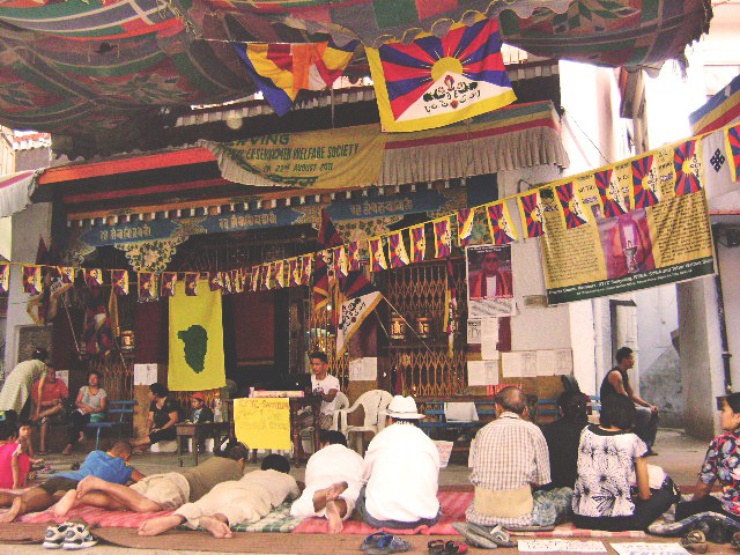 It is Tibet in miniature which, instead of mountain chains, has restaurant and hostel chains. There are photos of the Dalai Lama everywhere, along with messages to the people who set themselves on fire in protest against the Chinese authorities. Since 2009 there have been a hundred self-immolations against the Beijing administration. As I write, one of the most recent of these desperate gestures took place on 13 February in Kathmandu.
Delhi
In a room of about 20 metres squared, I find myself surrounded by at least a dozen people. They stare at me. The little girls start casually combing my hair. Perhaps they will tell their school friends that 'a white lady came to have a wee at our house!' In contrast to the plump and pampered youngsters, spoiled by parents of the new Indian middle class, there are over 50, 000 young homeless children in the capital. Many of them are orphans, with bright eyes and shrill voices.
'New' Bombay
A cloud of smog weighs down the air in Mumbai, a city which is undergoing construction and expansion. On the train there is a compartment reserved exclusively for the fairer sex. According to a study carried out by thomson reuters, India is 'the fourth most dangerous country' in the world for women. I certainly cannot deny it.
'India is 'the fourth most dangerous country' in the world for women. I certainly cannot deny it'
At the heart of the Indian film industry, a man follows us for an hour. We cannot get rid of him. I have already panned out the scene, like one from an action film. If he tries to stab me, I will block him with a kung fu move and throw him down. Then with a Gandhi-like speech, I would make him understand that nothing can be achieved with violence. Yes, I have seen too many bollywood films, but the death of a female student on 29 December 2012, who was the victim of a brutal gang rape, has shaken India and the whole world.
Rajasthan
In Rajasthan, I am left dumbstruck by the structures of the Jaipur observatory, which are out of this world and were designed by the visionary Sawai Jai Singh II. I spend the day losing myself among turbans and alleyways, tasting the countless varieties of sweets and climbing onto the roofs of the 'pink city'. Jaipur is famous for its precious stones;  I am lucky enough to meet Shyam who takes me into his world – The Gems Galaxy – in order to explain the process by which the stones are extracted and shaped.
Read ''Desi Boyz' and a German girl: welcome to bollywood' on cafebabel.com
We leave for Udaipur, known as the Venice of the East, just like Prague, Istanbul and who knows which other cities. The islamic inspired buildings and fantastical palaces are reflected in the city's canals, which I find are quite rightly beautiful. The symbol of Udaipur is a horse, the symbol of power. The landscape is reminiscent of the past, the bazaars, the maharajas, the India that used to dream, a magic country veiled in mystery.
I meet Viru, a crazy artist who breaths in more smoke than oxygen. He wanders about his workshop, holding a bidi cigarette in his hand the whole time, while explaining how to get the colour of stones and flowers. He brings us with diffidence and humility to his village, Kobita (meaning poetry in Hindi), and introduces us to his wife, who is extremely beautiful and whose face is almost always hidden by a veil.
Close encounters of third kind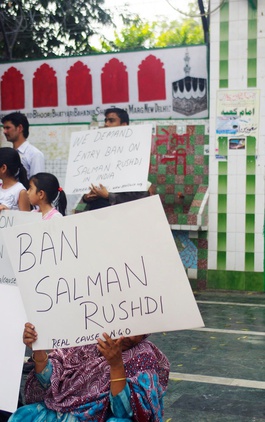 A protest against the British writer Salman Rushdie. There are two enormous drums and a painting of Shiva decorating a temple on the summit of a mountain. A man is burning dried flowers, incense, wood and a coconut, which slowly turn to ashes. He comes up to us with a little bit of red coloured pigment, blesses us and then goes back to his chanting. 'Here heaven,' whispers a pilgrim, before we stumble upon its complete opposite. It is a field surrounded by barbed wire with an outcrop of rock, which is scaled bare handed in order to reach a hermits' cave. The most important Hindu pilgrimage takes place here from January to March for 55 consecutive days. The Kumbh Mela is held every twelve years and attracts around 100 million pilgrims who come to purify themselves in the waters of the Ganges and Yamuna rivers. The security measures taken in the city of Allahabad are immense. 13.4% of the population of India are muslim. In front of a mosque in the capital, we have a discussion with a group of extremists who were protesting against the hated/loved author of The Satanic Verses (1988), Salman Rushdie. He is the same writer who accompanied me along the bumpy roads of Kashmir in Haroun and the Sea of Stories (1990).
There is something which brings together this multicultural and multifaith armada of farmers and engineers. The Indians always criticise each other, but no one manages to disparage India, their country, which is full of beauty and tradition. 
Images: main © wili_hybrid/flickr; in-text refugee camp © Santosh Thatal; protest against Salman Rushdie © Bibbi Abruzzini
Translated from Cronache indiane: da Bollywood ai rifugiati tibetani